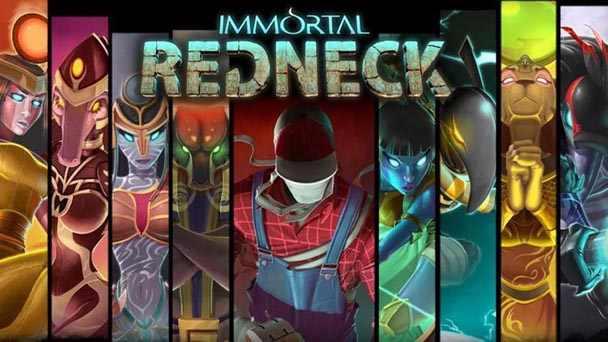 Immortal Redneck is every bit as goofy as the name implies. But save for a few blemishes, the game is also oddly gratifying, especially if you're a fan of lithe, late-nineties era shooters like Quake, Shadow Warrior, and Unreal Tournament. By mixing time-honored FPS gameplay with rogue-like elements which put players in randomized rooms and have them augmenting their arsenal, Immortal Redneck might not seize your attention for all of eternity, but will likely engage players for an extended period of time.
The backstory revolves around a tourist from Kansas, who winds up in a dune buggy accident. Dodging death, the traveler ends up in a mummified state, scouring for answers inside of a trio of pyramids. Nicely, developer Crema doesn't squander an excessive amount of time on the screwball set-up, permitting the occasional end-of-level line of dialog to carry the burden of exposition. Pleasingly, if you just want to shoot at giant frogs, animated sarcophagi, and death dealers who hang suspended from the ceiling like a psychopathic Cirque du Soleil performer, you can ignore most of the madcap storytelling.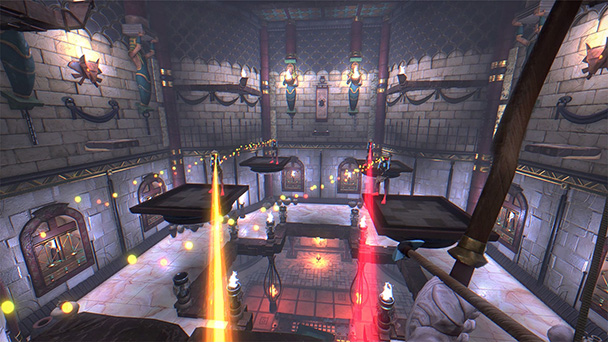 Following a tutorial which acquaints players with the essentials, you'll will be placed in a room at the base of a pyramid. These starting areas are the only zones that are free of danger, and once you head into any adjoining rooms, you'll likely encounter numerous pools of lava, spike beds, and scores of opponents who want nothing more than to kill the immortal, forcing you to begin the journey anew. Ideally, you'll make into the elevator on each level that transports you to smaller, but increasingly perilous floor.
At the beginning of the game you'll be equipped with a pistol, shotgun, and sticks of dynamite, which is enough to kill the subordinate enemies that fill each room. You'll be forced to exterminate every last one, since the exit doors are locked until the chamber is free of foes. Undoubtedly, you'll face the deep-seated phobia of any true redneck, as you're forced to survive with constrained ammo counts. Sure, if you're nimble, you can grab pickups that help to replenish your supply or even revitalize your heath.  But to ensure tension they emerge sporadically and have a tendency to fall into lava.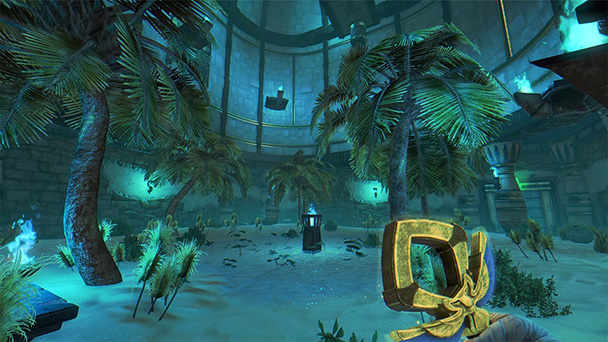 Pleasingly, eliminating enemies is an enjoyable pursuit. Over time, you'll absorb the signals and movements of enemies. Some, like the charging hapis, emit a warning sound, similar to the galloping sound of the Warebulls in Serious Sam, while Poison Frogs foreshadow an appearance with a chorus of croaking. Each opponent also following predictable patterns, with some standing their ground as they take potshots at players, while other frantically rush you. Naturally, dealing with both while navigation environmental dangers escalates the level of tension in each room.
Instead of subjecting players to the possibility of crude procedurally-generated rooms, Immortal Redneck opts to create floors from prebuilt, albeit randomized rooms. This allows for some stimulating design, with chambers often exhibiting a pleasing sense of verticality, with positions that allow for sniping unsuspecting enemies. Another virtue is the integration of automatic mantling, which helps when navigating the diminutive platformers scattered around many rooms.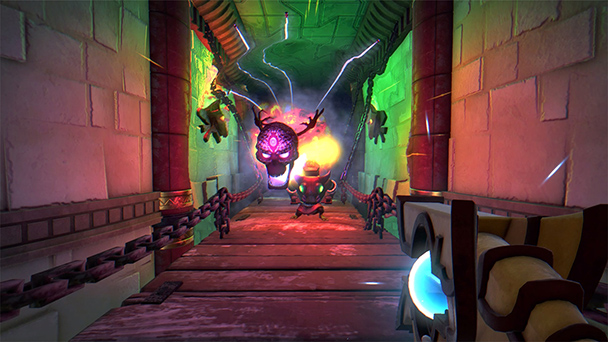 Inevitably, the gradually depletion of health will overtake you, sending you outside the pyramid, albeit with a pocketful of coin that can be used to upgrade the redneck or one of the other characters. Heading to the single bit of flora amidst the trio of pyramid presents an actual tech-tree allowing for permanent upgrades for protagonists. Beyond the essentials that upgrade your offensive and defensive capabilities, you'll also be able to unlock the ability to possess other gods, which offer a distinctive arsenal and ability, goading gamers into adjusting their play styles. Unquestionably, you'll want to spend all of your currency at the tree, as reentering the pyramids will eradicate your savings.
Undoubtedly, some will take issue with Immortal Redneck's balancing. On average playthroughs last an average of fifteen to thirty minutes, and while you will likely earn enough coin to augment a stat or two, the amount of improvement doesn't always feel noticeable, undermining the time invested in your last playthrough. Exasperating the situation are over a hundred randomized scrolls. These can offer some helpful powerups like unlimited ammo on the current floor or double jumping, but can also deliver a debilitating power-down that can push you toward defeat. Losing half your health before a boss fight can be a real downer.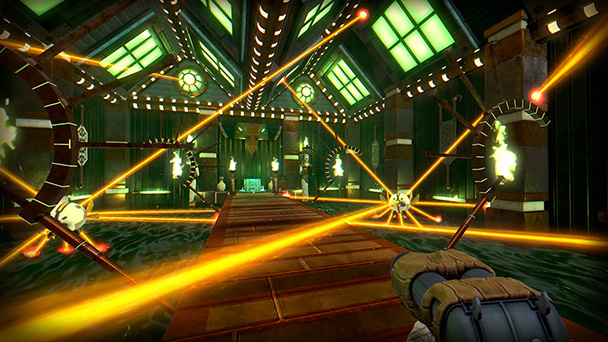 Redneck makes a valiant attempt to bring first-person action to the Switch, but the results are mixed. Certainly, you'll want to play in docked mode, which offers higher fidelity and a stable framerate. In handheld mode, the small screen can make identifying downrange targets a bit harder, while a mix of lowered resolution and motion blur makes it difficult to track foes when on the move. Fans of motion control might appreciate the option to aim by moving the undocked Switch or a Pro Controller. I found I performed better with the option turned off.
Immortal Redneck is best played on a PC, PlayStation 4 Pro, or Xbox One X, where players can take on enemies in a high-definition, sixty frame-per-second context. But none of those platforms can compete the portability of the Switch, which allows for some satisfying firefights, if you're ok with a few visual sacrifices.
Immortal Redneck was played on the Switch
with review code provided by the publisher. 
Immortal Redneck
Platform:
Switch, also on PS4, Xbox One, and PC

Developer:
 Crema Games
Publisher:
 Crema Games
Release date:
 May 1oth, 2018
Price:
 $19.99 via the Nintendo
eShop
Review Overview
Summary : Immortal Redneck delivers gratifying gunplay, incentives for prolonged play and a dose of irreverent humor. If you can get past a middling resolution and vexing motion blur, then the Switch version allows for some fun firefights on your next flight.