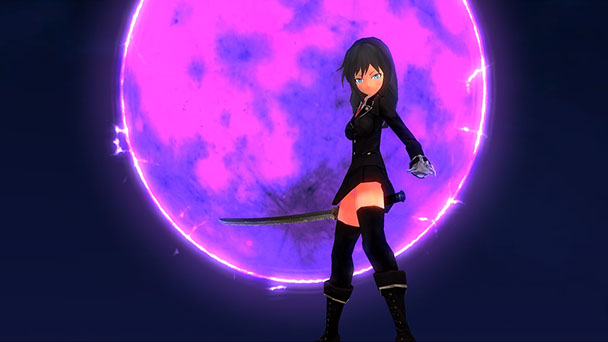 With responsive and stylish combat and a lot of freedom to spec your blazer-clad, katana-wielding protagonist, HunterX offers engaging action and more autonomy that the genre usually supplies.
HunterX
Platform:
PC
Developer:
Orange Popcorn
Publisher:
Orange Popcorn
Release date:
April 28th, 2022
Price:
$14.99 via digital download, $12.74 launch discount
Availability:
Steam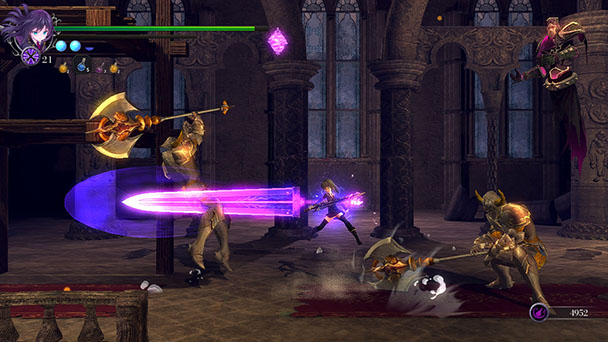 Orange Popcorn's HunterX is mostly devoid of originality. Often the game feels like an amalgam of every Metroidvania element you could possibly think of. You'll begin your trek with only a serviceable melee weapon and a basic jump, but you'll soon start building your robust repertoire.
As you journey through the labyrinthine, you'll earn new skills, like guards and dashes, which will quickly evolve into nimble air dashes. You'll gain heart-hitting projectiles and find equippable items which are typically concealed in treasure chests. Periodically, you'll save your progress at enormous statues, solve the occasional puzzle, spend earned resources to upgrade your stats and purchase gear, and unlock abilities from a branching tech-tree. Unsurprisingly, all your efforts help even the odds for the sporadic boss fights. If you have even a passing familiarity with the genre, hardly anything will feel novel.
But there's the thing: while almost every facet of HunterX feels familiar, it's still a satisfying experience. Much of that is hinges on the underlying quality of coding. Save for a user interface that could use some simplification, moment-to-moment play shines as luminously as the violet moon that habitually lingers in HunterX's otherworldly backdrop. Let's take a look at some of the reasons why the game works so well: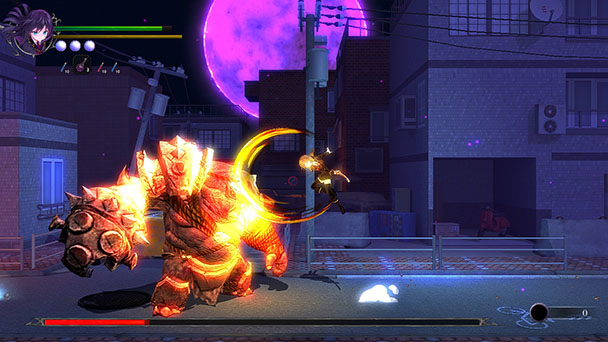 Multiple Ways to Mutilate
When games present challenges to players, there is often a single, best method for success. Pleasingly, HunterX is built around equifinality, a design philosophy that offers multiple ways to triumph. Early on, you'll be able to guard against attacks and even use a well-timed parry to turn the tide of conflict. But you're not forced to master the techniques. Alternatively, you can dash through foes, before turning and issuing a punishing combo. Save for brief moments during attack animations, this technique even works for bosses.
While you'll predominantly rely on your standard attack (which can also be charged), you also have access to a multiple of other offensive techniques. Mortal Blows are powered by MP earned by slaying foes; when executed you're treated to a flashy weapon strike that can remove an abundance of health. You have different Occults you can equip that provide yet another type of eye-catching assaults. There's nothing quite like summoning a fiery dragon to humble a tenacious elevated enemy.
You'll level up your basic stats with karma acquired by eliminating enemies and slashing at pinking diamonds sprinkled through the air. Throughout HunterX, there's a gratifying trickle of rewards, with stat upgrades providing you with Keystones that can be used to purchase even more abilities. Sure, you'll occasionally be coaxed into grinding after a humiliating defeat by a boss. But you'll almost always have some of resource to spend, which offsets any sense of irritation.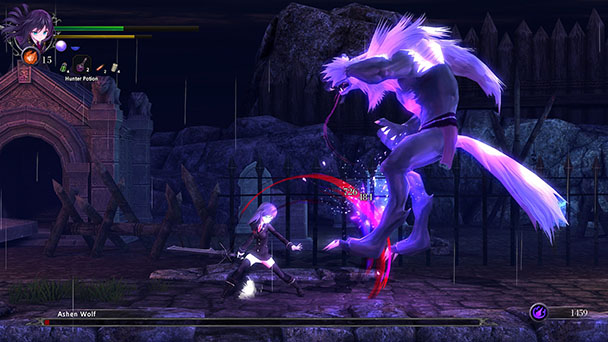 Tough, But Largely Free of Frustration  
Like any respectable Metroidvania, there's an in-game map that charts your expedition. But compared with some of the games that pioneered the genre, you'll rarely hit an explorational wall. HunterX's numerous abilities and items will help you capture rewards that dangle just of out of reach the first time you spot them. But when it comes to the route forward, there's little ambiguity, making a twelve-hour playthrough thoroughly enjoyable. Beyond that, there's even a New Game+ reward that contributes additional value.
Remarkably, it's a polished experience. A playthrough revealed no major bugs, with two skills not quite behaving as stated, although this could be a localization issue. Largely, the controls feel responsive, with lead character Tsuki able to instantaneously duck when enemy projectiles are lobbed at her. Pleasingly, her attacks often send adversaries into stuns, allowing for a satisfying sting of follow-up strikes. Opponent animations are consistently telegraphed, with protracted wind-ups that are unmistakable. Yes, there's a few oddities like large foes who can attack through platforms. But small nods like skulls that move in the same sine-wave like patterns as Castlevania's Madusas help to make these blemishes forgivable.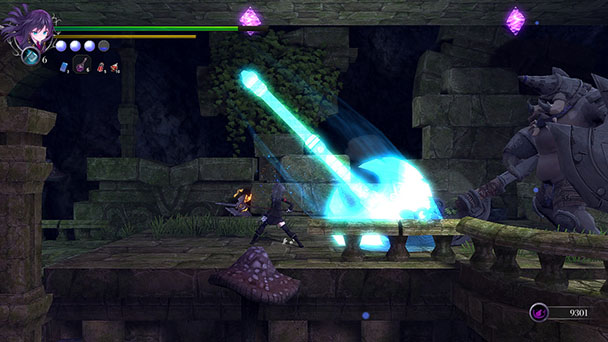 Conclusion
HunterX isn't perfect. Those hoping for storyline will be put off by the few lines of dialog that drive the campaign. But it's thoroughly enjoyable, so much that I had a hard time putting the game down at times. Elevated by imposing bosses and some attractive shadow effects, the game sporadically impresses. But even when you are reconnoitering its labyrinthine halls and leaping across its environments, it's visually competent despite a rather frugal use of polygons and texture fidelity. Undoubtedly, the game's best trait is the sense of autonomy. You're able to tackle the game's demons with an arsenal of your choosing. It's going to be hard going back to more restrictive action-adventures.
Review Overview
Summary : There are few original ideas in HunterX. But when a multitude of weapon, ability, and item systems allows this much autonomy, a lack of originality can be excused.