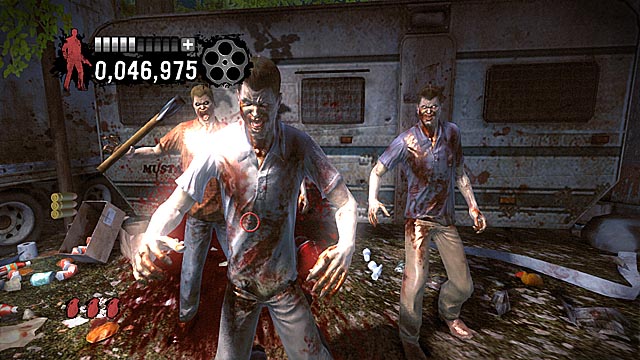 Looking back, 2009's House of the Dead: Overkill was certainly an intriguing Wii title. Published on a console usually associated with family-friendly fare, the game combined mutant massacring mayhem, a torrent of foul-mouthed dialog, along with a smile-inducing grindhouse aesthetic. While the title didn't tamper with time-tested light gun shooter mechanics, it didn't need to. Overkill's cathartic shooting and over-the-top delivery were gratifying enough to instigate cross-couch high five's from the most reserved participants.
Despite SEGA's claim that the title "absolutely met our [sales] expectations", Overkill never quite seemed to transcend cult status, mirroring the commerciality of its cinematic inspiration. Fortunately, the recent release of House of the Dead: Overkill – Extended Cut has the potential to seize the attention of decidedly different demographic- PS3 players. With a capable high-definition makeover, two additional stages, 3D support (both stereoscopic and anaglyphic), as well as a bevy of collectables to locate, the title substantiates its forty-dollar purchase price. While those unfamiliar with the genre may bemoan the game's five hour main campaign, light-gun enthusiasts will recognize there is more to the game than just a quick trek to the closing credits. Skillfully, developer Headstrong Games bolstered the main game with online leaderboard support as well as a pleasing number of gameplay variants. The most unique deviation is "Shoot the Sh*T" which tasks players with bleeping out the game's endless strings of expletives, pressing the fire button to issue a sanitizing censor tone.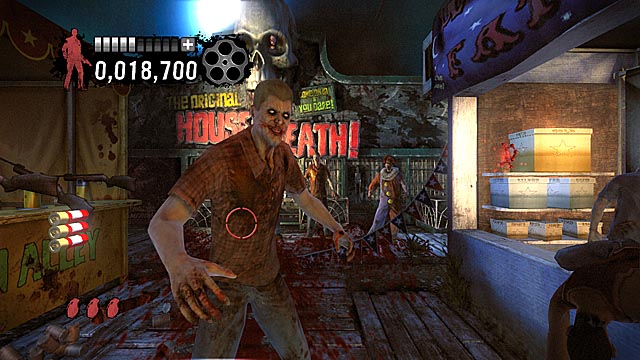 Like the four previous entries in the series, Overkill is an on-rails shooter, moving players through a predestined path of mutants and boss monsters. Gamers are granted a bit of flexibility in their perspective: moving the cursor the edges of the screen allows players to tweak the viewing angle in order to shoot at a trinket of power-up. Although Overkill – Extended Cut can be played with a Sixaxis controller, moving the on-screen cross-hair is slower and more cumbersome than using a Move peripheral. Ideally, players will one of Sony's sharp shooters available, which replaces the normal 'rapid upswing to reload' maneuver with a pleasing shotgun-style pump. Without having to lose a bead on targets, high scores were easily garnered with the device.
Overkill allows players to use collected cash to improve attributes such as the power, firing rate, and clip/magazine size of their weapons, as well as buy additional firearms. While arsenal augmentation may be enough to keep solitary gamers returning to stages, the game's gratifying local co-op capacity will be the main enticement for duos. With a second player, Overkill absolutely shines, thanks to the elimination of slowdown which sullied the Wii iteration. Likely, every erupting mutant head or successful civilian-saving scenario will be accompanied by a chorus of boisterous cheers.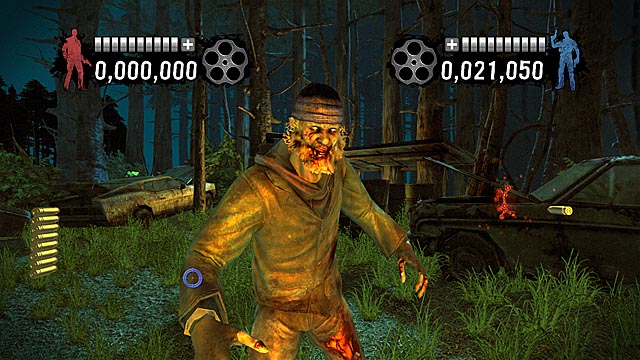 House of the Dead: Overkill's simulated film grain, pulpy soundtrack, psychedelic intermission screens, and baritone-voiced narrator endow the game with personality. Likewise, the game's character's, from the perpetually lewd ladies' man, Isaac Washington to requisite sex kitten Varla Guns astutely lampoon drive-in cinema while delivering the occasional chuckle. Although the game graphics can't compete with top-tier PS3 titles, such as Uncharted 2 or God or War III, the game conceals it's ancestry well- only during cinemas does the animation revel its origins. Regretfully, load times can be a bit long. Simply examining newly acquired concept art or 3D models is prefaced by a thirty-second wait.
Along with Namco's Time Crisis: Razing Storm, House of the Dead: Overkill – Extended Cut belongs in every Move-owning, light-gun aficionado's library. With a constant barrage of gross-out moments, lascivious language, collectables, and encroaching enemies this funhouse ride offers a pick-up and play experience capable of entertaining gamers of all skill levels. With any luck, Extended Cut will sell enough to copies to inspire a new House of the Dead game, as shredding mutants into little red bits is soothing soup for trigger-happy souls.