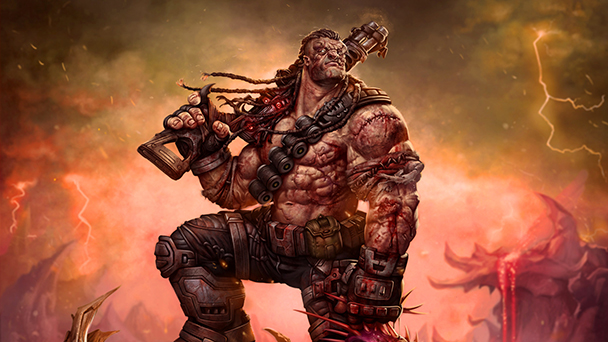 Hellbound looks good and plays decently, but suffers from a dearth of weaponry and enemy types, two stables of the first-person shooter genre. If you're looking for a three-hour fix of retro fragging goodness, this might do the job, but other options might be work seeking out. 
Hellbound
Platform:
PC
Developer:
Saibot Studios
Publisher:
Nimble Giant Entertainment
Release date:
August 4th, 2020
Price:
$14.99 via digital download, launch discount price of $11.99 through August 11th
Availability:
Steam
Id Software's 2016 reboot of Doom demonstrated a demand for simpler first-person-shooters. For some, the genre has lost its viscerality when it began to pursue the cinematic. Now, it's commonplace for shooters to deliver plenty of pulpy dialog but these cutscenes can disrupt the momentum of the game. Likewise, elaborate set-pieces provide plenty of Hollywood-style spectacle. But occasionally these pre-scripted scenes divulge their methods, making it painfully obvious that you're being pushed down a linear path.
In response, titles such as Ion Fury and Wrath: Aeon of Ruin have adopted a back-to-basics approach. Each aped the frenzied style of FPS classics like the original Doom and Quake. Storylines were skeletal, ammo and enemies were plentiful, and tranquil moments were nowhere to be found. Both games were about stimulating a release of adrenaline, accelerating pulses, and testing to see if blinking is really an involuntary reaction. Likewise, Hellbound wants to transport players back to a time when the genre required platers to restore their health and armor by surveying the landscape for power-ups.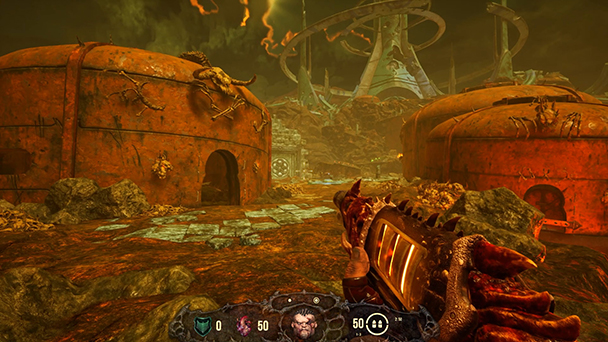 Light on Story, Heavy on Shooting
Head into Saibot Studios' effort and you'll likely perceive an inventory of retro references. Like Doom, you're the lone warrior traversing a hell-scape filled with monstrous beasts. He's named Hellgore, and he's on an undertaking of vengeance, hellbent of killing the creatures responsible for wiping out humanity. Like Duke Nukem, Hellgore has a potty-mouth, and isn't afraid of dropping the kind of F-bombs, that might have gotten your 3.5-inch disks confiscated in the '90s. But don't head into Hellbound expecting much in the way of narrative sophistication. Like the classics, most story elements are conveyed on loading screens.
Like Nukem's John St. John, Hellbound's Artie Widgery vocalizes an assortment of throaty, outraged quips. But at this point, the perpetually pissed-off protagonist is pure trope, so you'll probably smirk at the sheer silliness of it all. But Saibot Studios is resolute on channeling the testosterone-drenched gib-fests of old. Between the driving metal soundtrack and how enemies splash blood when they're defeated, the only thing Hellbound is missing is some casual satanism. Back in the '90's these signifiers were all part of the marketing, a stance of defiance against Nintendo's family-friendly fare. But now, these things are as toothless as the Iron Maiden shirts selling at the local mall.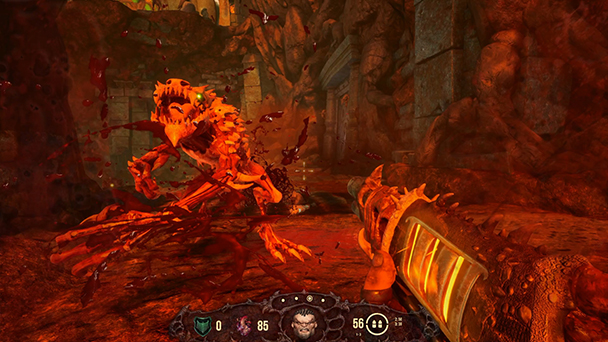 It's Hell, so Demons Persistently Spawn Behind You
When it comes to play, Hellbound fares marginally better. With a host of adjustable graphical options, the game can be tweaked to offer blistering framerates on even modest rigs. Undoubtedly, that's how you'll want to play the game, allowing for maximum fluidity as you sprint and jump through the game's seven stages. Like the FPS games of old, you'll venture into new areas, foes will spawn, and you'll want to circle strafe them into oblivion. While the action is nimble and persistently responsive, a deficiency of weapons and enemy types means there's tedium across a relatively short jaunt.
Sure, fragging foes is fun at times, but you'll wish Saibot Studios didn't follow convention so closely. From the requisite melee weapon (a club) that's not that much fun to use to the combination of enemies that fire directly and arc shots, Hellbound is a bit too derivative for its own good. I have no issue with a game reinvigorating quarter-century old customs but adding a few innovative weapons or opponents would have been very welcome. The lack of originality isn't a complete deal-killer, but veteran FPS fans will bemoan the missed opportunity. Even staunch traditionalists might take issue with the amount of variety here, with five weapons, a quartet of different foes, and a single boss battle stretched out across the games three-hour duration. Of course, there's also four survival maps, that do away with the search for keys and switches. Expect some frustration though, since the game doesn't always provide the best tools for survival.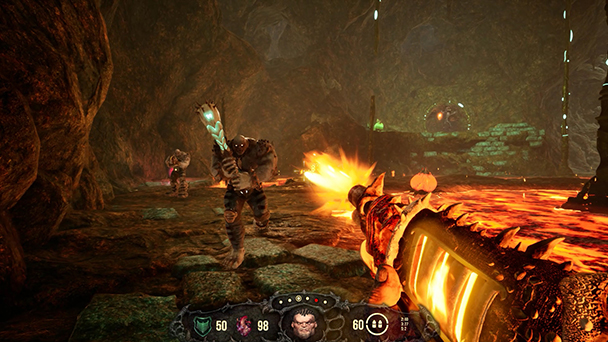 An Illustrious Inferno
Level design draws from the era as well, requiring exploration to find keys and objects that grant access to new areas. The game's sprawling levels do reuse objects, but recycling is obscured by pathways that often fluctuate in elevation. The game's interpretation of Hell shirks the dark spaces often represented in games, with well-lit subterranean passages and vista that flaunt the game's far-flung draw distances. Nabbing those ammo cases and armor pieces that tantalize in the distance requires a bit of dexterous jumping. Fortunately, Hellbound offers a persistent run option for those who don't want to hold down the shift key. Fundamentally, the game looks great and runs well.
Similarly, enemy AI seems rooted in yesteryear. Expect adversaries to assault you with up to two different attacks. But that's not to say the game is easy. Crank the game's difficulty up to 'Old School', the fourth and highest challenge level and you'll occasionally be two hits away from death. When enemies come running and gunning for you near and far, Hellbound is a respectable test of your circle-strafing skills.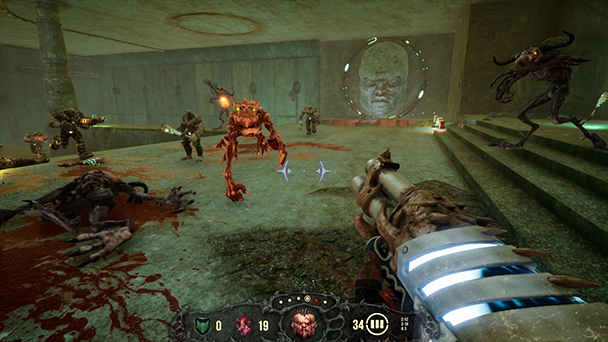 Conclusion
With traditional first-person shooter mechanics, campy voicework, and modern visuals courtesy of Unreal Engine 4, Hellbound honor the genre's roots. But look closer and you'll notice half-hearted imitation rather than respectful homage. With a scant number of weapons and even sparser enemy variety, the game's frenzied action is inhibited. While Hellbound shouldn't be damned for eternity in the great inferno, it feels mired in Early Access purgatory.
Hellbound was played on PC with review code provided by the publisher. 
Review Overview
Summary : Woefully Hellbound doesn't feel like a complete game, but a promising start for something bigger. While the game's price reflects those reduced ambitions, you might find yourself having only a modicum of enjoyment due to a lack of originality.