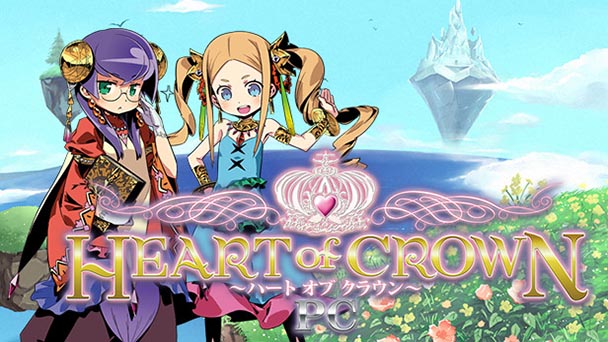 Electronic versions of tabletop games extend several benefits. For those who obsess about keeping cards and boards clean, digital adaptations can be a blessing, prohibiting the depreciation of playing pieces. Players with active schedule know that coordinating the schedules of acquittances for a local meet-up can be difficult. Potentially, online-based competitions can assist with these assemblies, or even permit play with like-minded strangers.
The recent release of Heart of Crown for PC demonstrates a number of these advantages. Delve into the digital version of Japanime Games' crowd-funded game and you'll never have to worry about a dog-eared card or even returning everything back to the base-game box when you've completed a game. As with most electronic adaptations, game set-up is handled for you, thereby streamlining the learning process. And while Heart of Crown is an enjoyable experience on a computer screen, a number of small issues can ebb away at the general sense of satisfaction. Hopefully, developer illuCalab (A Magical High School Girl) can patch these problems, because the core game balances strategy and random elements extremely well.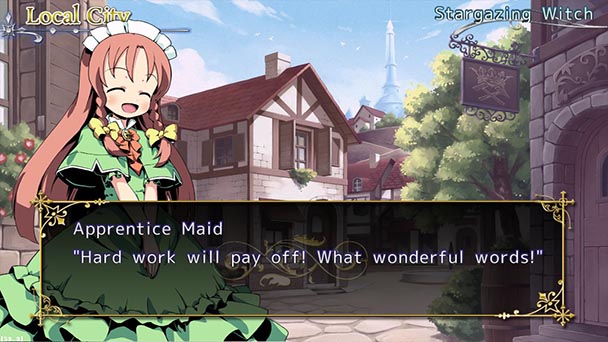 Boot up the 207-megabyte download and you'll be transported to Heart of Crown's main menu, where you'll be able to challenge online, or CPU-based opponents within Versus Mode. While the option for a tutorial is absent from the main menu, a non-interactive lesson is available once a game is started. If you're unfamiliar with Heart of Crown and new to the deck-building genre, it's recommended that you seek out a FAQ or watch a playthrough to supplement the in-game instruction.
Likely, you'll discover the goal of Heart of Crown, where each player vies to preserve peace for an imperial empire by backing the next successor to the throne. Each of the contenders for coronation are represented by one of seven different cards- save for twins Lain and Shion who are a package deal. The game has two distinct segments. In the first, players prepare by constructing their own individual deck. Once you earn enough wealth, you can select a princess, before racing to earn twenty succession points and declaring a coronation. While there's a robust amount of mechanics in Heart, the basics are remarkably easy to comprehend.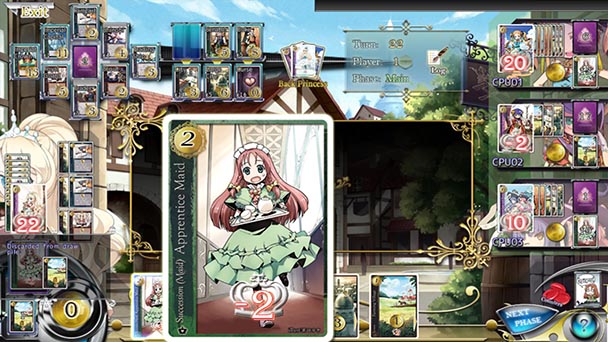 When it's your turn, you're dealt five cards from your deck. Here, you'll want to create a chain, laying down farm land for points. While some cards like the Scout allow for branching, most of the time your hand will be formed in liner fashion, with gold-colored links on each card enabling another card to follow. Many pieces contribute to your imperial coffers and you'll want to purchase additional cards from the basic Market. Small and large cities contribute more money, while others like the Royal Maid, Senator, and Duke can supply succession points you'll need to win.
While you're promoting your own princess-to-be, one to three other players will be doing the same. That's where the Random Market comes in, offering cards that can mollify the efforts of opponents or even do things like covey the ability to swap out any unwanted cards from your hand. Unlike most collectable card games where you steadily add to your starter deck after each game, Heart of Crown's focus is on cultivating a deck during the game. Not only is the approach thoroughly entertaining but once you've grown tired of the basic setup, you can tweak the set-up. Before each game you can customize the basic deck and the game's Campaign mode allows you to trade in any acquired support points for additional cards and breezy visual novel-esque interludes.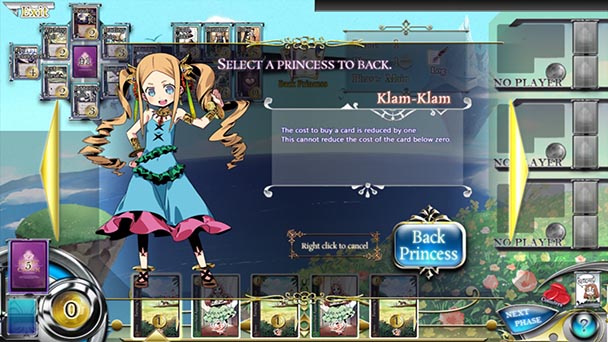 Unfortunately, a number of transgressions mar the ascension to the throne. Undoubtedly, the biggest issue is the lack of fullscreen support. Adjusting the resolution allows Heart of Crown to be viewed in various window sizes, however none of the settings could fill the screen. Other issues are rooted in the user interface, where you're unable to retract an errand many most of the time. Sporadically, you won't even be able to set any cards down during a turn, giving opponents a distinct advantage. Another less issue stems from the game's notices about 'port openings'. Ideally, online competitors shouldn't have to worry about behind-the-scenes matchmaking.
Visually, Heart of Crown does an admirable job at recreating the board game, bringing contributions from Yuji Himukai (Etrain Odyssey) and FLIPFLOPs Yuki Takahata onto high resolution monitors. Although the default view for cards isn't enough to show detail, a right click zooms in, showcasing the game's stunning artwork. Sonically, the title isn't as adept, with a track that recalls "Pomp and Circumstance" looping a little too frequently.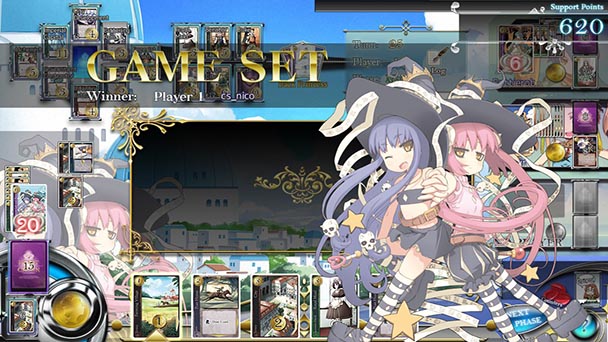 Hopefully, developer illuCalab can remedy the minor problems that afflict the PC rendition of Heart of Crown. If they do, players will be able to enjoy an adept adaptation of the deck builder. With artwork that rivals Tanto Cuore and play that's definitely engaging, Heart of Crown could easily become the reigning queen of PC card games.
Heart of Crown PC was played on PC with review code provided by the publisher.
Heart of Crown PC
Developer:
 illuCalab, FLIPFLOPs, Japanime Games
Publisher:
 Culture Select, MangaGamer
Release date:
 December 12th, 2016
Price:
 $24.99 via
Steam
, currently on sale for $19.99 through 1/4/2018
Review Overview
Summary : There's no doubt that Heart of Crown is one of the best deck builders around. Although the PC adaptation has a few issues, none of them are severe enough to dethrone this enjoyment and engaging title.