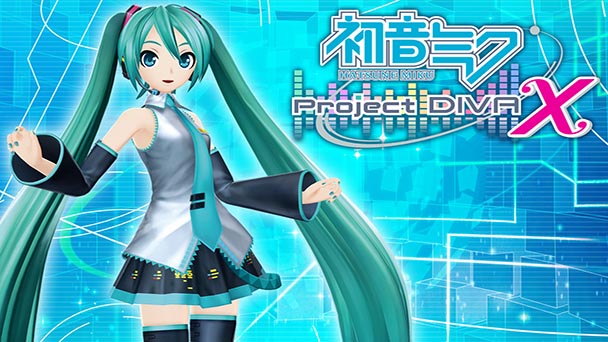 Chances are, if you possess even the slightest interest in popular culture, you've heard of Hatsune Miku. Created nine years ago by Crypton Future Media as a singing synthesizer, Miku isn't your average virtual instrument. Crypton endowed their software with an anthropomorphized appearance, making the temptress with the teal-colored twin-tails an indelible icon. With a global concert tour, a string of commercials, and a plethora of tie-in products, Miku just might be one of the most successful singers on the planet.
But her success can't just be attributed to Crypton. Miku's songs and music videos are crafted by a range of producers- everyone from weekend hobbyists to seasoned professionals with years of experience. Much of Hatsune Miku's prolific body of work and subsequent rise to fame is the result of contributions from a legion of fans. That makes her quite distinct from most corporate mascots with a carefully controlled image. But it also means her versatility requires a backstory and personality that is strategically ambiguous.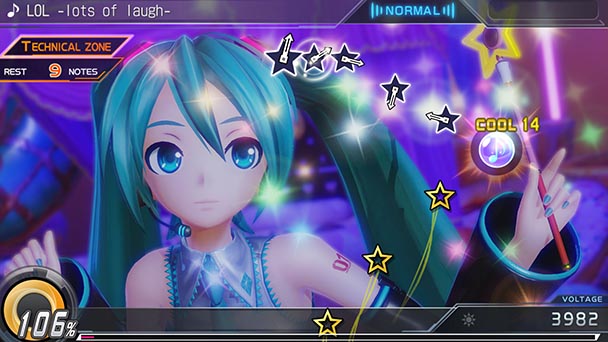 This becomes painfully evident when playing Hatsune Miku: Project Diva X's main campaign. Build upon the most generic of impetuses, the story tasks players with collecting voltage, a resource which is used for the restoration of a collection of clouds. Dialog between the Miku and her fellow vocaloids is largely insipid, with little insight into each singer's personality or any interesting interplay, beyond the need for world healing. While the exposition attempts to conceal its shortcomings by alluding to the robotic nature of vocaloids, there have been a slew of successful efforts that have humanized automatons, making the utilitarian plot disheartening. Sure, some of the problem stems from Miku's deliberately nebulous nature, but there's little reason why co-developers Cryton and SEGA didn't create some new form for the Crypton crew to interact with.
Each cloud is based on a different aura- Classic, Cool, Cute, Quirky, or Elegant, nearly dovetailing with the different singing styles created by the 2010 Hatsune Miku Append add-on package. But if players can get past the blandness of the plot, there is a motivation to be found in the story mode. As the moniker implies, play is driven by a procession of errands. After selecting from one of the five songs that hover around each cloud-base, players also select a vocaloid, any accessories or outfits (called "modules"), and a difficulty level before the challenge begins.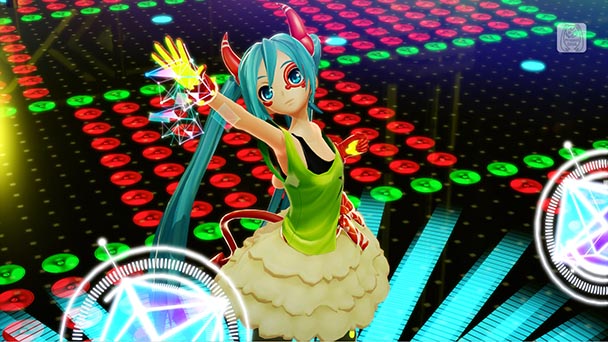 The core gameplay loop becomes evident after completing cloud requests. Success during Chance Time results in a new accessories or modules that players can equip. Items have an elemental component and aligning with the aura-based themes of the Project Diva X's quintet of clouds gives players a healthy boost in voltage. Pleasing, an exact match isn't required, with players able to augment their voltage level with their favorite stat-boosting accessories and modules. In execution, it's an exceedingly clever addition into the Diva series, bestowing a steady string of rewards that helps to preserve appeal. In execution, it's not far removed from the typical role-playing loot-drop cycle; RPG enthusiasts are likely to find themselves engrossed in the pursuit.
Mechanically, performances aren't radically divergent from previous Diva entries, with the game's notes streaming from all sides of the screen. For those who have traveled down long, sometimes tedious treks of Rock Band and Guitar Hero's note highways, the mechanic is commendable, keeping eyes busy as the scan the entire playfield. On the downside, the indulging music videos from previous entries have been replaced with a backdrop that emulates a live, on-stage performance. Sure, the crew is all motion-captured to perfection, but many are bound to miss the quirky and occasionally emotive videos. On the upside, the game's collection of thirty songs prove to be pleasing, with little chaff on the playlist. Undoubtedly, the sonic highlight is the game's multi-song melodies that are only undermined by awkward transitions.
Budding vocaloid video directors can still create their own sequences for Miku, Len, Rin, Luka, KAITO and MEIKO courtesy of the concert editor. While stimulating performances do demand quite a bit of time, if players delve into the game's creation suite, they'll find an array of production tools. After picking a song and setting, players drop markers on manipulate everything from camera angles, lighting, and even add effects to build their own custom routines. Doing so demonstrates the proficiency of Project Diva X's transition to the PlayStation 4, with a fluid sixty frame-per-second, 1080p delivery throughout. As with previous iterations, players can build their affinity between rounds or customize your homespace, extending another reason to revisit performances.
Downloadable content comes in two forms. There's reasonably priced extra costume for diehard completionists as well as two bonus songs. While those might be worth of your cash, you'll probably want to stay away from the in-game unlocks, which remove the enticement of hunting down all those accessories and modules.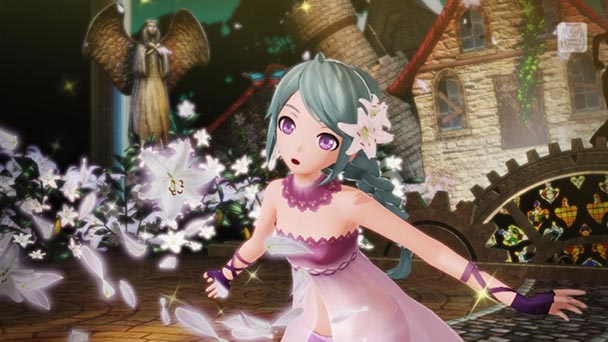 Although the tracklist has been downsized and the lack of video backdrops is bothersome, Hatsune Miku: Project Diva X improves on previous iterations by integrating costumes and accessories. Previously these elements were cosmetic, but with Diva X, they take on a RPG-like quality, ensuring longevity as players chase down all 300 outfits. Anyone with even a slightest interest in vocaloids should easily get enough playtime out of the title to warrant a full-priced purchase.
Hatsune Miku: Project Diva X was played on the
PlayStation 4 with review code provided by the publisher.
Hatsune Miku: Project Diva X
Platform: PlayStation 4, PS Vita
Developer: Crypton Future Media, SEGA
Publisher: SEGA
Release Date: August 30th, 2016
Price: $49.99 (PS4), $39.99 (Vita) via retail and PSN
Review Overview
Summary : Hatsune Miku: Project Diva X is the equivalent of hosting Mikufest in your living room, with a disk (or download) chockful of songs, performances, and outfits. Save for the absence of videos, fans will want probably want a front row seat on opening night.