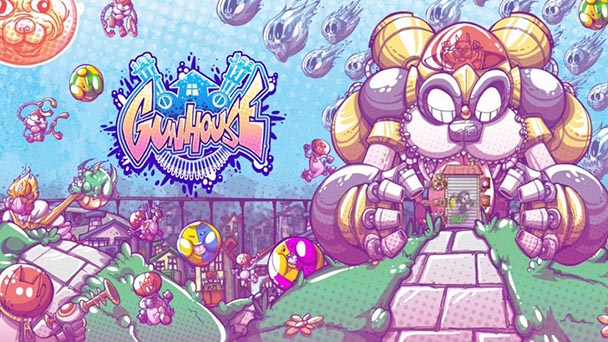 Occasionally, game designer can mimic bartenders, blending a few fundamental ingredients, and creating something quite exhilarating and exotic in the process. That's certainly the case with Gunhouse, a quirky title that began as a PS Mobile game, attracting a few curious players before Sony shuttered the service.  It was eventually reborn as a full PS Vita title, and subsequently ported to iOS and Android devices, but the game never quite garnered the attention it deserved. With the release of a Nintendo Switch iteration, developer Necrosoft Games hopes to remedy that. Now Nintendo owners, have the opportunity to take commend of an orphanage outfitted with giant, anthropomorphic firearms.
The fundamental mechanics are essentially the same whether players tackle the main campaign which allows for the purchase of power-ups, or confront Hardcore Mode which forbids any available assistance. Eighteen-second rounds task participants with creating blocks from correspondingly colored tiles. Unlike most puzzles, where you might swap the position of two pieces, Gunhouse lets you slide entire rows, shifting the strip of title or even sliding it away completely. Once you have created a cluster, it adheres together into a large piece, not unlike Super Puzzle Fighter II Turbo.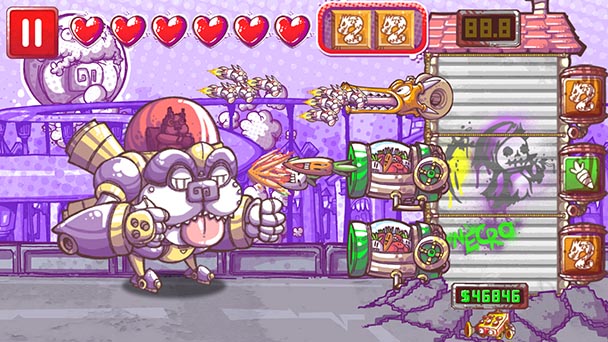 Slide it to the left and you load one of the three guns that jut from the side of your dwelling. Move the piece to the right and you'll fill one of the three special chambers that are able to rain down punishment across the entire playfield. Foolishly, a procession of interlopers has decided to attack the Gunhouse, putting the fate of its inhabitants inside in jeopardy. To combat this threat, you'll be wildly flicking rows back and forth, all in an effort to keep your defenses active.
Once the eighteen-second round is over, you get to operate the battlements, pulling the trigger on fanciful guns that can do things like send out toxic clouds that leach away health or freeze enemies in place. If you were lucky enough to match the color of the randomly chosen block at the top of the screen, Gunhouse elevates your attack, typically sending out sprites are twice as large that can whittle down the enemy invasion. Essentially, you'll need every chance your get, as adversaries are focused on draining the house's supply of hearts.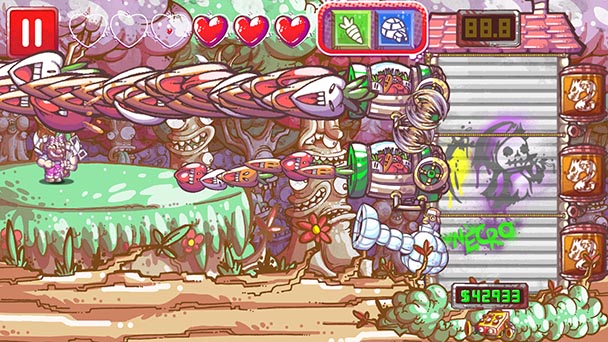 And it's also a game of choices. Do you risk replacing a single gun full of shot to try to create a block that's large enough to refill all of your guns? Do you try to load all of your offensive slots or do you focus on the bigger picture, creating a block that what linger and can be used in the next round. There are even decisions when activating your arms. While it's tempting to trigger them all, delivering the hurt to aggressors, occasionally you might be able to save your ammo to the next round. Undoubtedly, Necrosoft understands that bombarding the players will small but influential decisions results in one of those wonderfully hectic experiences that gaming masochists tend to seek out. You'll might experience a bit of mental fatigue after juggling Gunhouse's jumble of quandaries, but you'll likely love every hectic minute of it.
That is once you get used to the unorthodox puzzling. As someone who has probably played every Match 3 and Puyo Puyo clone around, I thought It's quickly adapt to Gunhouse's play mechanics. Although I eventually did, it took a while to learn the tenets of piece manipulation. So, anyone seeking to learn a new skillset should consider a journey to this odd orphanage.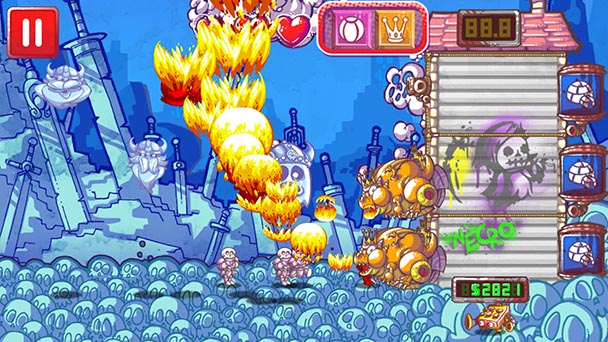 Gunhouse's output favors the colorful and eccentric, with imaginative enemies like viking clouds, puckish skeletons and ice cream trucks, and well as bosses that rival the size of your abode. Puzzle rounds are signaled by the game's backdrops turning monochronic, which feature curiosities like giant swords jutting from hills or pathways comprised of hundreds of hand-drawn skulls. Imagine a heavy metal album cover redrawn with brightly hued, cute characters and you'll probably have a decent handle on the art style. Sonically, Rich Vreeland aka Diasterpiece extends a selection of upbeat ditties that add another delightful incongruity to the action.
Potentially, the only caveat with Gunhouse involves the asking price. On mobile devices, the game can be purchased for less than three dollars. While the Switch version includes optional Joy-Con control, the inclusion of this input method doesn't really warrant a five-fold escalation in price. That said, the game easily contributes fifteen dollars' worth of enjoyment, so it might be possible to overlook the value proposition on iOS and Android platforms. While it's doubtful anyone could claim that fortifying an orphanage is cheap, a growing consistency is going to find out that's it quite fun.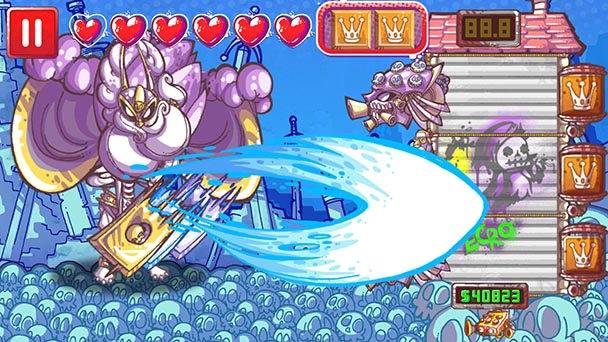 Gunhouse was played on the Nintendo Switch
with review code provided by the publisher. 
Gunhouse
Platform:
 Nintendo Switch, previously on PS Vita, iOS, Android, Windows Phones
Developer:
 Necrosoft
Publisher:
Necrosoft
Release date:
 January 15th, 2018
Price:
$14.99 via
Nintendo eShop
Review Overview
Summary : Gunhouse channels the frantic cycle of Rampart, with play split between puzzling to garrison your structure, bookended by periods of chaos to test your efforts. Like the old arcade game, it's a compelling mix.