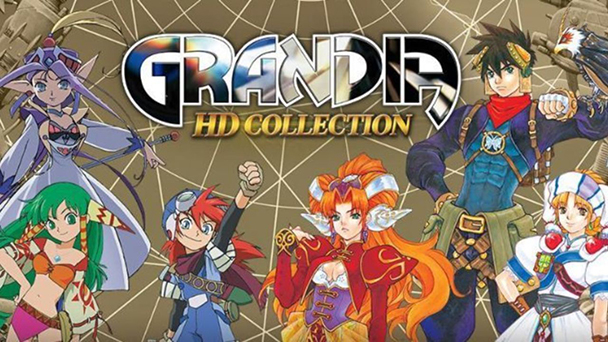 While the industry sporadically flirts with backwards compatibility, enjoyment of the classics is rarely guaranteed. Sure, you might be able to hook up legacy up legacy consoles, provided your television has enough inputs and physical space isn't an issue. But with each new hardware generation this task becomes increasing complicated. Their prevalent solution, of course, is the repurchase of older games, a practice often incentivized by giving aging titles a visual makeover. Unsurprisingly, the capacity of the renovation hinges on the age of the source material.
Typically, it's easy to be skeptical of these apparent money grabs, with publishers less concerned about historical preservation and more concerned about profitability. Thankfully, the release of Grandia HD Collection bucks this trend. While we can't accurately infer publisher GungHo Online intentions, we can speak of the quality of the two role-playing games in this package. Both Grandia and its sequel are some of the best role-playing games of the late twentieth/early twenty-first century. Each exemplifies the type of cheerful mood and adventurous spirit that catapulted the genre into popularity, while extending the type of battle mechanics able to beguile players over an extended trek.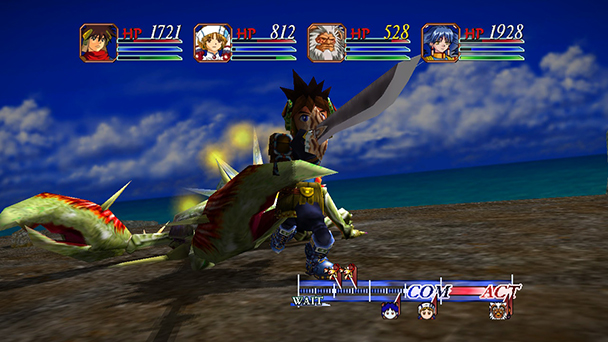 Originally release for the Sega Saturn in 1997, the original Grandia eventually made a stateside appearance two years later with a PlayStation iteration. Although a game's roster becomes rotatable, the early game centers around Justin and his surrogate little sister Sue. What's distinctive about Grandia is its emphasis on character and lore rather than garish spectacle and its occasional subtlety in conveying information to the player. At the beginning of the game, you're tasked with a quest to hunt down four pieces of junk hidden around Justin's quint hometown of Parm. Seemingly, its one of those archetypal errands to goad you into speaking with neighborhood NPCs that also pads playtime. But without explicitly statement, the assignment generates the feeling of wanting to escape the confines of the sleepy hamlet. Soon enough Justin and Sue, and Grandia's ability to unambiguously communicate character aspiration become clear.
But it's not just the game's storytelling that sets Grandia apart from its peers. While the game's combat mechanics build on turn-based tradition, it was one of the first RPGs to shirk static turn orders for a more fluid interpretation of conflict. Much like Final Fantasy IV's Active Time Battle system, the integration of the Initiative Point Gauge endows clashes with a bit of strategy. Here, each ability takes a different amount time to charge and execute. Factor in the time is takes to move toward a target and the ability to stun and push back a foe's attack window and each spat will make you think, rather than prompt mindless button pushing. Likewise, a skill system that scales all the way down to different weapon types allows for a health amount of character customization.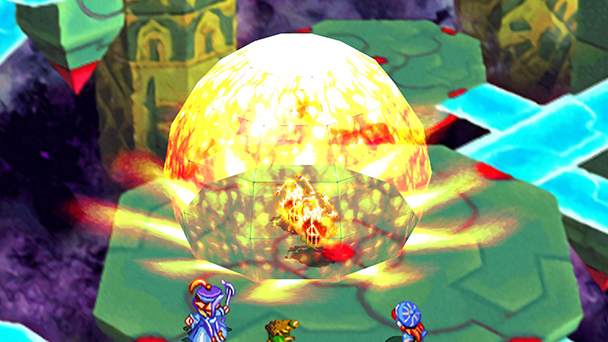 With a new cast, storyline, and a multitude of restructured mechanics, 2000's Grandia II is a sequel in name only. Initially, the title seems like the first swell in a wave of darker, reluctant protagonists. Lead Ryudo's doleful past has calcified into a thoroughly pessimistic and impervious demeaner. But cleverly Game Arts renders him more mischievous than tragic, as the mercenary half-heartedly takes on a serious of assignments. He's the kind of rebellious lone wolf that Clint Eastwood made of career of playing, making for a thoroughly enjoyable character.
Much like Eastwood vehicle, The Enforcer, enjoyment stems when Ryudo is given a bantering partner. With Grandia II, this initially arrives with the incorporation of Elena, a devout songstress on route to perform a religious ceremony. Gradually, Game Arts builds the roster, adding a steady succession of personalities to raise the level of repartee. Like Grandia, the inclusion of dining sequences is a remarkable inclusion, offering optional bits of dialog for those who relish every last bit of exposition.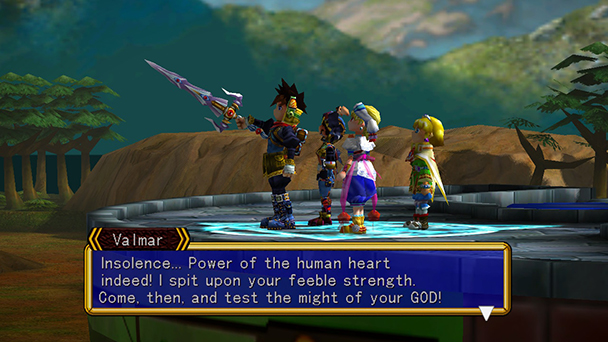 Also mirroring its predecessor, Grandia II's battles aren't random, with enemies showing up across the game's succession of dungeon and overworlds. If you manage to sneak up on a creature from behind, you'll gain initiative, you you'll give foes a wide range, as they can do the same. With the sequel, Mana Eggs make a reappearance, but here they boost elements abilities rather than allow magical skills to be taught to characters. One common problem with both Grandia games is the dullness of dungeon design and the tendency for flashy but slow battle animations. While the two titles established a number of distinctive traits, each has peculiarities that haven't battled the test of time.
Aesthetically, Grandia HD Collection struggles to mask its age. Grandia's sprites sporadically charm, exhibiting a wealth of delightful animations. But they also reveal the occasional glitch, like when the camera spins to show a military formation and a few soldiers are jerking around erratically. Grandia II opts for a polygonal delivery. While the title offers an upscaled resolution, it can't remedy a low poly count or middling texture quality. That said, the Switch version still routs an emulated version of the original game, even when a filter is employed. Another upside is that both titles offer a sixty frame-per-second output without any hint of slowdown.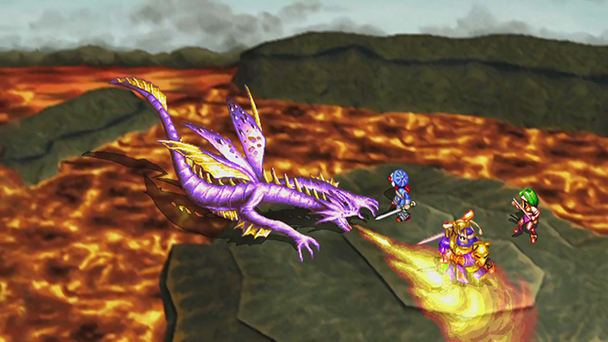 Both Grandia and its sequel deserve a place in the extended pantheon of role-playing games. Pleasingly, this compendium permits Game Arts titles to take a much-deserved victory lap, reminding players of their innovations, engaging play, and solid storylines. As long as you don't approach this expecting the kind of comprehensive overhaul provided to some games, you'll likely be quite gratified by the hundred or hours of play offered by this collection.
Grandia HD Collection was played on the Switch
with review code provided by the publisher. 
Review Overview
Summary : There a very good reason that Grandia and its sequel are often mentioned by role-playing aficionados. The Grandia HD Collection showcases the two titles knack for enjoyment two decades on, offering a fitting tribute to late director Takeshi Miyaji.