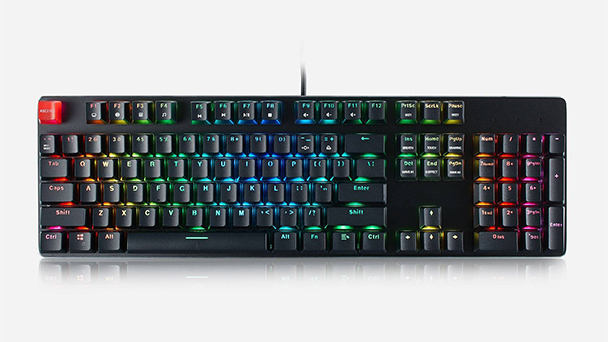 Tragically, the PC peripheral we use the most is the one that's frequently overlooked. While there's plenty of people who spend outrageous sums on graphic cards, CPUs, memory and monitors, keyboards often go overlooked. I've even witnessed a few reckless individuals who use the rickety ones that came boxed with their desktop. But whether you use your rig for writing, coding, or gaming, a quality keyboard is indispensable. Some can make extending typing sessions a bit less of a chore while others strive to reduce as much input lag as possible.
Sassily monikered Glorious PC Gaming Race (manufacturer of one of the lightest LED-illuminated mice) has a contender that balances customization and performance, which striving for mainstream affordability. Although potential owners are encumbered with doing a bit of research before committing, the company delivers a first-rate peripheral poised to please almost any preference. Let's take a closer look at the Glorious Modular Mechanical Keyboard (or GMMK).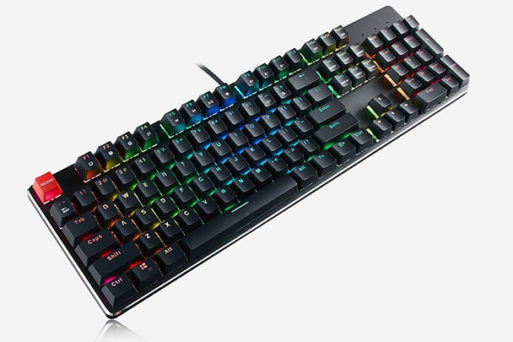 Options Abound
Head to the PC Gaming Race website and you'll first be asked to select from broad categories, opting for either a US (ANSI) or International (ISO) layout, as well as fullsize, tenkey-less, and a compact size. The first is 17.3 inches wide, the second shaves 3.3 inches off the footprint, while the latter is a diminutive 11.5 inches in width. Next, you can select from fourteen different types of switches, with options for both Gateron and Kaih is a multitude of different styles. And here is where a purchase gets thorny. You'll have to know your partialities. From silent keystrokes or clicky ones, light, medium, or heavy key weights, or even a 'linear' or smooth stroke, the number of decisions can be daunting with having a physical unit in front of you.
Alternatively, you can order the keyboard, purchase a sample switch pack for $9.99, try each, and wait for your preference to be shipped out. It's not a perfect solution, but you won't have to worry of having to return a keyboard (and having to cover return shipping). One last selection is the optional inclusion of O-rings. The round pieces of translucent plastic dampen the amount of keyboard clack, as the serve as a cushion between the keycap and switch.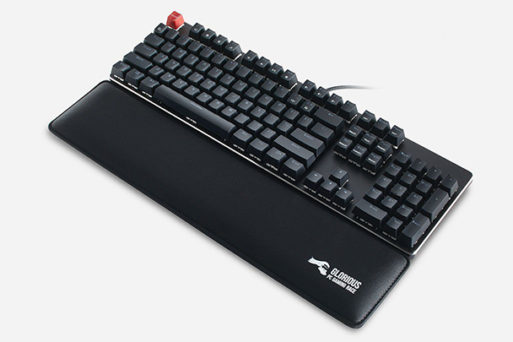 The good thing about the GMMK is that the switches, like the keycaps, can be switched out. There's even a small tool secured on the bottom of the keyboard to help accomplish this. Nice move, Glorious. For this review the company sent out a keyboard with Gateron Brown switches. Although I'm not particularly selective about keyboards, I experienced little hardship moving to the GMMK from a Bloody B975. The biggest difference was Glorious PC's device was quieter, so I could furtively type while on Zoom meetings without having to mute my microphone.
What's in the Box?
The GMMK arrives in a sturdy cardboard housing. Open up the box and you'll find clear plastic cover that guards top of the keyboard from marring, while a thin liner offers addition protection for the rest of the peripheral. Additionally, you'll find a few replacement keycaps for the escape key, a metal switch puller, a few replacement rubber feet, as well as a fifteen-page manual that explains how to remove keycaps and switches.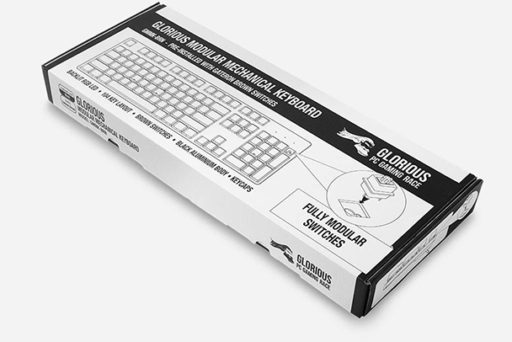 Small details like the presents of a secured cap for the USB port provide a positive first impression. Once you plug the GMMK in, and you'll discover another treat, with the keyboard's LED key-lighting demonstrating an impressive powering-on effect. Once the spiraling showpiece ends, you'll be privy to per-key RBG lighting that defaults to rainbow-like coloring.
To have complete control of the lighting, you will have to download and install Glorious' software. Unfortunately, there are multiple versions not just for the different keyboard sizes, but though different ranges of serial numbers. Ideally, Glorious PC Gaming could make things less cumbersome with a single app that determines what keyboard is connected. That said, there's a healthy amount of customization that can be accomplished by alternating between presets via a combo with the keyboard's function key. With the ability to build three different profiles and have access to macros, the 5.4 MB app offers a decent amount of functionality in exchange for a petite 5.4MB footprint.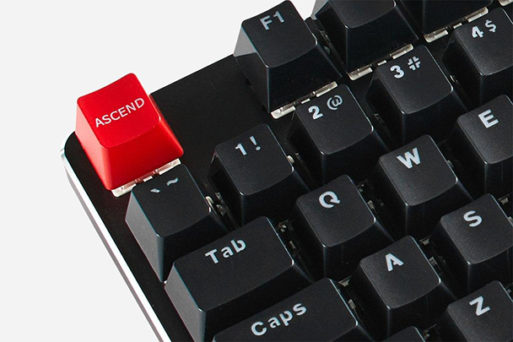 Build Quality
With a 2.1-pound heft, the GMMK balances portability with stability. While the heft of the keyboard was noticed when placed in my backpack, the added weight didn't feel cumbersome, making it a well-behaved travel companion. On a desk, the keyboard has enough substance to not slide around, a stability augmented by four rubber feet on the underside. The GMMK's six-foot braided cord feels sturdy enough, do I do wish that Glorious PC would have opted to make it detachable. I've seen these types of cables fray on the corner of a desk, so it would have been great to see this user serviceable.  Another minor aesthetic fumble is that there's no coordinating white keyboard to accompanying their ivory-colored mice. The GMMK is available in black only.
Although usability is quite subjective, it's hard to imagine anyone who wouldn't like the GMMK, after several tweaks to the module design. Out of the box, both touch typing and some intense FPS gaming sessions gave the keyboard a vigorous workout. Pleasingly, the GMMK performed swimmingly, seemingly impervious to my heavy-handed behavior. Across a two-week stint, I also treated the peripheral with inhospitality, deliberately eating food and once (accidently!) spilling soda on it. But the GMMK took the abuse in stride, with only an exceedingly minor scratch around the metallic-painted base. While I can't speak for the wear and tear enduring with months of use, this short span demonstrated that the GMMK didn't need to be babied.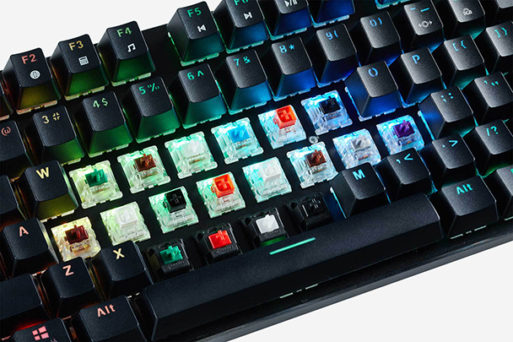 Aesthetics and Lighting
Nicely, the GMMK downplays its gaming ability, electing for a matte black aluminum faceplate that would blend into almost any office setting. Set the LED lighting to a soft white and no one will know that this is a consummate peripheral for gunning down Marauders in Doom Eternal.  And with a polling rate of 1000 Hz, the GMMK delivers. Without a proper benching tool for measuring latency, we can only speak on general responsiveness, which is nothing short of first-rate.
Like most of it's contemporaries, the GMMK uses double-shot keycaps, a process that uses two layers of plastic to ensure the main key legend never fades or chips. A handful of keys have secondary functions that might be laser etched, and if that's the case, there's a possibility of fade here. The keyboard employs a floating design, which makes cleaning easier, but also increases the possibility of dust getting under the keys. Another side effect is that the GMMK exhibits light-bleed, especially when viewed from lower angles. But except for this blemish the RGB lighting is thoroughly gorgeous, especially when it's programmed to coordinate with cast fans or illuminated mouse pads.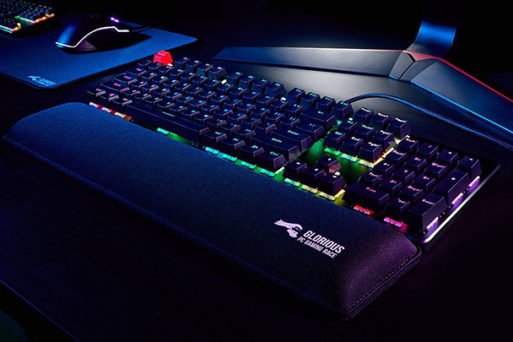 Conclusion
With a range from $109.97 to $134.96 (depending on options), the GMMK is suitably priced for it's features and quality. Make no mistake, this is a top-tier keyboard for people who spend the bulk of their day on their computer. For those who infrequently game or mainly web-browse, the GMMK is overkill. But if you are a power-user, then Glorious PC Gaming Race's keyboard is a top contender in it price class, especially if customization is a chief consideration.
Tech-Specs
Model: GMMK-BRN-V2
Mechanical Switch: Gateron Brown (as reviewed)
Keycaps: Black (with secondary multimedia functions printed)
Layout: 104 Key Standard QWERTY layout (as reviewed)
Key Functionality: 100% Anti-Ghosting
N-Key Rollover: Full NKRO via USB, or 6KRO
Polling Rate: 1000 Hz
Backlight: 16.8 million colors RGB
Cord Length: 6 ft. Braided
Hotkeys: My Computer, Web Browser, Calculator, Media Player, Previous Track, Next Track, Play/Pause, Stop, Mute, Volume Decrease, Volume Increase
Dimensions (L x W x H): 440 x 129 x 35.9 mm | 17.3 x 5.1 x 1.4 inches
Weight: 2.1lbs (940g)
Review Overview
Summary : For some, a company named Glorious PC Gaming Race might seem to be relying on branding rather than build quality to entice an audience. But look past the meme-ish moniker, and you'll find that the GMMK is one of the best mid-priced keyboards around thanks to its modular engineering and superior quality.