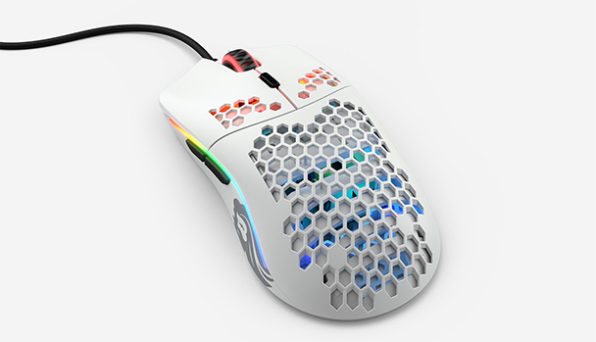 The Model O might not be the lightest mouse in the world, with a few extra grams devoted to styling RGB lighting. But the peripheral's eye-grabbing design, quality internals, and skilled functionality should help catapult the device to the crest of the mid-range market.
I'm not a big fan of shockvertising, that movement where a company grabs your attention by trying to be edgy, and occasionally violating social values. But if the product if good enough, I'll look the other way, which explains why I eat at Eggslut, and was seriously considering crowdfunding a Babymaker electric bike.
And yes, I'm also willing to use gaming mouse created by a company named "Glorious PC Gaming Race". It also flaunts a logo of a long-haired, bearded dude, who's looks more like Neptune and less like anyone who has a Neptunia game in their Steam account. But here's the thing- the mouse weighs 67 grams or a bit over 2 and a third ounces, making it feel like the Lotus Elise of input devices. And like an exotic sportscar, the high-tech design makes the mouse rather attention grabbing.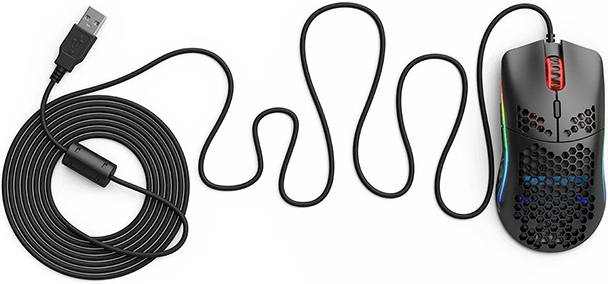 Cutaway Design Doesn't Structural Integrity
The absence of 'master' in the company branding indicates that neither Ben "Yahtzee" Croshaw (who coined the term "PC Master Race" in a 2011 Witcher critique) nor a certain Reddit sub-thread are associated with this. And the news gets even better. The Glorious Model O Gaming Mouse is a well-designed, well-built peripheral. Outfitted with a Pixart 3360 optical sensor, Omron switches, and what the company calls 'G-Skates Premium Mouse Feet', it holds its own in the flyweight mousing division.
Much like the Cooler Master MM710, the Model O sports an outer shell with a cutout honeycomb design. Nearly all the base and the entire heel brandishes the perforated pattern. In execution, not only does this endow the device with a modern look but also provides a bit of tactile satisfaction. And while you might assume that build quality is compromised, the Model O is just as durable as a mid-range Razer, Logitech, or Corsair. It'll take a vise-like grip to produce more than a millimeter of flex.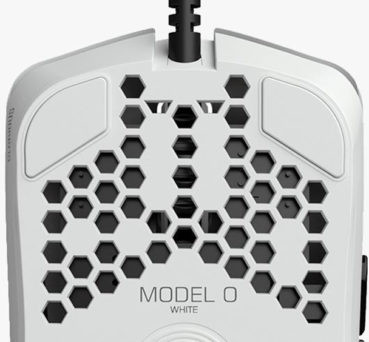 Here Come the Acronyms
Although the mouse touts an ambidextrous design, I've always taken issue with the use of this term when side button placement isn't symmetrical. Sure, if you have prodigious pinky skills, you can tap the programmable buttons on the left side, but I suspect most southpaws might be happier with a device dedicated to their needs. But save for this claim, the Model O exhibits impressive functionality. Both right and left clicks offer just enough tactile feedback and resistance toward accidental triggering, while the notched mouse-wheel allows for nimble rotations, making weapon changes instantaneous.
Otherwise, performance is top-notch. On both hard and softer surfaces, the PTFE (the polymer often referred by the brand name, "Teflon") pads glide seamlessly. Likewise, the Pixart 3360 housed inside the Model O is considered to be a 'flawless sensor', which means you won't experience things like mouse acceleration, jitter, or axis differences. These types of things tend to show up when mice are engineered to be predictive. So, while they might assist with the drudgery of spreadsheet scrolling, they'll interfere when trying to obtain headshots. The presence of A 1000Hz polling rate, and a 0.7mm lift off distance (LOD, the point at which the mouse stops tracking when lifted) are in line with other respectable gaming mice.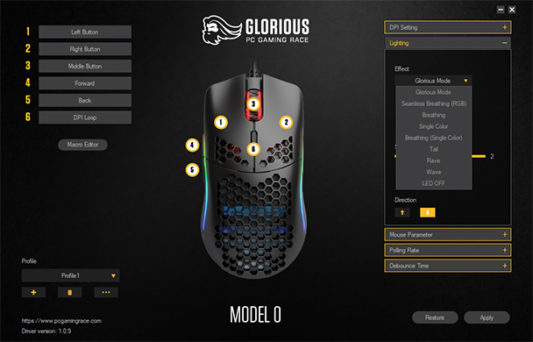 Vivid Lighting, Even on the Undercarriage
But that's not to say the Glorious Mouse is free of blemish. Although there's a dedicated DPI button underneath the mouse's scrollwheel, you'll have to peek at the indicator underneath the mouse to confirm the specific setting. Download this app, and you'll be able to change the presets, and well as have easier access to the device's remarkably vibrant lighting. Although you won't be able to program every LED, there's 9 presets, as well as some triple-button presses that can cycle though mode, speed, and color. While these things might not matter to those seeking pure performance, those who appreciate the splendor of gleaming set-ups will like it.
What you won't like is the branding sticker wrapped around the cord. It took me ten minutes to remove since I didn't want to nick the Model O's fabric-cover 6.5 feet-long USB cable. Glorious, fill the retail with additional stickers and as many marketing materials as you can cram in there, but don't put these annoying tags on your devices, please.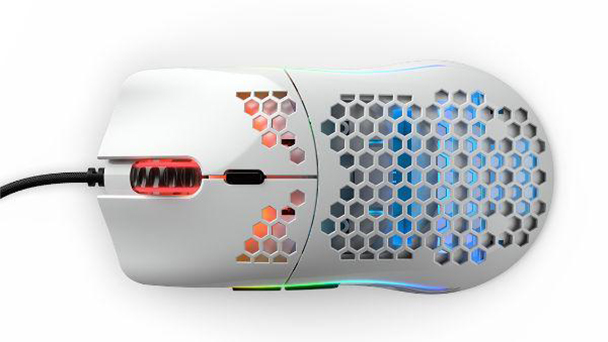 Conclusion
When it comes to durability, Glorious seems promising. Select the matte finish (a gloss model is also available), and the Model O does it's best to resist scuffing or scratching. When it does pick up a speck of grime, the mouse wipes clean, which is reassuring. But the presence of perforation worries me, when it comes to dust. Obviously, that's a long-term variable, but one that could cause concern. Another potential weak point might be found in the cord. After a week of continuous use, the cloth cover exhibited a single fraying fiber where the cable met with a desk edge. Sure, they might seem insignificant, and could have been an overlooked production element, but it would be another worry if you don't use a bungee. On the upside, Glorious offers a two-year manufacturing warrantee that covers everything but abuse or accidents.
Although the Model O Gaming Mouse sells for nearly $100 on Amazon, it can be found on Glorious' own site for a much more reasonable $50 price. That puts the device in line with the comparably priced and similarly designed Cooler Master MM710. But with the RGB lighting the Model O gets the nod, especially if you're looking for a lightweight mouse for those marathon gaming sessions.
Tech-Specs
Colors: matte white, matte black, glossy white, glossy black
Sensor: Pixart PMW-3360 Sensor
Switch Type (Main): Omron Mechanical, rated for 20 million clicks
Number of Buttons: 6
Max Tracking Speed: 250+ IPS
Weight: 67grams (Matte) and 68 grams (Glossy)
Acceleration: 50G
Max DPI: 12,000
Polling Rate: 1000hz (1ms)
Lift off Distance: ~0.7mm
Cable Type: Ascended Cord (ultra-flexible)
Connector: USB 2.0
Cable Length: 2 m / 6.5 ft
Mouse Feet Type: G-Skates Premium Mouse Feet
Mouse Feet Thickness: 0.81mm
Default DPI Settings: 400, 800, 1600, 3200
Remappable DPI: Yes (requires software)
LED Color: 16.8 million color RGB (8 effects)
OS: Windows 7+, Mac, and Linux
Warranty: 2 years
Review Overview
Summary : With vivid RGB lighting and a honeycomb cutout look, the Glorious Model O Gaming Mouse is eye catching. But more importantly, it's quite a functional gaming device, boosting component components.