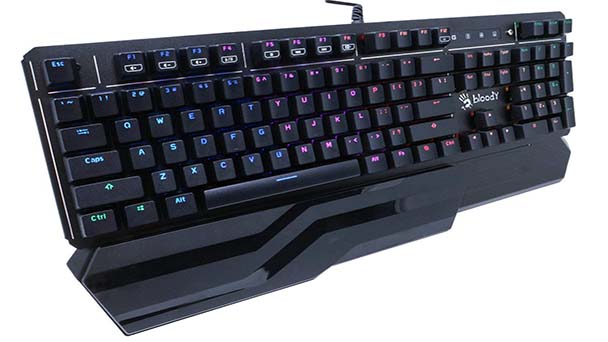 A decade of PC building, tinkering, and repair has taught an important lesson: never skimp on component quality. From clearance-priced power-supply units that expired with a puff of smoke, case fans that mimicked the sputter of a rusty, World War II-era bomber, to a mounting pile of dead mice, going cheap almost always results in premature part failure. And even when it doesn't, there's often a lingering worry that the component could break at any moment.
Of course, that sentiment also applies to keyboards. Sure, you might be able to get by on the inferior one that ships with desktops. Maybe that inexpensive one you found on Amazon might last a few months. But if you type on a regular basis, you'll probably want to replace that bare-bones keyboard with one that's more ergonomic, functional, and sturdy. For gamers, the pack-in peripheral is frequently a detriment, with control hampered by inaccuracy, sluggish response times, and all too often, discomfort.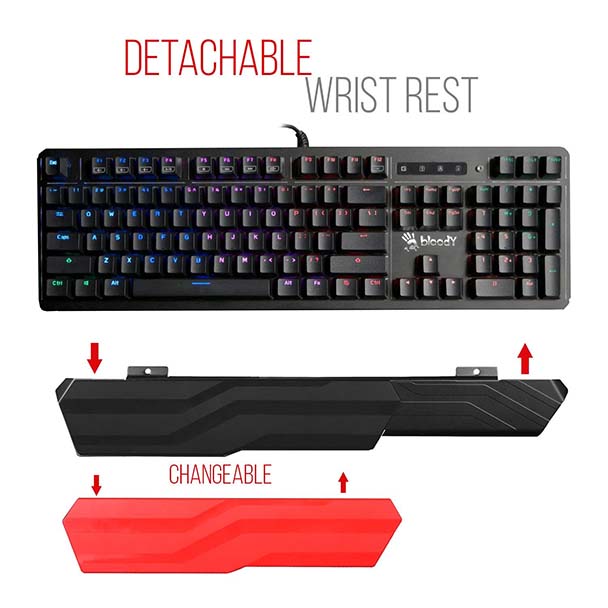 With the Bloody B975 Optical Mechanical Keyboard, both groups are poised to be pleased. Inside the peripheral are over a hundred of what the Taiwan-based company refers to as 'Light Strike Optic Switches'. Unlike most mechanical keyboards which rely on physical contact to detect each key press, a broken beam of light of infrared light triggers a keystroke. Because light travels roughly a hundred times faster than the speed of an electrical current and there are no contact points to wear down, the optical keyboard offer unmatched speed and durability, potentially pleasing both typists and gamers.
Of course, this isn't Bloody first keyboard with optical switches. I reviewed the manufacturer's B840 keyboard nearly two years ago. Across that span of time, it became my input device of choice and has resolutely stood up to near-daily use, as well as sporadic, accidental abuse. Loyally, it keeps clicking away without incident despite heavy-handed typing and frequent use of the WASD keys.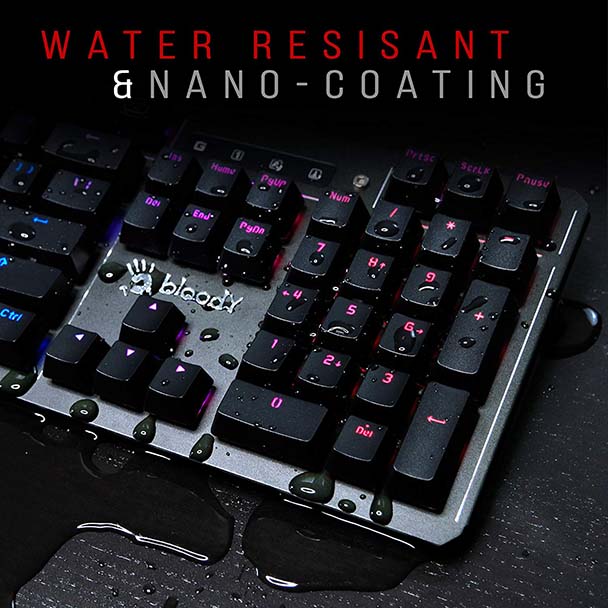 But a direct comparison with the B975 demonstrates that success hasn't made Bloody complacent. Key travel on the peripheral's switches is shorter and smoother, eliminating the tiny bit of lateral sway on the B840, thanks to the incorporation of stabilizer bars. Pry open most keyboards and you'll often find these devices on larger keys. Here, Bloody has applied the method to every single key, and you'll likely notice the difference right away. The only potential problem is that these are mechanical, which undermines the elimination of metal contacts. Surely, the keyboard will last a long while, but who knows if a bit of audible friction will emerge one day.
Understanding different typing preferences, Bloody's new keyboards are built around two different types of switches. For those who prefer a clacky, tactile experience, there's a LK Libra Orange Switches, which offers the kind of feedback associated with Cherry MX Blue mechanical switches. For those who like a smoother, slightly less noisy keyboard, LK Libra Oranges recreate the feel of Cherry MX Reds. My review unit incorporated the latter and after a week with the B975, I was ready to send the B840 to an early retirement.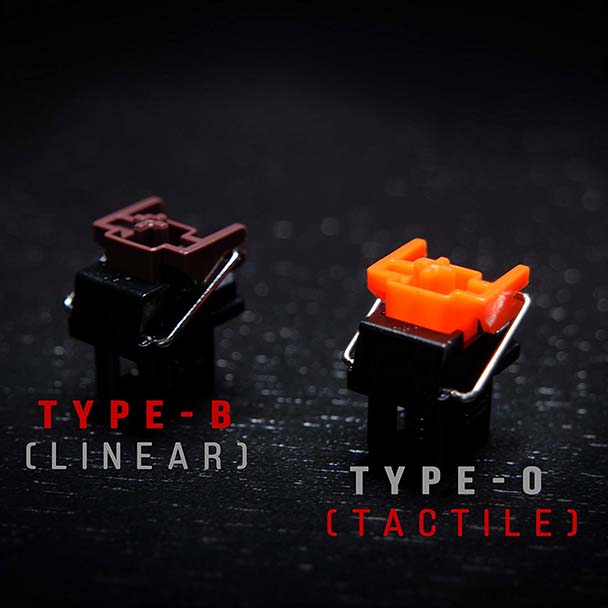 Truthfully, the ergonomic difference between the two keyboards in minimal, and I probably could have continued to use my old keyboard for years. But being able to compare the two keyboards side by side, the B975 felt lively with a bit more spring after each press, thanks to a slightly shallower actuation length. While the difference was perceptible, I really didn't notice any variance in finger fatigue at the end of the day as I altered between the two keyboards. But then again, a lifetime of daily typing has seemingly made my fingers impervious.
However, I can attest to the B975's performance and level of comfort. Across typing tests, Bloody's keyboards are right up there with the premium brands. When compared to the Corsair K95 RGB Platinum and HyperX Alloy Elite with little divergence in WPM rate across three different showdowns. But when it comes to comfort, Bloody's keyboard is one of the frontrunners. Nicely, they include twowrist rests in the box. The bright red plastic one matches the vivid crimson of the keyboard's USB connector, and is poised to earn attention. Those seeking a more subdued aesthetic might prefer the black metal rest. Both attach to the keyboard with screws, eliminating the possible accidental detachment associated with snap-on parts.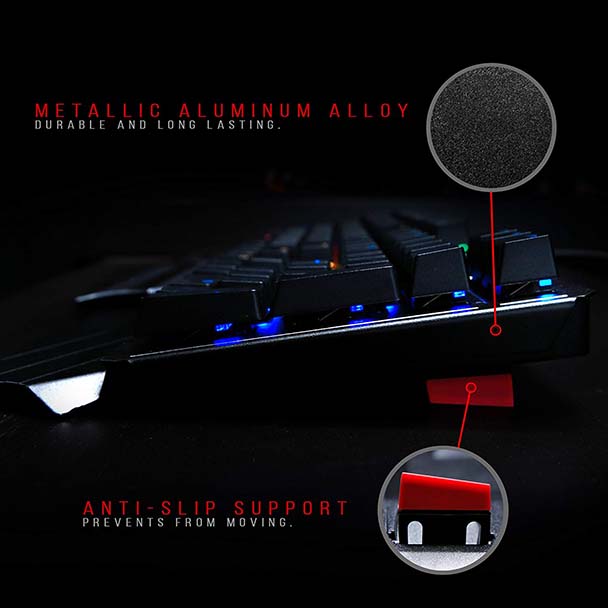 Save for a logo above the cursor movement keys, the Bloody B975 is a rather stealthy creature. With a matte black finish and subtle silver highlights, the peripheral could blend into a business setting, with only the most observant, noticing the keyboard's gaming potential. But download the KeyDominator 2 app from Bloody's website, and all bets are off.
With the program installed, the B975 showcases six different preloaded LCD effects and well as ten different personalized settings. Ranging from a slow cycle through the color spectrum to an animation of a bird in flight, these effects range from eye-catching to downright garish. Fortunately, you can program individual keys in 16.8 million colors, so it's fairly easily to coordinate with case and/or mouse lighting. Advanced effects like animations are, unsurprisingly, a bit more complicated. Sadly, the KeyDominator 2 program doesn't provide much instruction, either.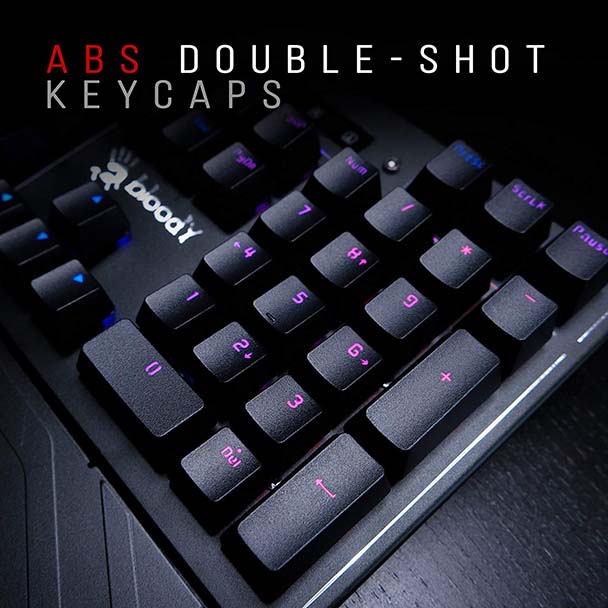 That's also the case with the macro-programming component of KeyDominator 2. Evidently, there's a lot of power to create operation strings or even create keyboard and mouse combos. But programming macros isn't too easy with only scant help from the app. Ideally, Bloody would overhaul their programs, offer optional assistance for tasks, and make the interface look less like a cracking app from the early 2000s.
Weighting in at 3.1 pounds, the Bloody B975 Optical Switch Keyboard stays put and feels solidly built. Utilizing the same braided USB cable as Bloody's mice, the cable resists tangling, although from our experience, the cord can fray if it's persistently moved across a sharp desk edge. Underneath the keyboard, a pair of struts can offer optional elevation, and with their rubberized construction, proved to stable even while the keyboard is used on glass. Bloody also touts that the keyboard is spill resistant, thanks to a 6mm barrier to guard again liquid damage. Not surprisingly, we didn't test Bloody's claims here, as we liked the B975 enough to adopt it as our permanent typing device. Those looking for a quality keyboard at a reasonable price, might want to follow suit.
A Bloody B975 Optic Mechanical Keyboard was provided for review by the manufacturer.
Tech-Specs
Connector: USB
Key Type: Optic switch
Key Response: 0.2ms
Anti-Ghosting Key: 100% Anti-ghosting key
Extra Gaming Keycaps: 8 ABS Keycaps
Hotkey: Multimedia Hotkey
Backlit: Customize RGB Animation
Backlit Brightness: Adjustable
Space-Bar: Screw stabilization enhanced space-bar
Memory Backlight: 6 on board RGB lighting modes
Key Lifetime: Up to 100 million keystrokes
Report Rate: 1000Hz/1ms
Review Overview
Summary : With keystrokes triggered at the speed of light, Bloody's B975 keyboard is responsive. Mechanical springs ensure there's enough clackity feedback, extending a peripheral that's perfect for gamers and typists alike.