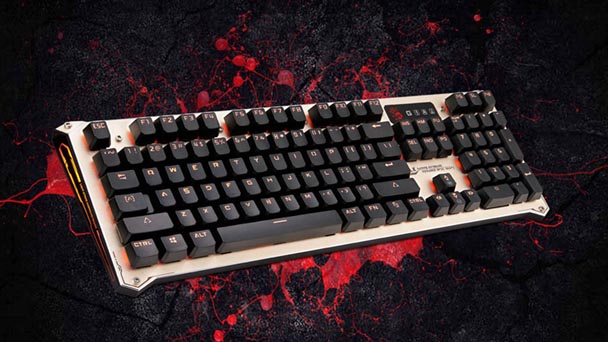 Let's face it- the keyboards that come bundled with most desktop PCs are disposable junk. Packaged alongside a cheaply-made mouse, they're a short-term solution to ensure owners can use their newly unboxed computers. But before long, typists will likely want to replace their standard issue keyboard with one that's more ergonomic, functional, and sturdy. For gamers, the pack-in peripheral is frequently a detriment, with control hampered by inaccuracy, sluggish response times, and often discomfort.
[pullquote]
"The manufacturer claims it's created the most responsive keyboard on the planet, with response times as quick as two-tenths of a millisecond."
[/pullquote]
With the Bloody B840 Optical Mechanical Keyboard, both groups are poised be pleased. Inside the peripheral are over a hundred of what the Taiwan-based company refers to as 'Light Switch Optic Switches'. Unlike most mechanical keyboards which rely on physical contact to detect each key press, the technology shaves response time and negates physical degradation by sensing each keystroke via a broken beam of infrared light. Since light travels roughly a hundred times faster than the speed of an electrical current and there are no contact points to wear down, the keyboard boasts a clear advantage.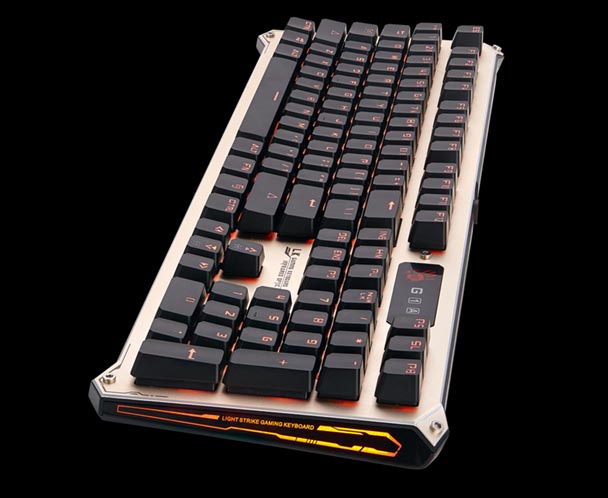 As with other optical-switch based systems, Bloody's keyboard isn't completely devoid of mechanical parts. Peer under each key cap and there's a spring that snaps in back into position complete with a satisfying clack, similar to the response of MX Blue switches. When coupled with a compressed actuation of 1.5 millimeters (the industry standard is closer to 2.0-2.2mm), the manufacturer claims it's created the most responsive keyboard on the planet, with response times as quick as two-tenths of a millisecond. To test the claims, Bloody provides a program called KeyResponse PK, that measures any difference in speed when button from two keyboards are simultaneously pressed.
While testing a peripheral with a program created by the device's manufacturer seems a bit problematic, the absence of similar software forced the use of KeyResponse. Given the science behind the B840, the results weren't surprising or even suspicion-raising, with the Bloody's keyboard easily besting both a wired Razer BlackWidow Ultimate as well as the Cherry MX 6.0. When it came down to measuring the actual advantage, the Bloody's benefit seems to be mainly on paper. Three participants did see any significant uptick in the K/D ratios across Call of Duty: Black Ops III, Battlefield 1, or Overwatch. However, when it came to typing speeds, the B840 did rank ever so slightly higher, offering an average of two additional words per minute over a succession of timed tests.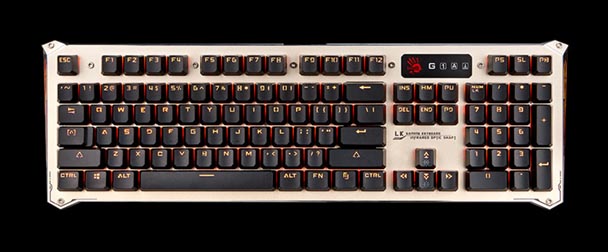 Latency and typing speeds aside, all three participants generally preferred the B840 over the two other peripherals. One like the snappy key response, feeling that Bloody's keyboard "felt more lively", while another thought that key spacing and actuation made typing "comfortable and easy". Similarly, there was a consensus about the minimal aesthetics of the keyboard. Two appreciated the aluminum alloy base under the keys as well as the optional illumination (which offers 3 levels of lighting), and one liked the minimal bezel around the keyboard. But one participant commented that he didn't like the font and abbreviations on the keyboard, nothing that some of the key tops were too stylized, while labeling keys "PS", "SL", and "PB" was less that intuitive. Another potential sticking point is the lack of any wrist pad in the B840's box.
While the lack of palm support might dishearten dedicated typists, gamers might be content with the B840's extras. Open Bloody's double-boxed housing and you'll find a small bag with eight additional keys and an extraction tool. These allow gamers to replace the WASD (and optionally, the "ERFG" keys with orange-hued, silicon, texturized replacements, highlighting the peripheral's gaming capabilities. The only downside is that replacement keycaps might be hard to come by; we tried swamping with some Cherry MX caps we had laying around, but they were didn't quite match. Another factors for substitutes is that the keycaps have to have translucent faces, to allow for the B840's LED illumination.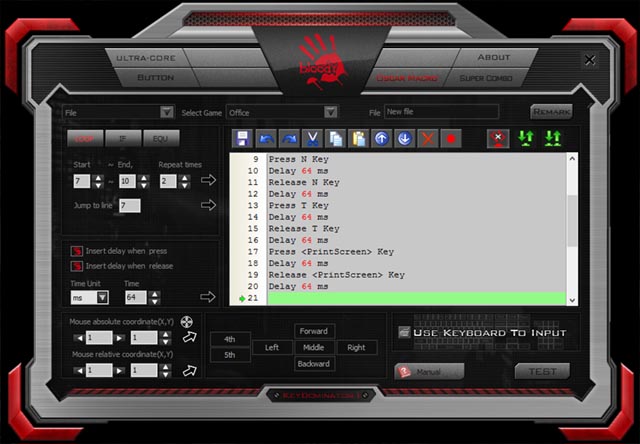 In execution, the accompanying software should also please gamers. Download Bloody's Key Dominator App and you're discover any easy way to reassign any key or create elaborate macros that incorporate mouse movements and key presses. While there are a sparse number of presets available, creating your own combos is quite easy. For those who really want control, they can have macros loop after a certain period of time, providing some captivating capabilities for MOBA devotees.
Despite the B840's nimble two-pound weight, the keyboard feels solidly built. Utilizing the same braided USB cable as Bloody's mice, the cable resists tangling, although from our experience, the cord can fray if it's persistently moved across a sharp desk edge. Underneath the keyboard, a pair of struts can offer optional elevation, and with their rubberized construction, proved to stable even while the keyboard is used on glass. Bloody also touts that the keyboard is spill resistant, thanks to a 6mm barrier to guard again liquid damage. Not surprisingly, we didn't test Bloody's claims here, as we liked the B840 enough to adopt it as our permanent typing device. Those looking for a quality keyboard at a reasonable price, might want to follow suit.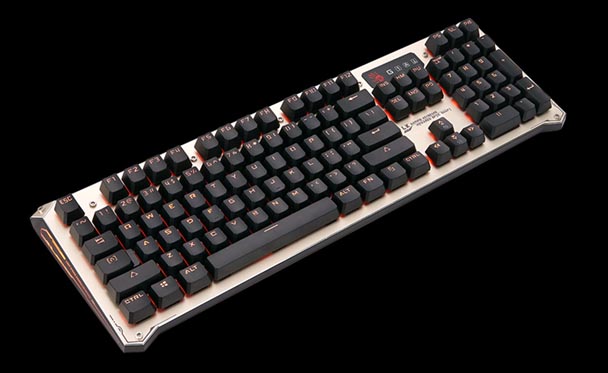 A Bloody B840 Optic Mechanical Keyboard was provided for review by the manufacturer.
Tech-Specs
Connector: USB
Key Response: 0.2ms
Key Style: Optic switch
Hotkey: Multimedia hotkey
Water-Resistant: Spill-resistant
Backlit Brightness: Adjustable
Gaming Keycap: 8 Silicon keycaps
Anti-ghosting Key: 100% Anti-ghosting key
Backlit: Neon Glare
Cable Length: 1.8 m
Key Life: Up to 100 million keystrokes
Space Bar: Screw enhanced space-bar
System Requirements: Windows XP/ Vista/ 7/ 8 /8.1 / 10 or later
Review Overview
Summary : With keystrokes triggered at the speed of light, Bloody's B840 keyboard is responsive. Mechanical springs ensure there's enough clackity feedback, extending a peripheral that's perfect for gamers and typists alike.