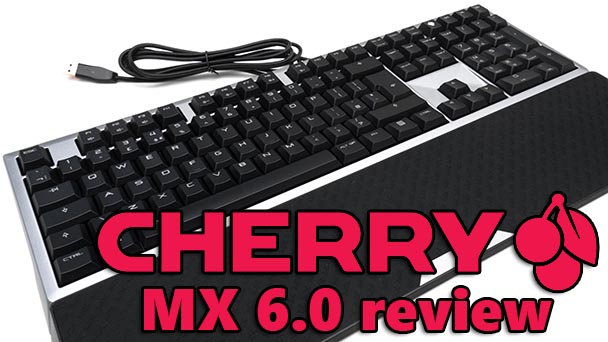 Occasionally, the peripheral we utilize the most is the one that gets tragically overlooked. Case in point: there's plenty of PC users who spend lavish amount of money on graphic cards, CPUs, and monitors, but when it comes down to their keyboard, many still use the flimsy one that came boxed in with their desktop. Whether you use your rig for gaming, writing or coding, a quality keyboard is indispensable, with some of the best models able to reduce input lag and make protracted typing sessions less of a chore.
Having made consumer-level keyboards since 1967, Cherry (once an autonomous corporation, before the brand was purchased by Germany-based ZF Electronics in 2008) is one of the biggest names in the business. Known best for the color-coded mechanical switches that are ubiquitous in top-tier mechanical keyboards, Cherry also creates out their own line of first-rate input devices. Their latest iteration, the Cherry MX 6.0, is proficient and pricey, offering an ideal input method for users willing to pony up the $219.99 MSRP (with a currency street price around $186).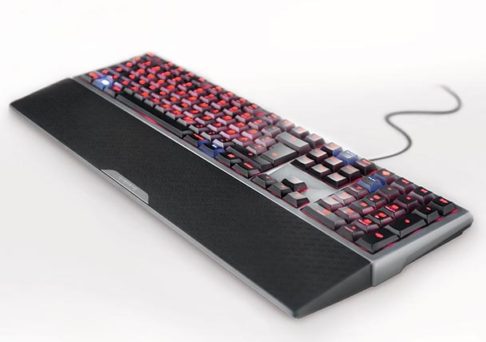 While the peripheral is expensive, once purchasers pull the MX 6.0 from its protective cardboard housing, they'll perceive its premium quality. Opening up the box, they'll find the 5.1 pound aluminum-framed keyboard tucked into a stylish microfiber cover. Another amenity is the magnetically attached palm rest, which fastens cleanly to the bottom of the Cherry board. The only other item in the box is the instruction manual. No driver disc is needed as the keyboard is instantly recognized as soon as it's plugged into a USB port.
Coupled with a braided, two meter cord, The Cherry MX extends a moderate amount of working distance. One potential problem is that it's hard-wired with no breakaway ability, so user should be careful when using moving the board around. Another niggle can be found in the rubberized material used for the top of the palm rest. While agreeable to the skin, it's a bit of a matter magnet, attracting dust, paper fibers, and the like.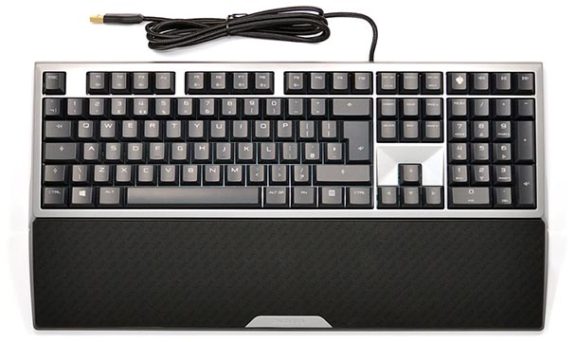 Physically, the Cherry MX 6.0 is full sized board, offering groups of keys intuitively confined to distinct zones. Beyond the conventional QWERTY layout, cursor control keys are found on the bottom right, next to the 10-key area. Flanking the top of the board is the traditional set of function keys that serve double-duty when the Cherry's FN key is activated. With that engaged, users have single-tap access to volume and media keys, offering a quick and convenient way to mute sound or pause a video. The only issue is involves getting accustomed to checking if the FN is engaged. Occasionally, we tried to bring up a thesaurus in word, but inadvertently dropped the backlighting instead.
The FN key is also used for adjusting the amount of luminescence from the keyboard's LED backlighting. Using both ten and single degree increments, the Cherry MX 6.0 extends of lot of freedom, offering everything from a faint radiance to a room-illuminating glow when activated. While the Cherry lives up to its moniker, giving a deep red hue, users with illuminated cases might want a keyboard that complements the azure or emerald lighting of their custom rig. Sadly, they won't find variable colors, beyond the bit of bright blue that's used to light the NUM, SCROLL, and SHIFT keys. The only functional issue involves getting accustomed to checking if the FN is engaged. Occasionally, we tried to bring up a thesaurus in word, but inadvertently dropped the backlighting instead.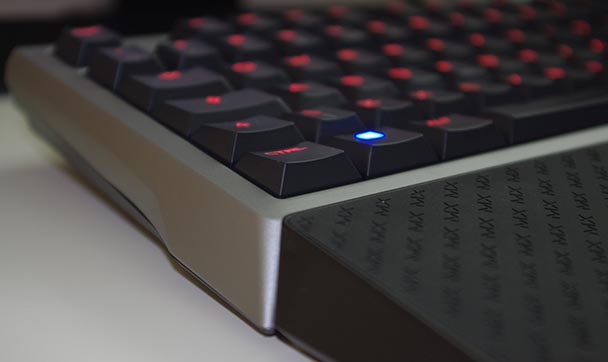 When illuminated, the laser-etched keys clearly highlight their main functionality, while shift-based, secondary functions receive a bit of ambient light. In execution, the LEDs embedded under the board can bleed light onto the sides of keys, potentially causing a brief moment of uncertainty for those who aren't touch typists. Ergonomically, there's little to no fault in the Cherry MX 6.0. Subtleties like the adjusted elevation of each row of keys might border on immediate perceptibility, but in the long run these design choice appear to pay off.
In use, the Cherry MX strikes a dexterous balance, with low slung key caps that are able to offer a solid throw distance. Force feels average for a mechanical board, giving just enough resistance to prevent errand strikes while not inducing finger fatigue. Purportedly, it takes about 45 grams of pressure to trigger one of the keyboard Cherry MX Red switches, allowing for each press to feel remarkably smooth. This sensation is further advanced by the lack of a tactile or sonic feedback. For those who wish to completely dampen the sound of keystrokes, O-rings should be applied underneath each key. Woefully, neither these nor a key extractor is supplied by the manufacturer.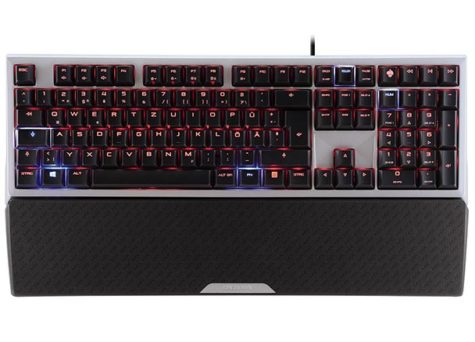 Cherry claims their MX 6.0 is "the world's fastest keyboard" but without digital scopes and USB analyzers wired in to the motherboard this is a difficult claim to substantiate. So instead of trying to measure the assertions of a one millisecond response rates, we looked for a broader, more pragmatic test. Using a selection of five subjects who were both gamers and moderate-to-heavy (>3000 words per day) typists, we had them use two equally unfamiliar mechanical keyboards for two tasks: retyping a 93 word paragraph and playing a game of Super House of Dead Ninjas with key controls.
The first test proved inconclusive, with five trials favoring the Cherry MX 6.0, and five shorter completion times demonstrated by a control group using the SteelSeries 7G mechanical keyboard. However, the gaming test was more optimistic. After each participant played one game of SHoDN on a Lenovo laptop keyboard, they played two games on the Cherry and the SteelSeries. Overall, scores favored the Cherry keyboard seven to three. The one reoccurring wish of testers was that the Cherry offered build-in macros. Regrettably, it does not.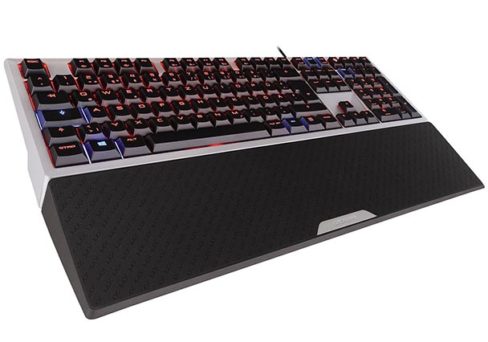 Although the Cherry MX 6.0 didn't outperform a rival in the typing test, that doesn't mean that the peripheral should be overlooked. In execution, it's a meticulously-built mechanical keyboard that deftly balances work and play- making it a potential purchase for those in either camp, and a recommended one for those who subsist in both spheres.
Tech Specs:
Housing color: Aluminum (Sanded-Finish)
Key color: Black
Weight (product): Approx. 1350 g (Keyboard), 257 g (Wrist rest)
Total weight (with packaging): Approx. 2300 g
Cable Length: 2 m
Current Consumption: Max. 500 mA
Interface: USB
Dimensions: Approx. 454 x 147 x 28.4 mm (Keyboard)
Reliability: MTBF (90) > 80,000 hours
Key technology: MX
Service life, standard key: > 50 million key operations
Operation characteristics: RED SWITCH Linear (45 cN)
Review Overview
Summary : The lack of macros is a bit of disappoint, but the build quality screams German fastidiousness. The Cherry MX 6.0 is the Mercedes of mechanical keyboards.