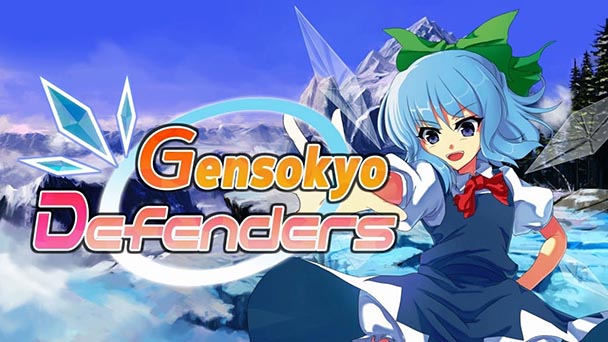 Named by Guinness World Records as the most prolific fan-made series in the world, the Touhou universe is nearly as expansive as our own cosmos. Born with the release of 1996's Highly Responsive to Prayers, the one-person development team of Team Shanghai Alice has crafted over two dozen denmaku– each set in the same fictional world of Gensokyo. The locale, where humans and yokai intermingle, inspired a legion of doujin circles to development their own games, each set in the fantastical realm. Over time, The Touhou Project broke beyond the confines of the shooter, with its characters featured in platformers, fighters, puzzle games, dungeon crawlers, and even metroidvanias.
With the release of Gensokyo Defenders, developer Neetpia has entrusted the safety of a sacred shrine with a multitude of different Touhou characters. Built on traditional tower defense elements as well as twin-stick shooting, the title doesn't excel in any single, specific area. But ultimately, a mix of light strategy, hectic action, along with a crushingly cute cast creates a synergy that might make for a worthwhile experience for fans of the genre or Touhou devotees.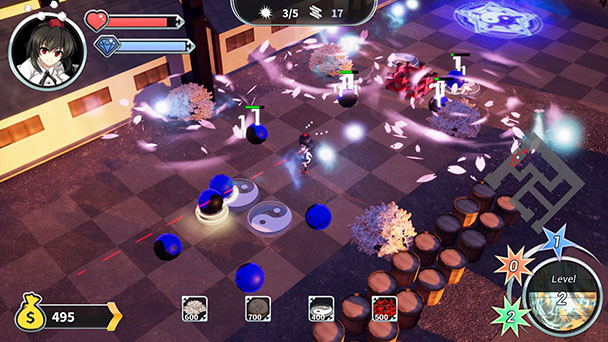 Know your Touhou?
Step into the game's single-player campaign, and you'll discover that every level begins with a bit of dialog. While those familiar with the Touhou mythos might be amused by some conversational references, most are likely to become either perplexed or bored by the banter. Luckily, the latter can skip the conversation and jump right into the tower defense action.
Evidently, Defenders represents a war-game for Fairy Wars lead Cirno, an ambitious but rather childlike character. Aya Shameimaru, Gensokyo's resident reporter is on hand to cover the events, which means the showdown will probably be reframed as sensationalism. But with slipshod localization that uses awkward phrasing and incorrect button prompts, Defenders isn't always easy to follow. Fortunately, this doesn't diminish the impact of Defender's character portraits, which flaunt the exquisite beauty of Gensokyo's gals.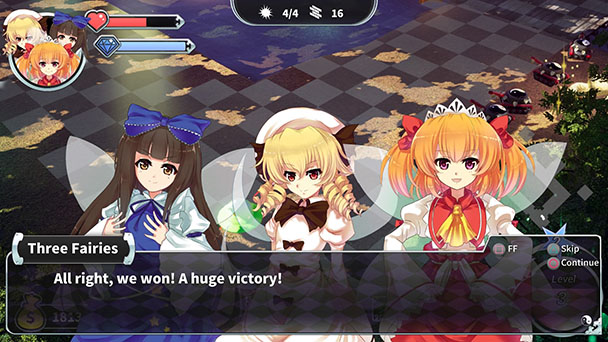 Send in the Spirits
Before Defenders' yōkai shamble, fly, and roll down the labyrinthine paths and toward your shrine, you'll have an unlimited amount of time to set up defenses. Using currency that evaporates after each round, you'll place ensnarements around the gridded battlefield. While cheaper traps such as flower beds merely slow enemies down, pricier ruses like bamboo spears and walls which emit darts will damage foes as they pass by. Other defenses might catapult adversaries into water or onto spikes, helping to diminish the size of the onslaught.
Once your battlements are put into place, a button press commences each wave. Unlike many tower defense titles, where you monitor the quality of your security network, with Defenders you'll have an active role in defeating enemies. Each playable character offers a distinctive approach. Circo, for instance, lets loose with a slow but powerful ice shot, while Aya's whirlwinds can knock opponents backward. But enemies won't stand around idly, obediently waiting for defeat. Orbs emit a steady stream of projectiles and when grouped together, can make Gensokyo loosely feel like a denmaku. On the upside, you have a number of different magic types that can help with crowd control.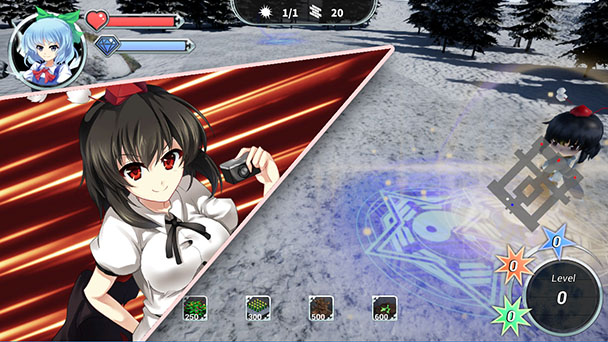 Yukkuri Shiteitte Ne! (Take it Easy!)
Adhering to convention, Defenders permits players to upgrade their defense structures with the stars earned though the successful completion of a level. But while investing in the three different attributes for each trap can improve elements like cost, reset time, and stun chance, don't expect any visual changes to emerge from improvement.
Running on the Unreal Engine, you'd expect Gensokyo Defenders to be a solid performer. Although framerates consistently stay above the thirty mark, there's a few blemishes in the game's output. Some traps output a haze that's the same color as enemy bullets. As such, evasion can difficult as the most imperative time, potentially leading to frustration. But a far most exasperating situation can occur when you're moving the protagonist around the corners of each stage. Stray just a bit off the mark, and you'll incur enough of a penalty to make a three-star finish difficult. Elsewhere, the game's awkward control scheme that maps functions to triggers instead of face buttons can cause irritation.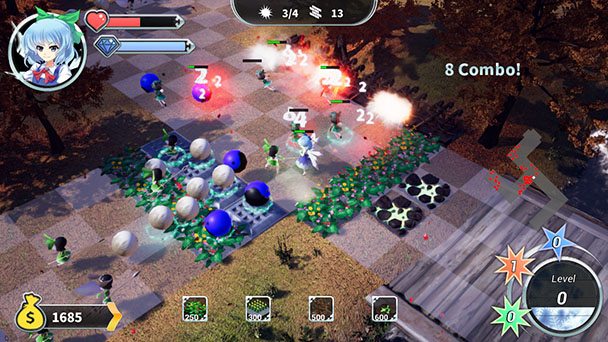 Gensokyo Gives the Tools for Success 
Despite these issues, play is often engaging. Frequently, the game strikes a proper balance, encouraging smart tower positioning but also requiring players to have an active defensive role. While, there's difficultly eliminating processions of enemies, it rarely feels impossible. Sometimes, seemingly small strategies, like selecting when to grab a power-up that offers different bonuses, can influence your success. Frustration is also avoided by difficulty options which open up after the completion of the first five stages as well as a multitude of Touhou characters to choose from- each with their own distinctive shot type.
Despite a few niggling issues, Gensokyo Defenders succeeds where it counts, with engaging play as you repel a cavalcade of enemies. Setting up defenses and actively attacking aggressors makes for an enjoyable experience. While it's not quite as good as Orcs Must Die!, it's compelling enough to pick up for TD fans, especially with the additional of DLC that adds new characters and traps.
Gensokyo Defenders was played on PC with review code provided by the publisher. 
Review Overview
Summary : Rather than just passively setting up enemy repelling traps, Gensokyo Defenders requires players to play an active role in the enemy eradication, elevating the title above many peers.