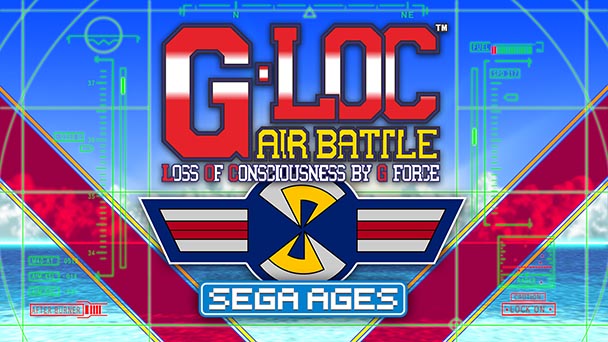 With the gyroscopic-like arcade set-up, G-LOC: Air Battle can feel a bit dated. But it's a notable entry in both designer Yu Suzuki's body of work and SEGA history.  
SEGA AGES: G-LOC: Air Battle
Platform:
Switch
Developer:
SEGA
Publisher:
SEGA
Release date:
April 30th, 2020
Price:
$7.99 via digital download
Availability:
Nintendo
eShop
The second half of the eighties was a turbulent time for Western gaming. While industry revenue peaked at over $12 billion dollars at the start of the decade, by 1985 it had shrunk to $100 million. Arcades, which were once ubiquitous during the height of Pac-Man Fever, had started to thin out. With the release of the Nintendo Entertainment System in 1985 and the SEGA Genesis in 1989, players were able to enjoy surprisingly faithful renditions of coin-on titles. The industry was forced to innovate.
Much like when Hollywood pushed back against piracy with colossal IMAX screens and 3D films, key players like SEGA hoped to safeguard interests by offering experiences that couldn't be replicated at home (at least until the $650 Neo Geo arrived). One part of that equation was the company's System Y arcade board. Using a trio of 68000 CPUs and a pair of sound chips, the hardware outmatched the capabilities of any home system. It also had a secret weapon, SEGA's Super Scaler chipset, which could quickly rotate and scale sprites.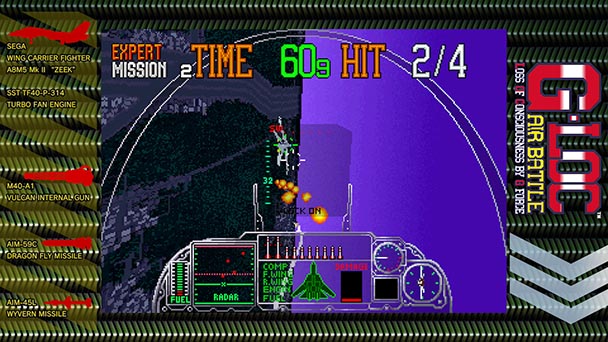 Riding the Taikan Trend
To provide an additional reason for returning to arcades SEGA had been producing deluxe arcade cabinets with physical features; notably Hang-On (1985) put players atop of motion-controlled, hydraulic motorcycle, complete with handlebar, throttle, and brake lever. This 'Taikan trend' would continue across celebrated designer Yu Suzuki's works, with Space Harrier (1985), OutRun (1986), and After Burner (1987).
With G-LOC: Air Battle, the director ramped the idea up a notch, creating a cabinet that simulated the roll and pitch of a fighter jet, rocking players about. It was followed by G-LOC R-360, which put virtual pilots inside a gyroscopic-like sphere. Able to spin players a full 360-degrees, it required players to use a roller-coaster like harness, seatbelt, and even had an emergency panic button if things got too intense for players.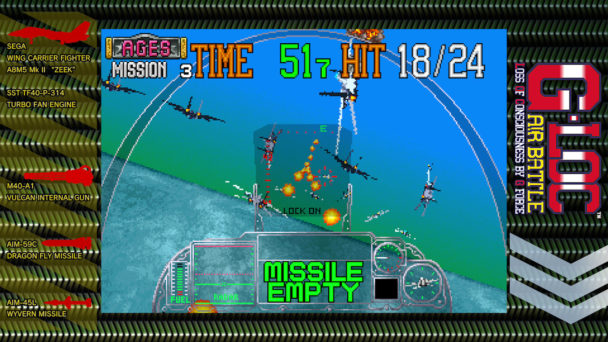 Ride into the Danger Zone
Revisiting G-LOC three decades reveals the game's age. As a spiritual successor to After Burner, the title definitely improves on some of the antiquated mechanics. Notably, the game offers a first-person perspective most of the time, putting players a bit closer to the action. Now, enemy bogies can fill the screen, ratcheting up the tension and making targeting easier. But when an enemy has you in their crosshairs, G-LOC switches to a first-person perspective to aid your evasion efforts.
Take a single hit in After Burner and your fighter jet would burst in a screen-filling explosion. Wisely, G-LOC is a bit more lenient, with gunfire and collisions accumulating damage, which is indicating by the cracking of your cockpit canopy. Max out on damage or get hit by an enemy missile, and you'll lose a life. But interestingly, there's no pre-set number of lives at the start of the game. Instead, stages challenge you to down a specific number of opponents before a timer expires. On all three difficulty levels, you'll be forced to land you jet. Succeed and you'll earn a tidy score bonus. Fortunately, there's no penalty for failing. Another difference across difficulties is the use of your afterburner, which is only available on the upper two challenge settings.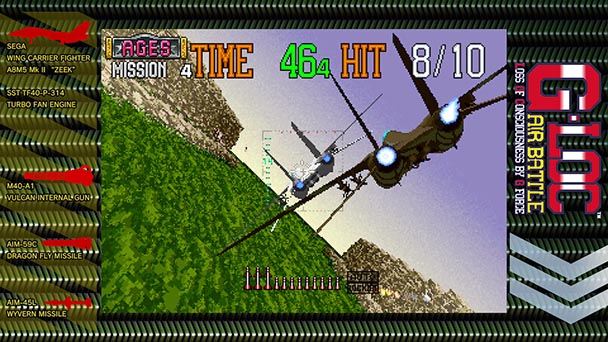 Another addition is the inclusion of ground-based missions which offers a nice reprieve from the air-to-air battles. Collectively the changes from After Burner to G-LOC makes players feel like more of a hotshot pilot, which more downed jets and less time watching your own craft combust. One of the keys to victory is managing your ammo. While your vulcan canon has limited ammo, it lacks the convenience of you restrained number of fire-and-forget missile. That said, the arcade version of G-LOC: Air Battle is probably too simple to modern gamers engaging for too long. Instead, it seems to work best as a way to examine Yu Suzuki's design philosophies and composer Hiroshi Kawaguchi's musical works. While retro aficionados might have enjoyed the Sega Master System, Genesis/Mega Drive, and Game Gear ports, this is the only one that truly recreates the original experience.
The SEGA AGES Treatment
Like all SEGA Ages remasters, the team at M2 opted to include several supplements that help justify a purchase. Certainly, the most interesting is the inclusion of 'moving seat' mode that simulates the experience of playing the deluxe coin-op through parallax imaging. Sure, it sounds like a gimmick but when your eyes on fixed on the simulated screen, a sense of movement can be perceived. Methodically, even the pre-launch timing seems dead on. Those uninterest in the effect can select from five other viewing styles, such as one that fills the Switch's screen.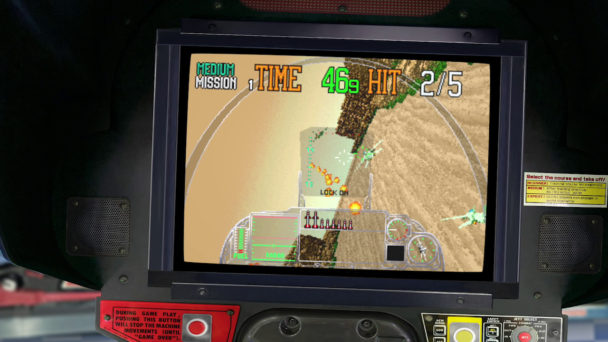 Another key addition for the SEGA Ages mode is a campaign that lessens the token-swallowing difficulty of the original coin-op version, providing players with more missile, a faster lock-on, and more fuel for your afterburners. Beyond a setting that switches between English and Japanese, there's a secondary difficulty setting that mimics the dip switches found in the original cabinet (and even adds an additional level). There's also a leaderboard to compare your scores against fellow jet jockeys, adding a bit of competition to the proceedings. The only thing that's missing is documentation providing insight into the deluxe and R-360 cabinets.
SEGA AGES G-LOC: Air Battle was played on Switch
with review code provided by the publisher. 
Review Overview
Summary : SEGA AGES G-LOC: Air Battle might not be satisfying over longer play sessions, but it's enjoyable in quick bursts and more importantly, an essential part of arcade history.