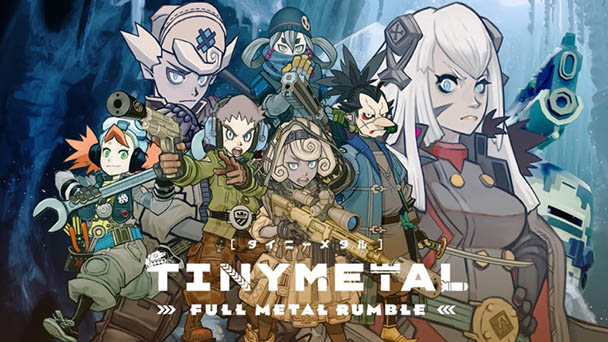 Originally released stateside in 2001, Intelligent Systems' Advance Wars series was a success, inspiring a trio of sequels, and with Battalion Wars, even an action-driven spin-off. But long-term triumph was gradually overshadowed by the Kyoto-based studio's other properties. Fire Emblem, WarioWare, and even portable iterations in the Paper Mario series became favored, as the company's relationship with Nintendo intensified. In 2008, Intelligent Systems released Advance Wars: Days of Ruin, marking the final entry for the well-liked, turn-based series.
Fortunately, indie developers are always eager with creating spiritual successors from lapsed franchises. With the release of Tiny Metal: Full Metal Rumble for the PC and Switch, developer Area 35 makes a second attempt at recreating the beloved strategy series. While it may lack the fastidiousness of the Advance Wars franchise, it comes remarkably close, rivaling Wargroove's desire for blending approachability and tactical nuance.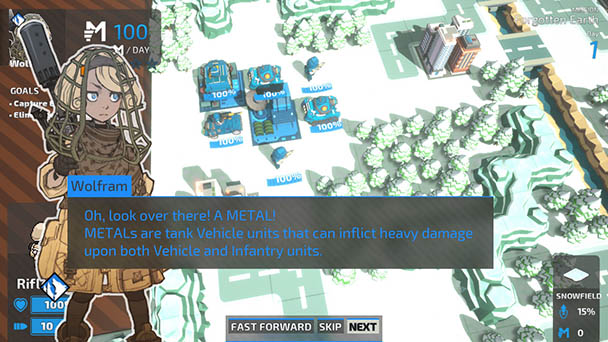 War Shouldn't Look This Cute
Head into the game's Campaign Mode, and you'll discover multiple commanders leading their color-coded factions through rock-paper-scissors conflict. Like Advance Wars, Tiny Metal eliminates all the brutality and bloodshed of war, leaving behind a roster of imaginative leaders, chibi tanks, and palette of vibrant colors.
Area 35's personalities are poised to delight anime fans with characters like Commander Wolfram, who's clad in a skirt that looks like it was made from olive drab rucksacks and sports hair netting that doubles as camouflage.  She's counterbalanced by co-leads like Nathan Gries, a young, justice-minded captain with a perpetual scowl and Lord General Isoroku Tsukumo of the Zipanese Shogunate, who carries a katana and an oversized revolver.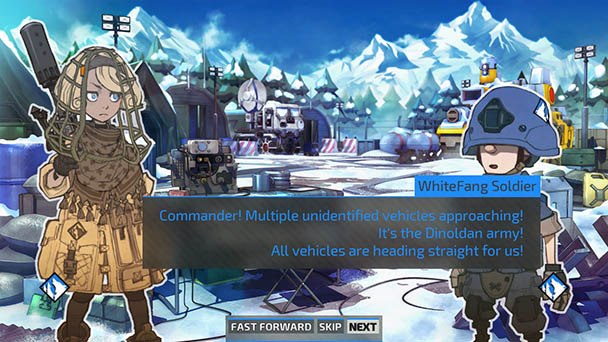 While the storyline plays a subordinate role to the strategizing, there's just enough substance and intrigue (Gries and Tsukumo were once rivals) to generate motivation for each commandeer. Pleasingly, Full Metal Rumble gradually weaves its trio of plotlines together, generating a feeling of escalation as you take on the nefarious Dinoldan forces across thirty-nine missions. For players who'd just rather issue orders to their battalions, the game's dialog can be skipped.
Turn-Based Tactics Where Success Isn't Always Simple
Full Metal Rumble's first few missions function as tutorials, disclosing the fundamentals of unit movement, attacking, and capturing key structures. Using either a keyboard-and-mouse combo or a controller, the rudiments are surprisingly easy to understand if you've played almost any accessible strategy game during the last decade. Many of them have drawn inspiration from Advance Wars' user-friendly approach.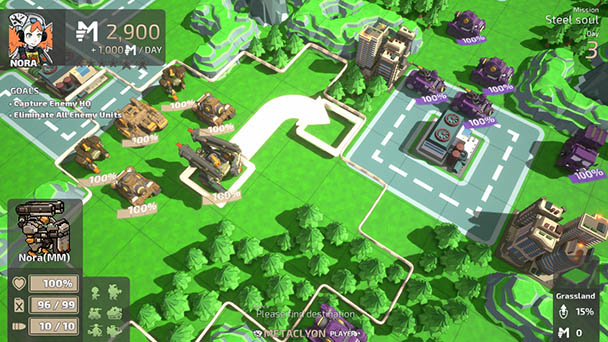 By displaying how far your units can move to percentages when you target foes, the arbitrary is absent from Full Metal Rumble. But that's not to say that missions are ever easy. As with its contemporaries, you'll regularly face defeat against the rather robust artificial intelligence. Making even a simple tactical error can turn the tide of victory, as well. Essentially, you'll want to study the enemy, finding out where they like to hide amidst the fog of war, and figure out how your team can have the upper hand.
New Strategies Transform Battle
Pleasingly, Full Metal Rumble isn't just a content-added retreat of the original 2017 game. One of the first things you might notice is a new offensive form. Ordering an Assault permits enemies to fire first, but it also pushes adversaries back one space, which is indispensable when foes are attempting to capture a structure. Meanwhile, Focus Fire allows adjacent allies to combine their firepower, hitting a single unit with a formidable punch.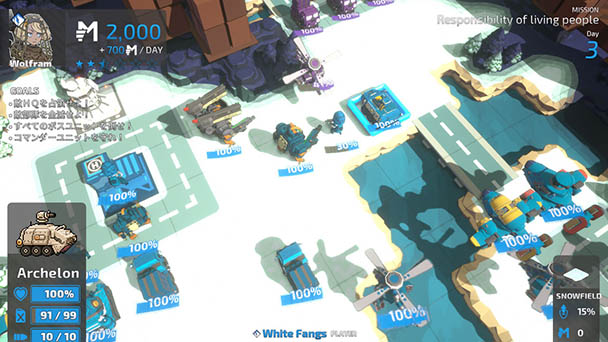 As with Advance Wars, controlling factories and barracks is often crucial, especially since units must worry about fuel and ammo. But more importantly, there become irreplaceable in your efforts, churning out resources like cash, infantry, and vehicles than can give you an advantage. Full Metal Rumble won't just make you think about production. You'll often have to fret about creating supply lines. And when those are inevitably attacked, a prudent commander has a contingency plan at the ready.
A Blitzkrieg Release
On PC, Full Metal Rumble was still getting battle-ready days before its release. Key strategies, like saving money to build stronger units wasn't working. PvP battles, a component that added to the original Tiny Metal after release, still proves problematic- with repeated matchmaking attempts unable to find an opponent. Elements like being unable to save in the middle of a mission, exit a stage, or even remap controls are oddly missing. On the upside, Rumble has most of the rudiments down, so patching these issues should be fairly easy.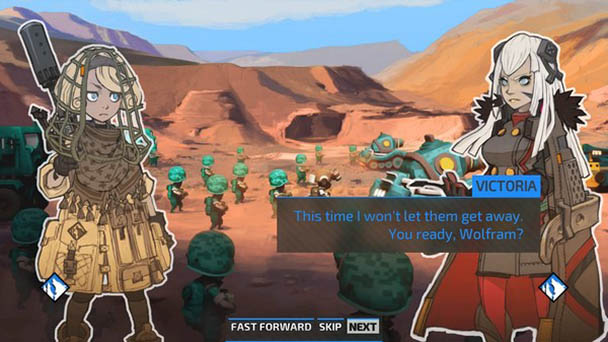 So, if you're hoping for a multiplayer showdown, you'll want to wait before enlisting, and make sure the issue gets resolved. But for those seeking engrossing, single-player, turn-based tactics, the game delivers. Beyond the main campaign, you'll find seventy-seven Skirmish maps (unlocked using in-game currency) to practice you're commandeering skills on. Given the reasonable price Full Metal Rumble is selling for, Area 35 could have opted to make these DLC. Mercifully, there's still a few developers who deliver a solid experience without pleading for extra revenue as every opportunity.
Conclusion
While Tiny Metal: Full Metal Rumble doesn't have the puzzle-like precision that catapulted Advance Wars into player's hearts, there's still plenty of turn-based intensity. Fighting Rumble's shrewd, hard-hitting enemies is engaging, and worthy of a purchase for fans of offline strategy.
Tiny Metal: Full Metal Rumble was played on PC
with review code provided by the publisher
Review Overview
Summary : Hiroaki Yura and the Area 35 team have recreated much of Advance Wars' achievement. If a few faults can be patched in (mid-stage checkpoints, please), this could be a solid contender for the 'cute war' crown.