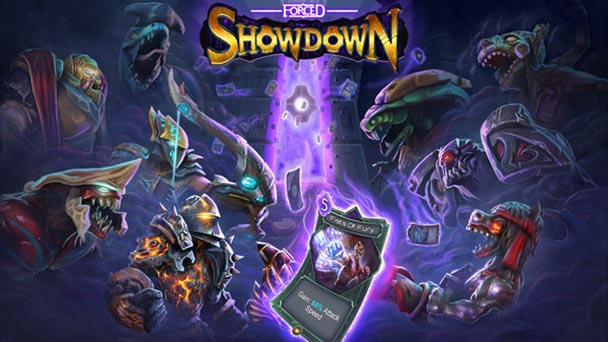 Conceptually, games built by combining multiple genres offer the possibility for innovation. There's a chance that the components will intermingle stylishly, providing synergistic dividends and a sense of novelty. But there's also the possibility that not everything will fuse together smoothly, leaving players with a jumble of good ideas that never quite gel in execution. Undoubtedly, the odds seems stacked against Forced Showdown, a PC title that attempt to fuse elements of the twin-stick shooter, collectable card game, and Rogue-like. But, if players don't mind a few unpolished edges and a bit of repetition, the title can be quite engaging in small doses.
Following a succinct, interactive tutorial that explains the fundamentals, players will tackle a campaign called The Crucible. Successfully completing that operation opens Frontline, with The Great Return serving as Showdown's concluding act. Beyond the varying environmental aesthetics, play remains the same across Forced Showdown, as gamers choose a deck, modifier, before jumping into a succession of concise area-based challenges that are punctuated by the occasional boss battle.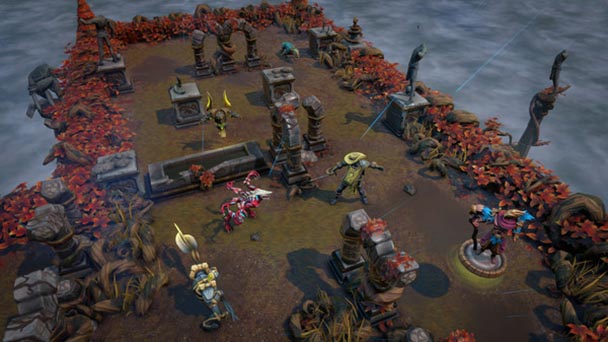 Each of the game's four combatants bring a different weapon into the fray, with the Squire of Light launching a searing beam of holy illumination that can repel foes while Volco brings an enormous volcanic axe to pound opponents into submission. Along with a basic attack, protagonist also have access to up to three special skills that can either offer perks like devastating area of effect strikes, shields, or even passive aptitudes. For active abilities, each is regulated by a cool-down timer, offering a lenient execution of your secondaries. Additionally, players can bring up to three AI subordinates into the struggle. While they assist with lesser foes, once you start negating elevated foes they tend to die quickly unless buffed.
The aforementioned modifiers have a notable effect on the proceedings, with advantageous elements doing things like increasing the quantity of enemies while neutral ones are capable of harming player and enemy alike. Post-boss rewards called Boons offer another persisting bonus, solidifying Showdown's generous reward system. Deviation is also rooted in Forced Showdown's card-based mechanics, where an ever increasing mana pool can be used to purchase enduring and single-use dividends that can heal the player, expand your HP pool, increase the chance for a critical, or extend possible bonuses if specific challenges are met.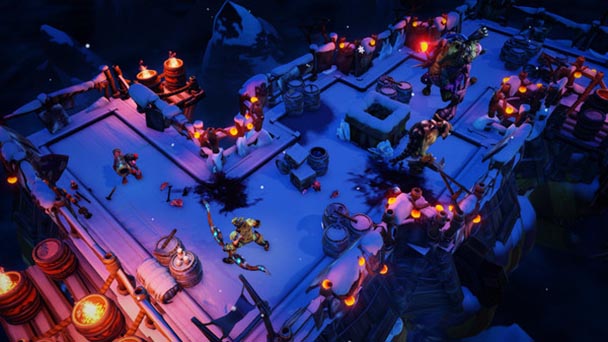 Essentially, these systems attempt to keep the proceedings lively, as stages can be a bit homogenous. While Forced Showdown's extends procedurally generated stages and boosts random allotments of antagonists, consecutive levels need more variation. When enemies are encountered for the first time, studying and developing an attack strategy is undeniably compelling. But once players get too familiar with the monster sets thrown at them, the trek has the tendency to become methodical. Although your main weapon receives boosts, functionally there's little change, unlike many games where loot drops compel new tactics. Boss fights are the exhilarating reprieve though, with attack patterns and powerful assaults that can easily send reckless players back to the start of the campaign.
Like most Rogue-likes, death is commonplace in Forced Showdown, especially before you can edit your deck to include a few healing cards. In keeping with convention, you lose most of your progress, save for currency earned during the duration of your journey. Unsurprisingly, this feeds into the title's meta-game, allowing players to spin the Wheel of Fortune and earn additional cards which they can use to build custom decks for each character. While you can't craft or buy cards outright, Forced Showdown does allow to sell back duplicates if you own more than two of the same kind.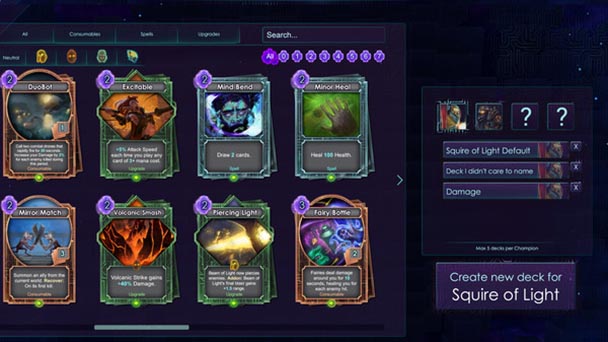 Thematically, Forced Showdown's decision to frame the action as game show largely works. Although voice clips can repeat a bit too often, the approach gives the game a jovial feel, which is furthered by the occasional celebrity parody. Visually, if you have a burly machine, Showdown can be impressive, although intermittent bits of slowdown can sully the sense of polish. On less robust rigs, you'll probably have to turn the graphical quality way down, leaving texture work that makes the game rather generic. While developer BetaDwarf has been delivering a steady stream of updates, there still seems to be some optimization and bug-quashing ahead, as crashes occur sporadically. While there's native controller support, navigating the menus with a gamepad is a bit unwieldly.
Sure, Steam host an ever-increasing multitude of Rogue-likes. But, Forced Showdown's combination of procedurally-generated levels, permanent death, twin-stick shooting, and deck building feels invigoratingly distinct. Although, it's still a work in progress, with the specter of tedium looming over its stages, it's also undeniably enjoyable in quick bursts. If BetaDwarf's execution can catch up with its concept, it's got the possibility of being one of the better genre-blenders out there.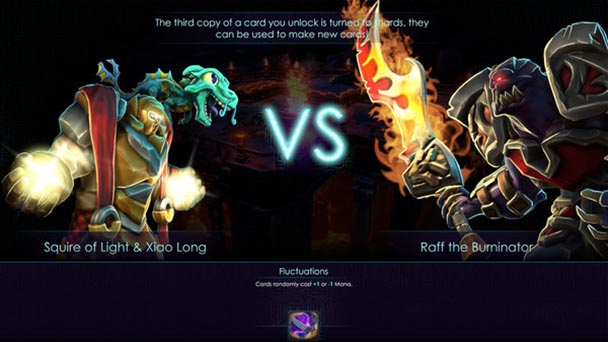 Forced Showdown was played on the PC with review code provided by the publisher.
Forced Showdown
Platform:
 PC
Developer:
 BetaDwarf
Publisher:
 BetaDwarf
Release Date:
 March 29th, 2016
Price:
$19.99 via 
Steam
Review Overview
Summary : Forced Showdown blends the best elements of Diablo 3 and Hearthstone, forming an unlikely, but thoroughly engaging winner.