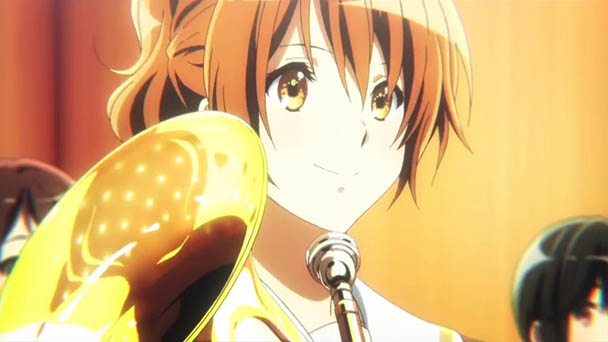 On the surface, Sound! Euphonium explores the myriad of tribulations faces during teenage life. The novel, manga, and anime center around members of the Kitauji High School Concert Band Club. Once a prestigious competitor for the national championships, the club failed to quality for several years. But their resigned attitude pivoted when Noboru Taki became the new advisor. Demanding fastidiousness from the students, the leader also extended autonomy, permitting each pupil to seize their musical strengths. The stance also produced several life lessons as well.
As Sound! Euphonium: The Movie – Our Promise: A Brand New Day demonstrates, these insights aren't just confined to adolescence. Picking up after two seasons of anime, the 110-minute film explores many of the quandaries that adults often face. Sure, ganbaru (or doing one's best, despite any obstacles) is a ubiquitous notion in anime. But here, determination meets obstinate obstacles head-on. The result is a reminder that we should always try our best- but when failure inevitably happens, we also shouldn't be discouraged. Given the horrific tragedy that recently befell Kyoto Animation, the studio behind Brand New Day, this message is exceptionally poignant.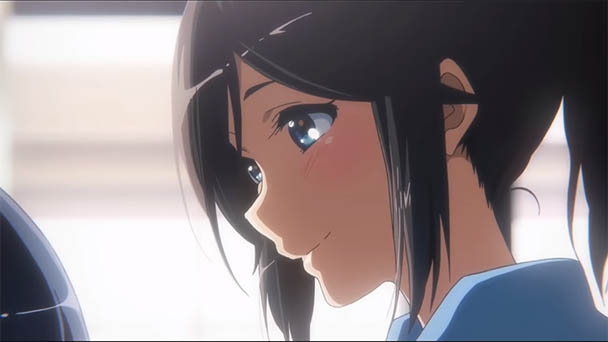 A cycle of renewal persists through Sound! Euphonium. The first two seasons (encapsulated in the films Welcome to the Kitauji High School Concert Band and May the Melody Reach You!) follow main protagonist and first-year Kumiko Oumae. Admittedly, she's not the typical lead. Acutely aware of those around her, she's regularly influenced by others, rather than making her own resolutions. In execution, the trait seems representative of a newcomer, and it's just one detail that helps Sound! Euphonium convey the kind of authenticity typically confined to documentaries. Moreover, there's an exploration of the incorporation of personalities that form a club, each attracted and repelled to one another, and revealing their own aspiration and perceptions.
If there's a blemish on Brand New Day, it's that the film doesn't devote enough time to its departed and new members. Sure, there was enough closure for last year's graduating class at the end of the second season. But being able to check up on Kitauji's band club alumni would have a welcome edition. Similarly, some of the newcomers aren't given your screen time for proper character development. But then there's the delight in the fleeting glances of Mizore and Nozomi, with the events of Liz and the Blue Bird happening concurrently that will enliven Euphonium faithful.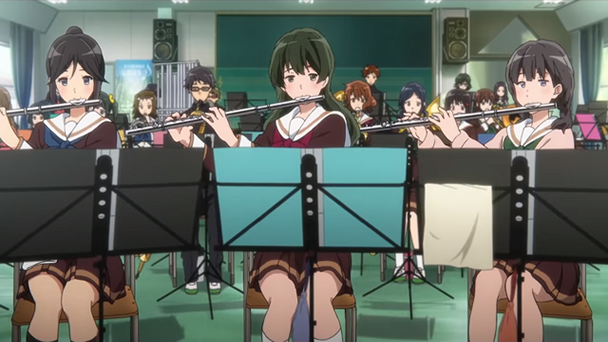 With a Brand New Day, Kumiko is now a second-year, gradually falling into the role of a senpai for the incoming first-year Club recruits. When Taki-sensai adopts a new policy which favors merit over social hierarchy, she's thrust into several conflicts, permitting Kumiko to grow as a character. But the advisor's approach produces a quandary faced by many collectivist countries: do we maintain the wisdom of tradition or do we push-back at the status-quo?
Like any respectable film multiple with layers of meaning, Brand New Day doesn't force you to philosophize. It also works as a depiction of teen angst and restrained melodrama. Although the film doesn't tackle the complexity of relationships like Naoko Yamada's brilliant spin-off, Liz and the Blue Bird, Brand New Day is filled with palpable charms. The solitary moments shared by Kumiko and Shuuichi Tsukamoto reflect those awkward but revelatory moments at the start of a possible relationship with pristine clarity. Another job is the script's willingness to inject a hint of yuri involvement between Reina and Kumiko. After a protracted build-up, hearing the band with its newly incorporated new members, play a nearly nine-minute piece is one of those exquisite sequences characteristic of a top animation studio.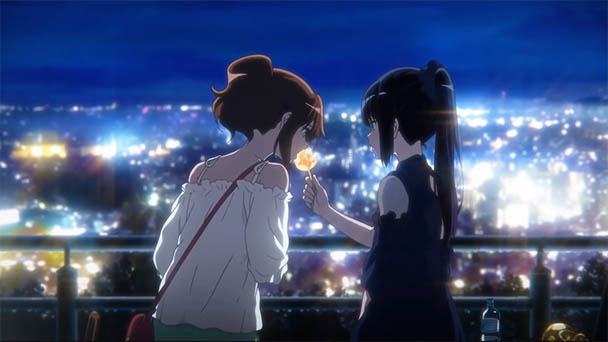 Unlike Liz and the Blue Bird's muted, watercolor-esque palette, A Brand New Day reverts to that stunning 'golden hour' aesthetic that bathes its cast in warm yellow hues. Sound! Euphonium's tendency to focus on body language and facial expression returns, and it's still fascinating to read the tiny markers of uncertainly in an uneasy stance or where a character focuses their gaze. For some, Euphonium is fascinating because of its re-invigoration of the classic underdog tale. But others will find enchantment in the depictions of human interaction and its relationship to personal ambitions. The final piece, a piece of music performed by the real-life Senzoku Gakuen College of Music student contributes a fitting finale. But it's the attention to detail, as evidenced in the finger positioning of this scene that will reverberate long after the music stops.