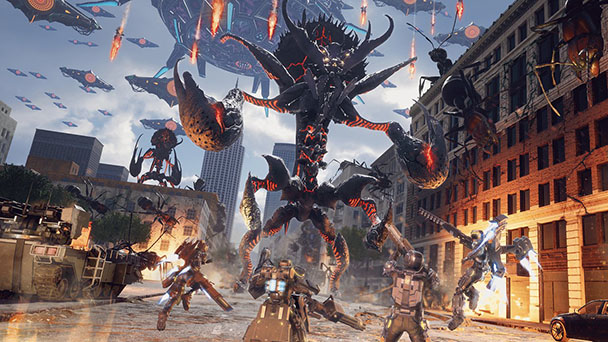 If there's a certainty across game narrative, it's that the end of the world is imminent. The sole divergence is how the apocalypse will occur, whether it's Left 4 Dead's and The Last of Us' pathogens or Fallout and Metro's nuclear wars. For the Earth Defense Force franchise, armageddon arrives with an onslaught of insects and robotic invaders. The only hope of preventing the catastrophic scenario rests with an audacious multinational military battalion tasked with repelling the feverish assault.
It's a scenario that's been told across a succession of games that spans three console generations. While the plotline has largely remained fixed, execution has differed. Some iterations like Earth Defense Force 2: Invaders from Planet Space did little to mask the franchise's restricted budget, endowing the experience with the kind of campy dialog found in B-movies. Other entries like Earth Defense Force: Insect Armageddon aimed to boost popular of the franchise in the West by transferring development duties to Vicarious Cycle, a U.S.-based studio.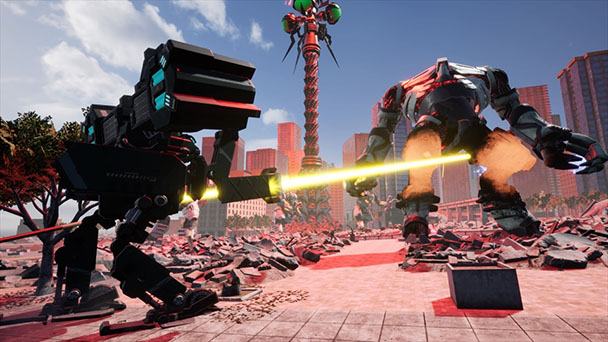 With the release of Earth Defense Force: Iron Rain onto the PS4, the series undergoes another interesting implementation with longtime WWF/WWE developer Yuke's taking the helm. The basic premise remains intact, with players tackling a succession of fifty-two mission that mostly involve the extermination of large number of giant insects with a multitude of distinctive weapons. But what follows is Yuke's obeying only the most rudimentary elements of EDF for a spin-off that will prove divisive for franchise aficionados.
The first indication of departure is found during the game's prologue. The Earth Defense Force, after five years of being overpowered by the invasion, developed a technology known as PA-Gear. By harnessing the power contained in small canisters, the EDF is able to use stronger weapons, gaining an imperative advantage. A lone soldier is able to use the advantage to take down a mothership called the Hivecraft. But the act brings the giant vessel crashes down, putting the combatant in a coma for seven years.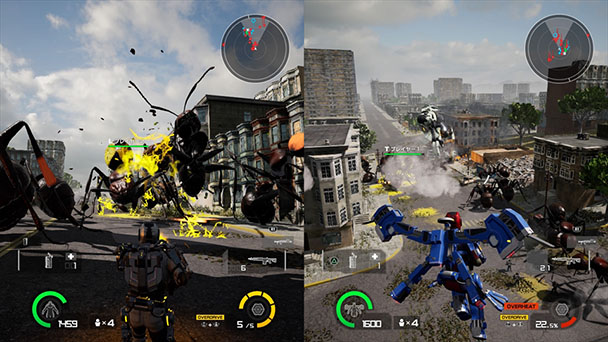 It's here that Yuke's trots out a customization suite reminiscent of their create-a-wrester component. Sure, you can adjust hair styles, colors, placing them on a multitude of different faces. But woefully, your ingenuity will mostly likely be squandered, as most of Iron Rain's wardrobe options obscure the protagonist's face.
Not that you'll have much time to admire your thoughtfully coifed character. You'll be quickly thrown into action that rarely pauses to give you a breather, but that's customary for the series. However, with Iron Rain combat feel fundamentally different. Instead of firing into a riotous hoard that slowly heads toward you, the game's enemies quickly home in on you, and tend to approach you from all directions. While getting surrounded by aggressors should be a threat in EDF's world, it happens with worrisome frequency here. Previously, enemies felt large because they often rivaled the size of small buildings. Here, they look enormous because they're in your face, occupying large sections of screen real estate.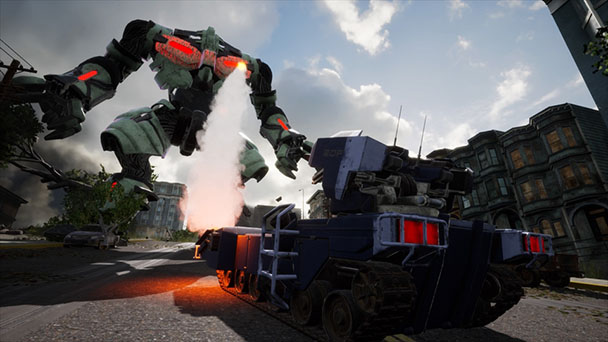 But it can be different to differentiate between dead antagonists and live ones. The game's bipedal mechs divulge their health by the color of glowing lights. When they turn red, you know they're about to topple over and generate a massive explosion. But a swarm of arts resembles a tempestuous knot of limbs, and you'll often have to scan your radar to see how many active aggressors are nearby. Worse, the corpses of dead bugs can impede movement and block the game camera. Since you'll be goaded into collecting energy gems to restore health and as in-game currency, hiking over bug corpses in one of Iron Rain's ground-based PA-Gear types feels unnecessarily clunky.
But that's hardly the extent of Iron Rain's changes. Previously, the franchise had you obtaining new weapons by semi-randomized item drops. If you really wanted to improve your inventory of shotguns or rocket launchers for a mission, you'd grind away at levels, gradually unlocking new arms. Here, a static set of new offensive devices are available for purchase after the completion of each mission. And while there's an ample amount of currency dropped by fallen foes, wealth is more a scarce resource in Iron Rain. As such if you want to use items like heath restoring Quick Feeders or grenades, there's a cost to it. But since powering up the different Gear types also requires money, you'll be making some subtle financial decisions in the midst of battle. Am I an awful person for letting a soldier die because I'm saving for a rocket launcher that can belittle bosses? Maybe, but I'm trying to save what's left of Earth.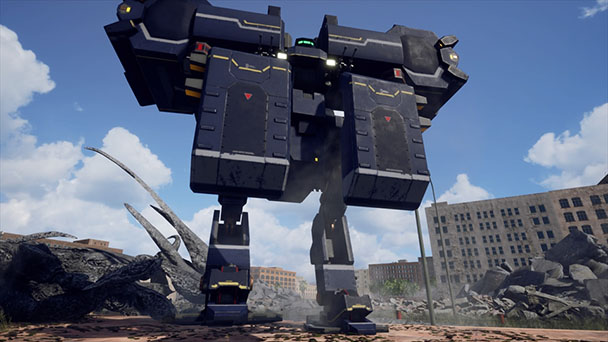 Overdrive seems like Yuke's pinching a page from the musou playbook, offering the ability to temporarily transform you into a killing machine. Like the Warriors games, it's a tide-turning ability and finding the ideal opportunity to use it can deliver a lot of second-guessing. Naturally, the aptitude is shaped by which PA-Gear armor you decide to use. Opt for the Prowl Rider class and you'll be able to call on your own giant bug to ride into battle. With the Heavy Striker, you'll already a dual-wielding tank, but activating Overdrive summons a shield and permits for quicker movement, which can really help when your surrounded by legions of game's eighteen different enemy types.
Beyond an enjoyable cooperative mode (with an option for two players split-screen), Iron Rain also serves up competitive multiplayer competitions. Teams take on enemies, taking their dropped resources to zones marked by bright yellow highlighting. It's diverting enough for a game or three, but don't expect the mode to distract you from completing the main campaign.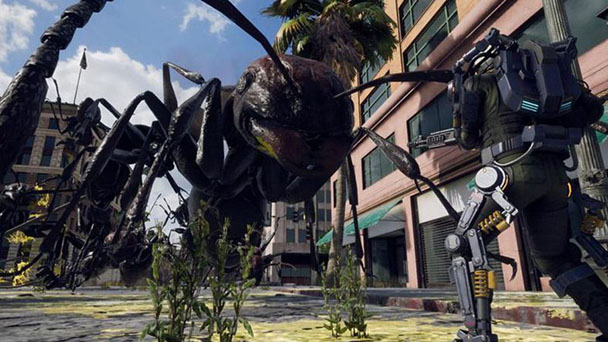 Visually, Earth Defense Force: Iron Rain utilizes Unreal Engine 4 but doesn't always deliver the visual quality associated with the toolset. While assets and character designs generally look better than previous iterations, the presence of low-resolution textures can undo any graphical advancement.  The game's vehicular physics are especially suspect, with instances of some craft seemingly floating over the ground, rather than making contact with it. While output typically hovers around the thirty frame-per-second mark, occasionally it can dip lower, even on a PlayStation 4 Pro.
Earth Defense Force: Iron Rain isn't a catastrophe. Despite a number of detrimental adjustments to the Aggressor-attacking play, shooting down crowds of creatures is still fun. While the game's approach to weapon acquisition has changed, it's still fun to decide on whittling away at enemies with the steady output of a rifle or hitting them with an overwhelming rocket that takes half a minute to reload. If an EDF game ever neglects that intriguing risk/reward promotion, doomsday for the series would be upon us.
Earth Defense Force: Iron Rain was played on the PlayStation 4
with review code provided by the publisher
Review Overview
Summary : EDF enlistees will want to play previous iterations before entering into Iron Rain's reprimanding storm. This is a tougher, slightly less forgiving firefight built for veterans rather than franchise newcomers.