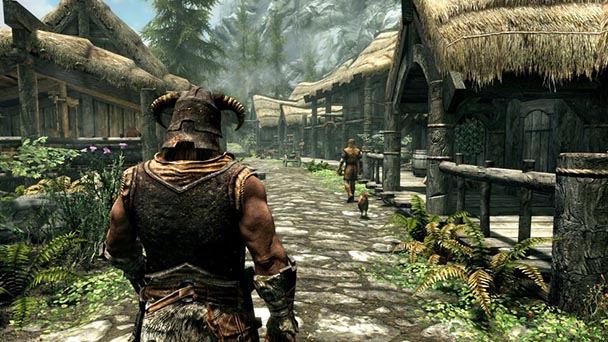 Jeremy Lamont's impressions: Bethesda, in their sophomore outing as an E3 conference presenter, sought to win hearts and minds not by surprise, but by a touch of carefully-manicured predictability.
Opening the Bethesda presser with "Yes, Quake is back", id Software studio director Tim Willits set the tone for the rest of the conference. Though the conference was buttressed with high-production-value titles from the publisher's stable of developers, fans had mostly predicted the heaviest hitters in advance of the event on Sunday night.
The closest to a Big E3 Surprise we saw during the presser was indeed the announcement of id's revival of Quake as Quake Champions, which will be an arena combat shooter. The game appears to be character based, akin to Team Fortress 2 or now-ubiquitous Overwatch, and it remains to be seen if id and Bethesda can position the shooter in a world where Blizzard and Valve have neatly divided that market segment between them. However, with id's successful reboot of DOOM, they have arguably earned the benefit of the doubt.
In a similar situation is Elder Scrolls Legends, the previously-announced card game based on the popular sword-and-sorcery franchise. However, in a post-Hearthstone world (and with CD Projekt Red's recent announcement of a standalone "Gwent" game), Legends at this stage looks like it will have a significant uphill struggle to wrest a handhold in the spinoff card game arena.
Todd Howard appeared next to show new Fallout 4 DLC including a Contraptions expansion that allows players to build more complicated base structures and Rube Goldberg mechanisms, or run their own vault with Vaultec Workshop. For the subset of players who enjoy building animated signage and other such pursuits, it's likely to add extra hours to the extensive game. Additionally, the Nuka World theme park expansion, the first big release was announced and will be available by August. Recall that Bethesda raised the price of their Fallout 4 season pass from $30 to $50, and they seem to be gearing up to justify that increase.
Skyrim Special Edition for PS4 and Xbox One looks great, and hopefully by this point they've got all the kinks worked out for the initial release. Mod support is also included for consoles.
The second big announcement of Bethesda's conference was Prey, a reboot of the troubled first person shooter franchise. The announcement trailer seems to stray from otherworldly alien abduction environments and go for a more disorienting "dubious futurism" theme. However, Arkane Studios (simultaneously producing Dishonored 2, which was shown later… extensively) has capital to spend with fans based on their past successes.
For those interested in VR, Bethesda indicated a VR demo of DOOM 2016 would be available on the E3 show floor, and that a version of Fallout 4 for HTC Vive would be available as a consumer product in 2017.
Overall, a solid showing from Bethesda. Although they had little in the way of new and unexpected announcements, they seem to be in good company with other presenters, whose announcements have largely been leaked. Come back to us at Tech-Gaming soon for a recap of E3 2016 pressers in the next few days!