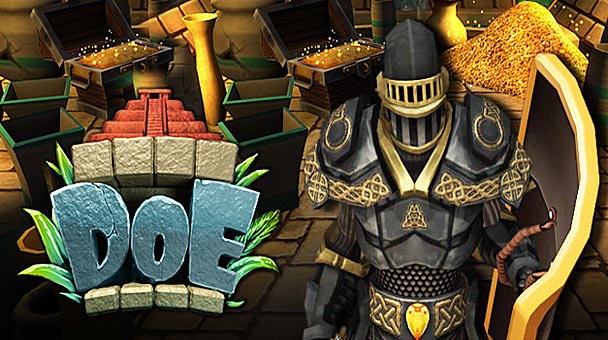 What is the concept? In 2007, developer Steve Fawkner hoped to evade role-playing combat formula, which had habitually expressed combat as a succession of menu selections. The result was Puzzle Quest: Challenge of the Warlords- a title which converted the typical exchange of blows into a match-three, Bejeweled-like activity. Following a successful Kickstarter campaign which raised over $20,000, Frogdice's Dungeon of Elements attempts a similar endeavor, this time conveying conflict through puzzles which pay homage to the beloved NES title, Dr. Mario.
After installing the 166 megabyte file, Elements escorts players to the Alchemist creation screen, where an avatar is built by selecting from a variety of selections for gender, hair style, facial structure, complexion, and vocational background. Next, the game delivers a prologue through an amalgam of text and hand-drawn illustration- establishing a context where alchemy has fallen on out fashion. Currently, the discipline's one solid status has been soiled by swindlers and cheats. Players are tasked with travelling across the newly unified three continents of Primordiax (a context that's shared across Frogdice's output), and not only ridding the realm of beasts, but also rescuing the reputation of the lost art. Although Elements aesthetics divulge its indie heritage, the game's mythos is remarkably well-crafted, articulating a lore across a branching storyline.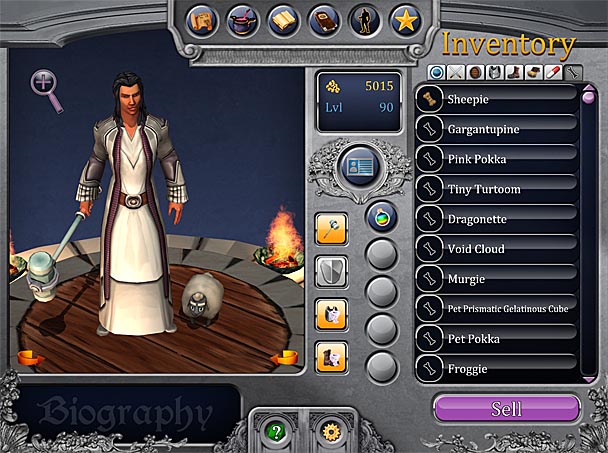 Delving into the title's forty-odd missions finds clusters of enemies and the intermittent boss creature who all need to be eliminated before proceeding onward. Removing these adversaries is accomplished by creating a circuit of four-like colored objects from falling capsules. Unlike similar matching games, connections don't have to be across horizontal or vertical lines, any quartet of elemental objects removes the collection from the playfield. To keep things interesting, some stages contain obstructions on the borders of the playfield while t sporadically appearing cavities can swallow your capsules. Fortunately, players have a few devices at their disposal- from weapons which can help eliminate heard to reach foes to shields which slow the decent of the ever-escalating plummeting pills.
What are the game's strengths? Much like Puzzle Quest, Dungeon of Elements demonstrates that a puzzle game with an overarching goal can be surprisingly addictive. With stages being fairly brief- between five and ten minutes if you don't muck things up, it's easy to get sucked into the 'just one more level' rationalization. Since many of the title's mechanics vary add variety, the tedium often associated with traditional puzzlers is often offset.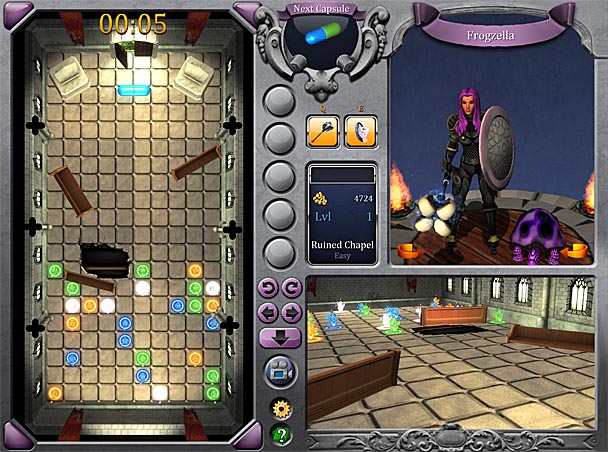 Much of this nuance stems from the game's alchemy system, where players can combine any two items in hopes of crafting a superior object. Since the game doesn't extend much in the way tutelage, experimentation seems to be encouraged, which can lead to a few instances of wasted resources. However, once players stumble upon a recipe, Elements remembers the formula, allowing duplicates to be easily made. Pleasingly, successful techniques not allow provide advantages on the playfield, but can also be sold, giving the player a nice cushion of currency.
As noted, variation is one of Dungeon of Elements' main virtues. Not only do the game's numerous environments look physically different, but there's enough diversity in arrangement, complications, and enemy configurations to make each locale feel distinctive. Although many of the game's musical pieces are of middling quality, there's a very broad range in thematic style, with brooding synthesizer-driven songs to tunes that sound carnivalesque.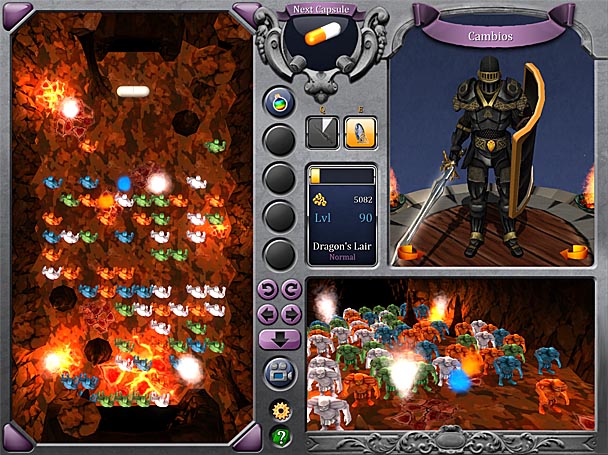 It should be stated that even with the game's settings cranked to capacity, Dungeon of Elements is extremely judicious with system resources. On a low-end laptop, the title only used about seven percent of the machine's CPU capacity, or about the same as a few Flash-driven browser pages. Stability should also be mentioned; I didn't experience a single crash or glitch across more than fifteen hours of play.
What are the game's weaknesses? Regretfully a few design decisions divulge Elements' indie heritage. During combat, the game's alchemical avatar is given a corner of the screen, but the real estate seem squandered. Save for the ability to spin the protagonist, the hero stands lifeless as a lead figurine, displaying no movement or emotion after defeating an Orc king. Ideally, Frogdice would offer either a casting animation or at least victory pose to justify the presence of the on-screen persona. Similarly, a perspective cam situated below the hero is largely superfluous, offering only a 3D outlook on the action.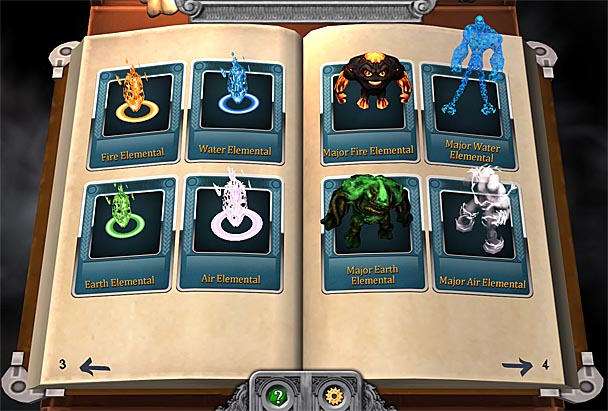 That's not to say everything is copacetic with the main playfield. Occasionally, diminutive obstructions can be hard to see, impairing capsule placement. Even without impediments around, rotating pills near walls or other fragments can intermittently result in unexpected positioning of the active piece. What's more the use of color-coded capsules certainly suggest Dr. Mario, but these brightly tablets don't mesh with Dungeon of Elements' fantasy-themed world. Although the game attempts to explain pieces as being elementally-based and leaving smoke trails, the explanation seems forced.
Is it worth the money? Admittedly, Dungeon of Elements isn't a visual knockout. While perks such as a bestiary, interactive map, and on-screen avatar are eye-catching, the game also offers a selection of austere graphical elements. That said, the occasional unadorned aesthetic shouldn't prohibit players from giving Elements a try. Once players hit the battlefield, they'll find an engaging title that's hard to abandon.
Review Overview
Summary : A fusion of fantasy role-playing and Dr. Mario-like puzzling make Dungeon of Elements an addictive indie diversion.