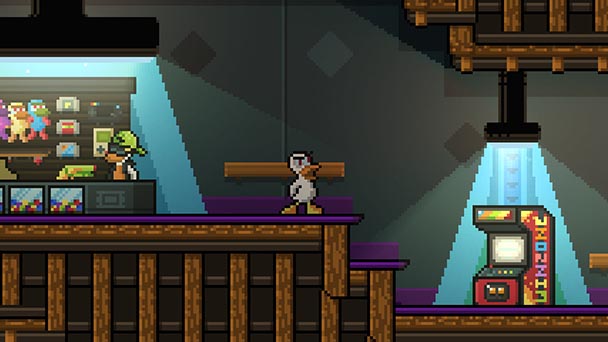 These past few years, retro-inspired titles became mostly associated with indie developed releases. This trend stems from the lower production values required to recreate a 16-bit gaming experience, and the fact larger developers have all but abandoned these formulas. Adult Swim Games has always stood out for me due to its combination of old-school game design mixed with self-aware humor and pop culture references.
Staying true to these themes, the publisher's newest title, Duck Game can best be described a Sega Genesis inspired, 2D arena shooter. Duck Game foregoes any plot or storytelling choosing instead to deliver fast, frantic and chaotic gameplay. Even the main menu is managed by having your duck running around to active each option, complete with button press that makes your character quack.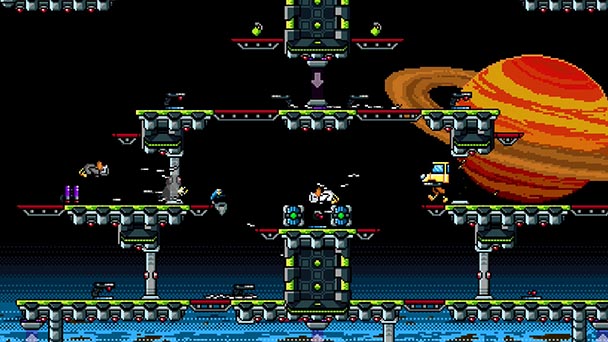 Its core concept is simple; you and three of your friends have to kill each other in a series of online matches. Players are given the option to customize their ducks with a multitude of hats similarly to Team Fortress 2 and are then promptly shoved right in to the action. Bouts come at a blistering fast pace, most skirmishes tend to last 15 seconds or last, but you're given no respite as a new arena is immediately created and a re-match starts yet again.
The chaos that is constantly ensuing is addicting and hilarious as you have four quacking ducks running around a 2D plane getting their hands (flaps?) on anything that can be turned into a weapon. These include guns, shotguns, swords, nerf guns, lasers, muskets even saxophones! I cannot emphasize enough how over-the-top and hilarious Duck Game is at its best.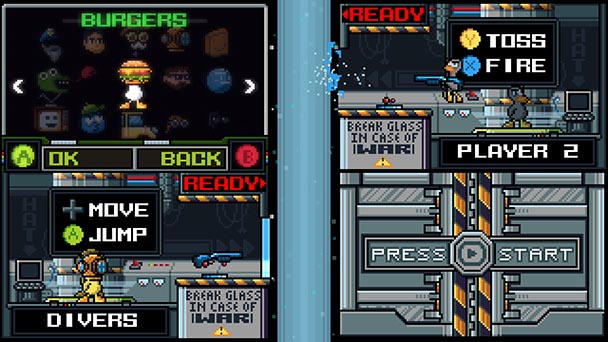 Playing it with friends provides what is perhaps one of the best local multiplayer experiences we've had in a long time. When you see a grenade wielding duck stealing your hat and beating another duck with your own dead body you know you're in for a laugh. Many of the weapons are completely unrealistic which only adds to the fun, my favorite being a raygun which literally turns enemies into roast duck.
Although Duck game was originally launched for the often maligned Ouya, this steam stands by adding a much needed online multiplayer feature. This option for online play should be considered almost mandatory due to how lacking the single-player action is. Rather than providing A.I. controlled bots, anyone playing Duck Game alone is restricted the challenge modes. I felt these were little more than glorified tutorials with the ultimate reward being tokens to buy new hats. Needless to say, anyone who values playing alone over a multiplayer experience should avoid this title at all costs.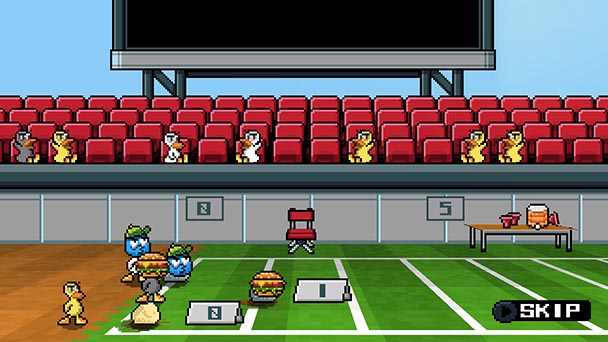 As previously mentioned, Duck Game has no story or plot though it does take place in the futuristic year of 1984. This serves as its theme as each level begins with a Tron-like grid sequence. Even the Sega Genesis graphical look fits this "futuristic" setting like a glove, with its use of dark colors, dithering graphics and plenty of parallax scrolling. The soundtrack is also heavily inspired by Sega's 16-bit console, featuring metallic sounds which should resonate with anyone who grew up with this classic system.
Duck Game is as fast paced as it is short. With most matches lasting less than a minute it won't be long until players have seen all fifty at least twice. Considering it's best enjoyed with a group of friends repeated playthroughs may not come as often most would like. Duck game is the best party local-multiplayer game I've played in a long time, and its greatest fault isn't necessary technical, but rather that it requires a strict set of requisites to be enjoyed at its fullest.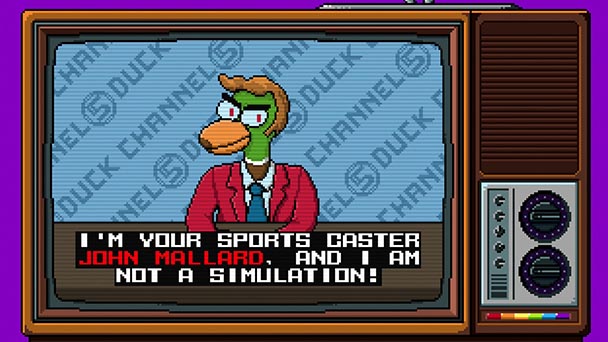 Duck Game was reviewed on PC with review code provided by the publisher.
Duck Game 
Platform:
 PC
Developer: 
Landon Podbielski
Publisher:
Adult Swim Games
Release date:
 June 4th, 2015 (US)
Price:
 $10.39 on Steam through June 11th, $19.99 thereafter
Review Overview
Summary : An addicting and hilarious 2D arena shooter that foregoes a proper singleplayer experience and is best enjoyed in local multiplayer with three friends.