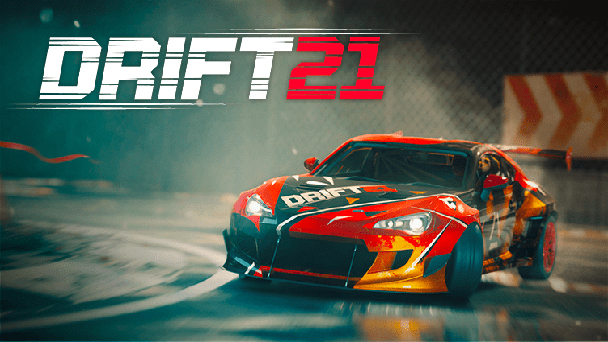 To broaden appeal, racing games routinely include a drifting component. And if you've played franchises like Assetto Corsa, GRID, Need for Speed, or Project Cars, you've probably careening around the occasional corner. But dedicated drifting sims, the kind with fastidious physics system that truly replicates the artistry of sliding a 1,089-kilogram, 200 horsepower Toyota AE86 Sprinter Trueno are a rarer breed.
With the Early Access release of Drift21, players are provided with an unpolished, yet rather promising toolset. Don't expect to become the next Keiichi Tsuchiya (or even Initial D's Takumi Fujiwara) overnight. It's going to take a wealth of dedication, patience, as well as fiddling with your Thrustmaster, Logitech, or Fanatec wheel before becoming a manji master.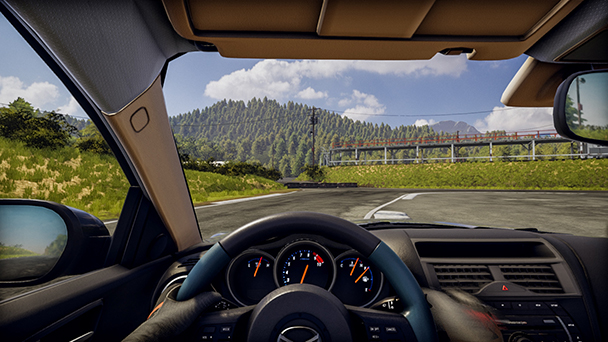 Snake Across Some of Japan's Famous Courses
But in the game's current state, don't expect much content or guidance. Although developer ECC Games is gradually adding tracks and vehicles, things still feel a bit threadbare. As of today, you can tackle a trio of Fukushima's famous Ebisu circuits, Kita and Minami, as well as the flat but curvaceous Drift Land. There's also Ebisu's School Course, which is ideal for practicing the basics of drifting. Unlike many racing games that extend elongated sections of asphalt, Drift21's courses are on the small side, so it would be great to see Hokkaido's Tokachi Speedway, Miyagi's SportsLand Sugo, Niigata's Maze Sea Circuit, and of course, the Twin Ring Motegi in Tochigi. Given my racing career peaked with go-karting through the Shibuya Scramble, if Drift21 can diversify its venues, it would have the basis for a competent career mode. Right now, things like a loose assortment of events.
Hopefully, the game can capture the personality of each locale. Ebisu is an intriguing destination, with a safari park on the premises. Drift21 interpretations capture the fundamentals, with blue-and white chicane, layers of tread marks, as well as elements like grandstands and lush green flora. But they're unpopulated state makes them feel a bit sterile. Perhaps a few JDM banners would liven things up.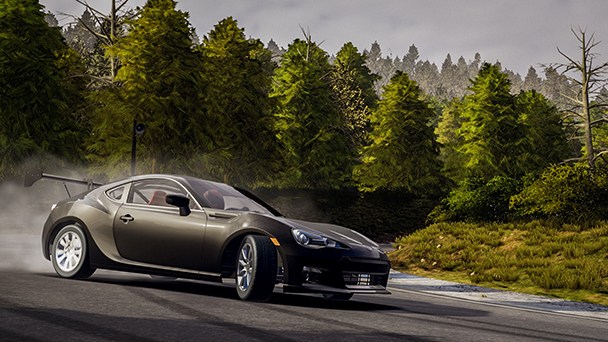 A Shallow but Interactive Garage
When it comes to cars, there are currently four offerings: a Nissan Silvia, Subaru BRZ, Mazda MX5, and a MX8. If you were hoping to take out the iconic Toyota AE86 Sprinter Trueno (aka the Hachi-roku), you're presently out of luck. Alongside actual courses, having a roster of celebrated drifting cars would be an alluring incentive.  I certainly hope the developers can secure some of the other big-name manufacturers. Since there's no in-game damage modeling, I hope ECC's lawyers can work something out.
Step into Drift21's painstakingly-rendered garage and you'll be able to perform obligatory maintenance after purchasing a new car. Here, the game shifts to surprisingly intricate mechanical simulation. Using a radial menu, you'll be able to highlight, purchase, and install missing parts, going under the hood, or courtesy of a working car lift, under the car body. Sure, inserting hoses, seats, and steering wheels can be a bit fiddly, but it's a truthful representation of a drifting driver's life, who often serves as mechanic as well. Expectedly, you can tweak your car's tuning to maximize performance, through a three-step process. There are a few missing settings, like suspension settings and tire pressure, but what's here is functional. While you can paint your cars and apply vinyls, those expecting elaborate itasha, might be disappointed by the rather generic offerings.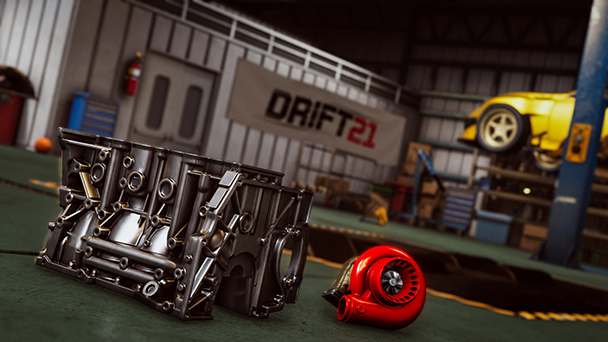 Control Issues
Even if you're a racing game, prepare for a protracted adjustment period if you play Drift21 with a controller. Whereas most games highlight under- and oversteering, it's rather hard to gauge at present. This is complicated by the game's modeling of tire traction, with side bite feeling underrepresented at present. Playing with a force feedback wheel like the Thrustmaster T300 brought a whole new set of issues. Even after a lot of tweaking, there was a rather large deadzone, while the responsive areas seemed to oversaturate steering. Handling is going to make or break this title, and at this junction ECC could go either way.
And that's the most worrying thing about Drift21. Although the developers undoubtedly invested a myriad of hours modeling car parts and creating an elaborate garage, the game's most crucial component remains unfinalized. A purchase of an Early Access release is often a leap of faith. At present, there's a high amount of risk compounded by moderately high price. Although there's a healthy amount of promise with Drift21, until the game's physics models has been dialed in, you might want to wait before committing.