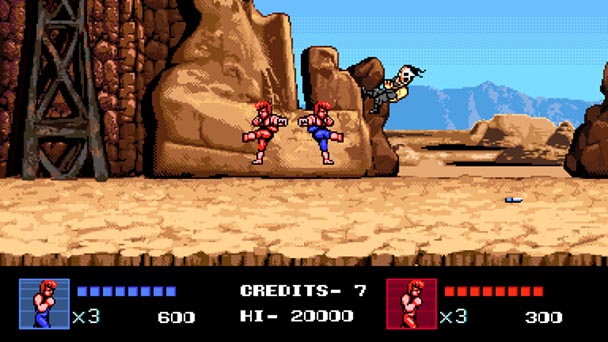 Although Double Dragon creator Technōs Japan may have succumbed to bankruptcy in 1996, their legacy continues to live on. A Japanese company called Million secured the licensing rights, subsequently released a number of new follow-ups, from Double Dragon Advance, several entries in the Kunio-kun series, and even serving as producers for Double Dragon Neon. In 2015, Million ended up selling their roster of intellectual properties to Arc System Works, permitting the Guilty Gear and BlazBlue developer to craft any additional sequels.
When the Yokohama-based developer and publisher announced that that had united members of Double Dragon's original team, with director, programmer, composer, and character designer collaborating once more, it seemed as if Arc System Works was on-track to reinvigorate the beloved brawler.  But woefully, the release of Double Dragon IV doesn't do enough to modernize the thirty-year old game, resulting in a sequel that feels distressingly superfluous.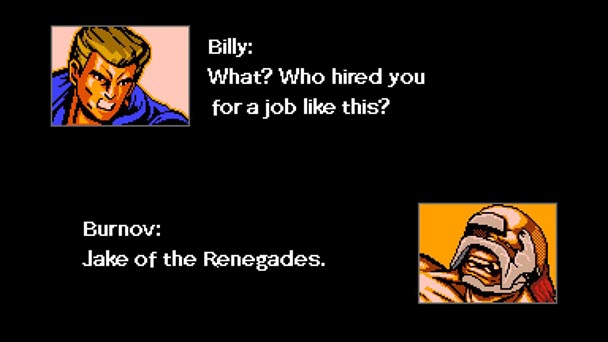 Certainly, Technōs' output has never been noted for pushing the boundaries of narrative, favoring action over exposition. But given the three-decade duration of the Double Dragon franchise, some deviation in plot would have been welcome. However, IV takes no chances, with Billy and Jimmy Lee now setting up dojos to extend the reach of the Sōsetsuken martial art in order to 'preserve peace'. While on a road trip, the duo are attacked and Billy's girlfriend, Marian is kidnapped, mirroring the events of the first game. Where Neon's storyline toyed with Marian temporarily becoming a villain, here there's little deviation from franchise formula. Sadly, that's largely true for the rest of the game.
Tackling the game's eighty-minute long story mode allows players to take the role of either Billy or Jimmy, utilizing each Lee brother's arsenal of a kick, punch, knees, and flying kicks. On the upside, IV doesn't squander the advancements of modern controllers, allowing players to remap special techniques and even a jump to dedicated buttons. And given the game's predilection for pixel-perfect jumps, you'll probably appreciate the update. But unfortunately, gameplay remained entrenched in late '80s/NES-era brawler design. As such, you'll use your abridged arsenal to take out adversaries, with only the addition of being able to pick up and throw larger objects and a new move like a spinning headbutt forging distinction.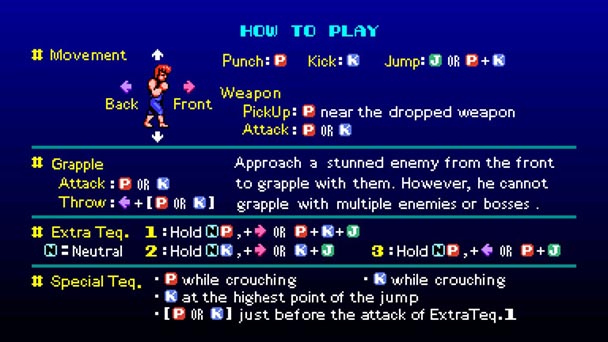 For those accosted to contemporary combat, Double Dragon IV action might seem slow and fussy. Protagonists tend to move sluggishly around the screen, which can prove frustrating when you're trying to create enough space to deliver a flying kick. Aligning yourself to the same horizontal place as enemies remains true to brawling blueprint, but might feel unwieldly in an era where there's a bit more leniency in collision detection.
Beyond a Versus Mode where two combats can square off, Double Dragon IV's other ancillary is the Tower. Here, players confront a sequence of foes across single-screen arenas, purging those persnickety platforming sections. As a bonus, success rewards a succession of unlockable characters that can be used in the game's other modes. Given that Arc System Works is behind the development, it's a little disappointing that there's no eight-bit adaptations of Sol Badguy or Ragna the Bloodedge. But that said, playing as a shuriken-tossing Ayumi will certainly appeal to franchise fans.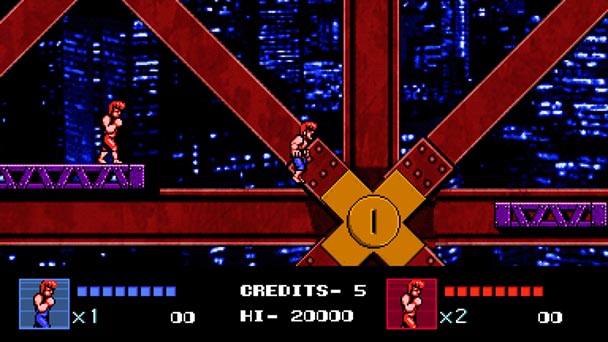 Even if you appreciate the simplicity of retro-mechanics, there are a few new transgressions. With IV, it's much easier for enemies to be knocked down from platforms, instantly eliminating them. Sporadically, opponents will stand around, patiently awaiting punches, instead of encroaching players and producing the series' signature feeling of opposition all-around. Seemingly, the game rips character sprites right out of the Tradewest-developed NES build, tasking players with pummeling familiar baddies like Williams, Roper, and Linda. But the once intimidating Abobo saunters on-screen like any other opponent, reducing the franchise's notorious Black Warrior member into a basic enemy. Fundamentally, Double Dragon IV's combat isn't totally flawed, but feels like finding a mislaid cartridge from the Bush/Quayle years. If you're looking for an authentically retro experience, give it a try. But if you are accustomed to more modern mechanics, you're probably better sticking with Double Dragon Neon.
Double Dragon IV was played on the PC with review code provided by the publisher.
Review Overview
Summary : Double Dragon IV offers an unwavering throwback to late '80s brawling, extending an experience that truly recaptures the look and feel of eight-bit gaming. Most might be disappointed by Billy and Jimmy Lee's lack of advancement.