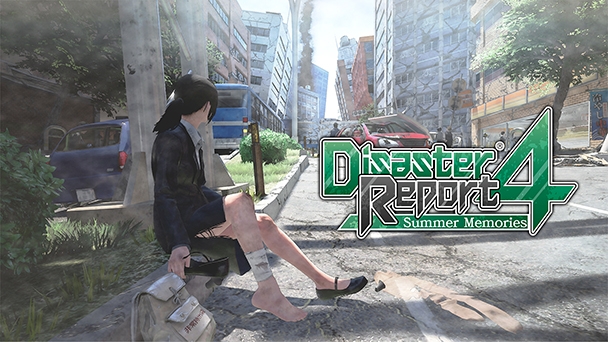 The Disaster Report games are often considered cult classics, even if gameplay habitually took a backseat to survival-based tensions. Sadly, the fourth iteration is plagued by several faulty elements, making the game a test of patience rather than persistence.  
Disaster Report 4: Summer Memories
Platform:
PlayStation 4, Switch, PC
Developer:
Granzella
Publisher:
NIS America
Release date:
April 7th, 2020
Availability:
$59.99 via digital download from the
PlayStation Store
,
eShop
, or
Steam
Spend time in Japan and you'll undoubtedly hear the word "ganbaru" (頑張る) interspersed in daily conversation. Literally translated as 'standing firm', the expression is often used to describe perseverance through particularly taxing times. In this sense, usage routinely increases amidst misfortune, explaining the term's ubiquity following the 2011 Tōhoku earthquake and tsunami.
Undoubtedly, the sentiment also encapsulates the troubled development of Disaster Report 4: Summer Memories. Known as Zettai Zetsumei Toshi 4 in Japan, the fourth iteration in the Disaster Report franchise was originally intended for release on the PlayStation 3. But production difficulties delayed the title and three days after the Tōhoku quake, developer Irem announced the game was officially canceled.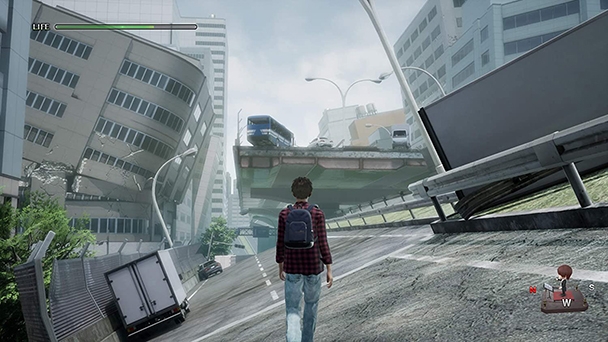 Adamant that his team's efforts wouldn't go squandered, chief producer Kazuma Kujo left Irem started a new company, and secured the rights to rebuild Disaster Report 4 from the ground up for the PlayStation 4. After a multitude of additional delays, the title made it way to retail in late 2018. Remarkably, NIS America has taken a chance bringing the title stateside. And while it's difficult to not champion the persistence of Kujo and company, Summer Memories repeatedly struggles with its depiction of tragedy and the capacity for human tenacity.
Role-Playing Elements Gone Awry
After a visit of Disaster Report 4's shallow character creation suite, the protagonist boards a bus, making its routine rounds through an unidentified large city. Tranquility is soon undone when everyone's mobile phone receives an earthquake alert. Moments later, catastrophe strikes, violently shaking the topography so much that the vehicle tips over on its side. After an escape through an emergency window, the shaking sporadically continues, with a steady succession of aftershocks that turns high-rises into mounds of broken concrete.
What follows is a departure from previous Disaster Report entries, which focused on surviving through an ordeal. Instead, Disaster Report 4's early hours ask a number of questions that help define your impetus. Are you fixated on keeping yourself alive or on helping others? Do you exhibit confidence during a crisis or do you feel anxiety? While these qualities presumably feed into the game's multiple endings, replay demonstrates scant difference during play. A player's time and energy should be rewarded with some time of pay-off. Isn't that one of the foundational rudiments of a game?
Inventory System Gone Amiss
But that's not the only underdeveloped mechanic. Summer Memories tracks morality, hunger, thirst, and the need to relieve yourself. But it's quite possible to ignore most of these, if you can live with, at worst, a nagging icon reminding you to use the toilet. Yes, there's periodic danger when buildings collapse, requiring you to either run away or activate a brace animation that helps you not fall over. But oddly, Disaster Report 4 is very reluctant to signal danger, extending few visual or even aural cues. As such, taking damage feels arbitrary, which will often produce feeling of frustration.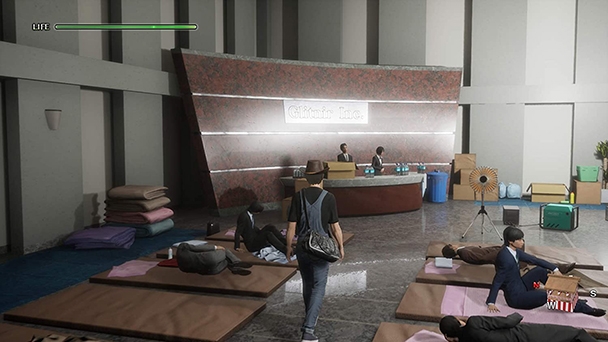 But it's not nearly as bad as the game's unwillingness to provide a perceptible path to advancement. All too often, the title feels like an antiquated role-playing game where progression is gated off until you speak to every NPC who's standing around. Occasionally, you won't make headway until you've finished a quest and at worst, the game spawns an object is a previously scrutinized area. And while helping others in a moment of distress should feel fulfilling, all too often your efforts are unappreciated. I helped a worried teacher find her missing students who were on the second story of a buckled building. But instead of rushing toward safety, the schoolgirls were unfriendly and make fun of my character. Unrealistic and disappointing, these aren't the only indifferent characters in Summer Memories.
Underdeveloped NPCs
Undoubtedly, the game's shift away from action to more intimate storytelling has the potential to survey the myriad of reactions to disaster. But all too often, Disaster Report 4's execution disappoints. With only few lines of expositional dialog, many non-player characters are little more than broad caricatures. Perhaps if the game assigned them with deeper, more reflective dialog, it might be easier to empathize.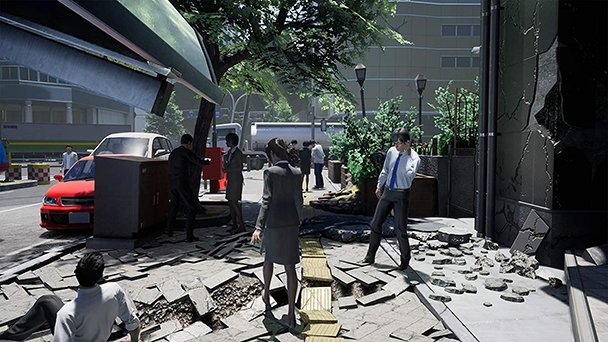 Of course, there are a few characters that are interesting. You'll come across an aging salaryman lamenting over a fallen lunch. Sit down next to him and he'll tell you about his forced early retirement and being too embarrassed to tell his family. Here, Disaster Report 4 employs branching dialog to feign a natural chat and it largely works (despite localization that describes him as both "middle age" and "elderly"). Likely, you'll feel for the him and long to give him a fleeting words or encouragement. Some characters require a bit of cultural knowledge. Some might feel the middle of a catastrophe is a bad time for a CEO to worry about the company stock price. But to understand the significance, you'll have to know that Eastern CEOs tend to be paternalistic. The chase of profits is usually balanced with a concern for the company family they spend long hours with. Summer Memories occasionally pulls the heartstrings, but it happens far too infrequently.
You will also meet a lot of unscrupulous types who are uncharacteristically self-centered. You'll find a murdered, price gougers, and other unscrumptious types in worrisome quantities. And while there are people like that in Japan, it feels Disaster Report 4 has an unrealistically pessimistic worldview. And then there's the main protagonist who is all too ready to hit on a woman, mere minutes after calamity. These choices feel discordant when dealing when themes of disaster and the loss of human life. Occasionally, the game aims to embed a bit of preparational education amid the melodrama, which could be potentially useful. But you'll have to sift through a stack of selfishness to get there. I went into Disaster Report 4 hoping to learn about persistence, bravery, and altruism but all too often the game seemed like a tragic reminder of humanity's worst qualities.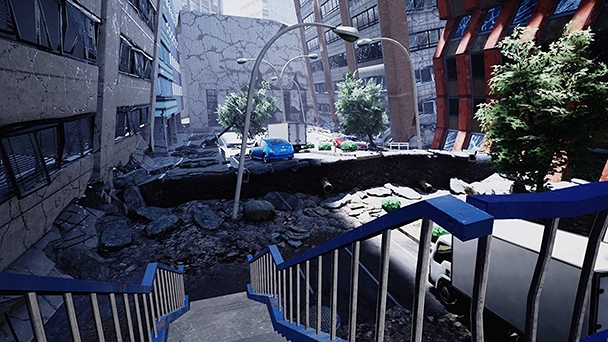 Conclusion
Disaster Report 4: Summer Memories is a peculiar experience. It's the rare game where you'll be happy to see frequent load screens, as they are one of the few indications of progress. It's a game with lofty ambitions but with moment-to-moment play that is tedious and habitually unfulfilling. Despite all this, I hope that Kazuma Kujo and the team at Granzella get another chance to tackle disaster. If they didn't, that might just be the real tragedy.
Disaster Report 4: Summer Memories was played on the
PlayStation 4 with review code provided by the publisher. 
Review Overview
Summary : Disaster Report 4: Summer Memories focuses more on thankless fetch quests than on survival, resulting in a generally unrewarding adventure game that exclaims little about the human spirit.