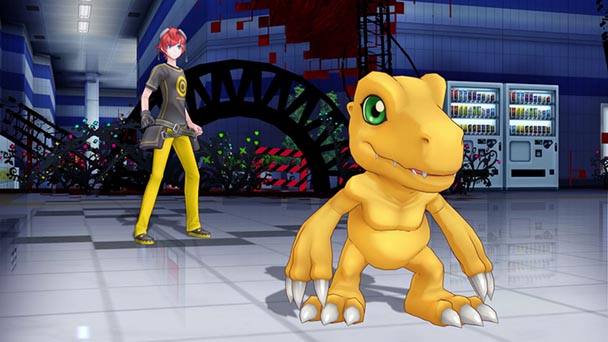 Not long after the turn of the millennium, a prominent site referred to Digimon as the "poor man's Pokémon". As a follower of the anime and game franchise, I found this remark to be painfully reductionist.  Although Akiyoshi Hongo's creation might not have reached the stratospheric level of popularity enjoyed by Game Freak's work, Digimon had a number of enriching attributes. For one, the property had a more mature tone, with storylines focused on malicious-looking villains hell-bent on large scale destruction. Consequences were elevated too, with characters dying or even worse- cast out of the Digital World, unable to interact with their Digimonsters ever again. Since these creatures could talk, strong bonds frequently formed between protagonist and partners.
But when the number of localized releases gradually slowed in the ensuing years, I too began to doubt Digimon. Fortunately, the recent release of Digimon Story Cyber Sleuth demonstrates the potential of the property, contextualizing its characters and creatures in a thoroughly contemporary context. But even better that the backdrop, Cyber Sleuth proves to be a proficient blend of role-playing and monster nurturing, filling a conspicuous gap in the Sony library.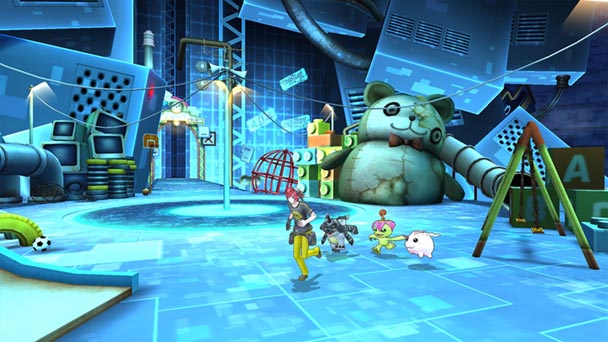 Echoing the tone of the anime, the title's foray into the virtual world is largely stimulating. The promise is rooted in the creation of EDEN, an online destination which has attracted both the business sector as well as a bevy of hackers. After prowling through the lawless lower levels of EDEN, the protagonist (players can choose either a male or female lead) earns the ability to capture and manage Digimon. But the serenity of skulking around with your digital companion is soon spoiled by the appearance of an Eater who attacks the player, leaving you partially digitized, your existence split between real and virtual worlds. When back in Shinjuku, your glitching body grabs the attention of a detective, plunging players into a succession of investigative missions.
Advantageously, Cyber Sleuth requires no knowledge of Digimon lore, explaining its nuances through an accessible storyline that thoroughly explains all the pertinent details. And while some of the adorable digital monsters on the cover might seem to signify a trek for the pre-teen set, the title dexterously tackles a number of darker and sophisticated themes. From exploring society's growing dependence on the internet and the emergence of cyber-criminals, the storyline feels smart and conveys gravitas. However, save for the sporadic instance of mildly revealing attire, Digimon Story remains accessible to a pre-teen across a range of audiences.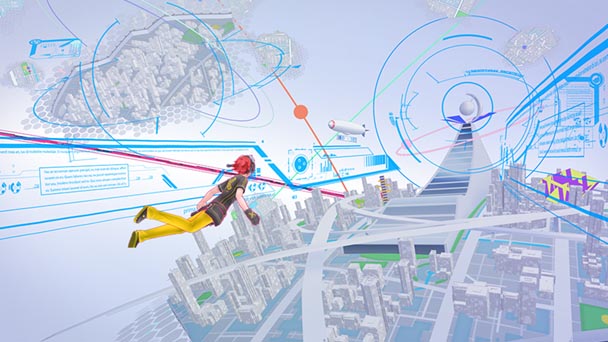 Much like the game's cover stars, the game's title might also be a bit misleading. Come into Cyber Sleuth expecting a methodical point-and-click mystery and you'll be disappointed. Instead the title is unabashedly traditional, offering mostly linear dungeon crawls with the sporadic branching path. Combat doesn't veer from retro role-playing convention with encounters following a turn order, as players issue commands for their creatures to execute. While that might not be an issue for everyone, those accustomed to the deviation of some modern RPGs might find themselves fighting foes as well as tedium. Much later, there's also an issue where your Digimon overpower most enemies- but by the time gamers reach that stage, the campaign is already starting to wind down.
While combat largely follows convention, raising your digital warriors offers a few a number of interesting decisions. Combat allow you digital monsters to grow, augmenting their abilities and sturdy skillset, but to bypass their natural limits, players will need to Digivolve their roster. Here, your Digimon evolves into a new physical form, the change accompanying by a stat boost and ability improvements. But if you're not content with the new form, there's always the option to DeDigivolve, returning the sidekick to its previous form, albeit their experience level will be reset. With nearly 250 different forms, going all the way up to Digimon's Mega level, there's a wealth of variety contained in the game.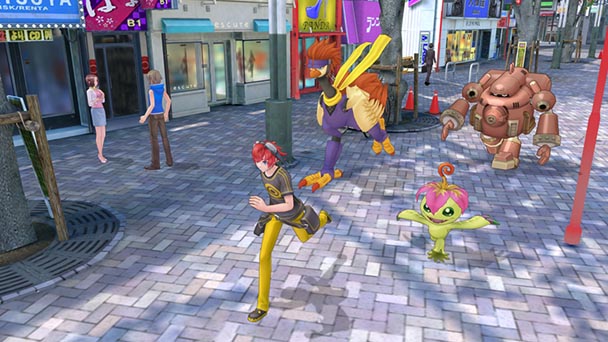 Players can also opt to set their sidekicks to an island-based training facility.  Here, you'll be able to set a regimen for your digital monsters, research new items, and assign your roster to scour for side-quests. When it's time to rendezvous with your squad mates, that'll likely have enough experience to Digivolve or at least earn a prized spot on the main or reserve teams. The method of acquiring new Digimon feels fresh too, with each encounter of a specific monster variety increasing your scan quantity. At 100%, the scan becomes complete and you can add the creature to your team, but wait until the figure hits 200% and you'll be presented with an enticing statistical boost for your new acquisition.
Visually, the PlayStation 4 iteration of Cyber Sleuth intermittently reveals its portable origins. The game's recreation of EDEN is largely successful, with the virtual world flaunting minimalistic, TRON-like environments and a ubiquitous blue glow. When things move to representations of Tokyo's wards, you'll bound to spot some famous landmarks, like Shibuya Crossing or the Nakano Broadway shopping complex. Occasionally, the low-res texture can sully the experience, but on the upside, there's no obvious performance issues and minimal load times. Sonically, the game's an unconditional winner, its original Japanese voice complement by a pulsating electronic (and occasionally vocalized) soundtrack that's reminiscent of Shoji Meguro's work for the Persona series.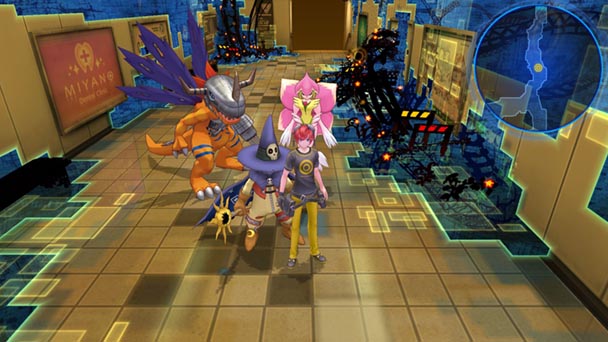 Digimon enthusiasts who have felt jilted by the lack of recent localizations will thoroughly enjoy Cyber Sleuth. As an adept amalgam of classic role-playing mechanics and creature cultivation, it's a thoroughly enjoyable adventure- complemented with a storyline worth caring about. Skillfully, it also works an introduction to franchise, potentially uniting two generations of the DigiDestined.
Digimon Story Cyber Sleuth was played on the PS4 with review code provided for review.
Digimon Story Cyber Sleuth
Platform: PlayStation 4, PS Vita
Developer: Media Vision
Publisher: Bandai Namco Entertainment
Release date: February 2nd, 2016
Price: $59.99 via retail or PSN (PS4), $39.99 via PSN (Vita)
Review Overview
Summary : Built around a solid set of gameplay components, Digimon Story Cyber Sleuth is one of the property's best efforts, offering a thoroughly gratifying campaign as you track down over 200 digital creatures.