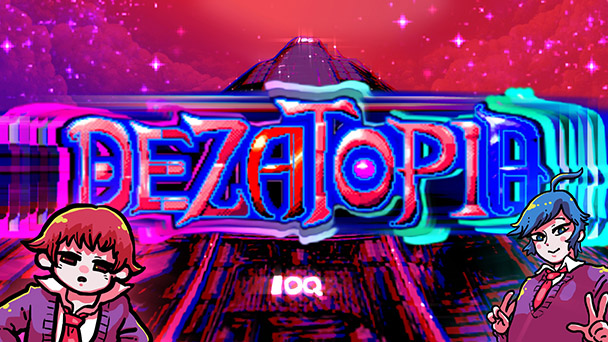 Every Great Shooter Needs a Hook
Nearly all revered shoot 'em ups have at least one signature mechanic. Defender's bi-directionally scrolling battlefield brought area management to the genre, while Bangai-O's incorporation of gravity and dual weaponries still feel distinctive two decade later. And Raiden II's inclusion of the 'bend plasma' turned an otherwise conventional shooter into a near-classic that spawned a trio of sequels.
Looking at screenshots, Dezatopia might not seem to have the pedigree of the aforementioned shooters. But like the resourcefulness exhibited by developer HEY's previous effort, Mecha Ritz: Steel Rondo, it's not surprising to find a game that's elevated by elements like branching paths, a dynamic difficulty system, and a rocking soundtrack. Naturally, there are a few issues. But collectively they're not enough of an inconvenience for you to snub the title.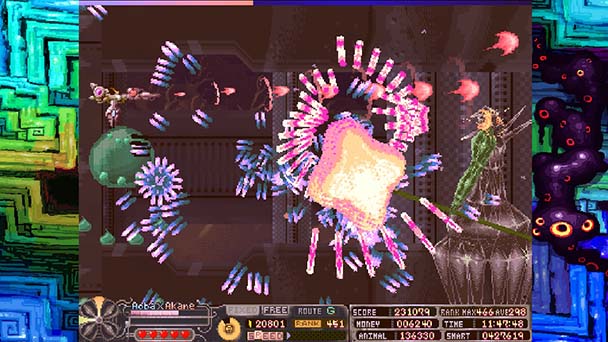 Plant Watering Amidst the Destruction
Before delving into Dezatopia's campaign, you'll be asked if you want a tutorial. If this is your first time playing, the lessons are recommended, as there quite a few nuances in the game. One of the first things you'll discover is that your ship is outfitted with four different weapons, from a typical shumup laser, to more exotic armaments like a water bomb and stream of fire.
Each gun in a direction (up, down, left, and right), and is regulated by a charge meter. Shooting depletes your charge, but if you pause long enough to allow it to refill, your offensive output is increased. So, when your downward-firing water gun is all charged up, it drops a gelatinous pool of liquid that beads up and damages anything it touches. That's quite convenient for the little shrubs that dot the multi-directionally scrolling stages. Water them and they instantly grow, discharging collectables as if they were seedlings.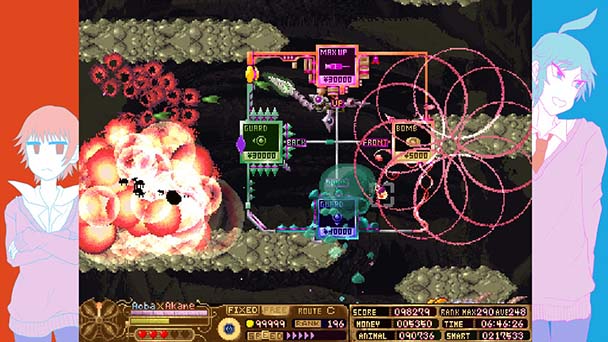 Play That's Rooted in Four-Way Action
Where most games might have had players cycle through your weapons, Dezatopia gives you access to all four at the same time. But doing so, depletes their individual charge levels, weakening their power. More importantly, speed is connected to your offensive output. So, if you have a quartet of guns firing, your ship will move sluggishly. Turning off all your guns draws in crystals, so if you're seeking money for upgrades, you'll want to keep your trigger finger in check. More importantly, some runs require you to race through the game's five stage run in less than 15 minutes if you wish to take on Dezatopia's final tower.
As you play, you'll notice small but fascinating details. Use your water bomb on a sea surface and droplets will emerge like depth charges, taking out many of the subordinate on-screen enemies. But there are also disadvantages; you'll find your fire hose is pretty useless when submerged. Naturally, there's elemental strengths and weaknesses. So, getting in front of a boss might be risky, but using your aft guns for immense damage might be temping. Another offensive advantage is found in the limited number of bombs your ship carries, which put out a broad horizontal band of destruction.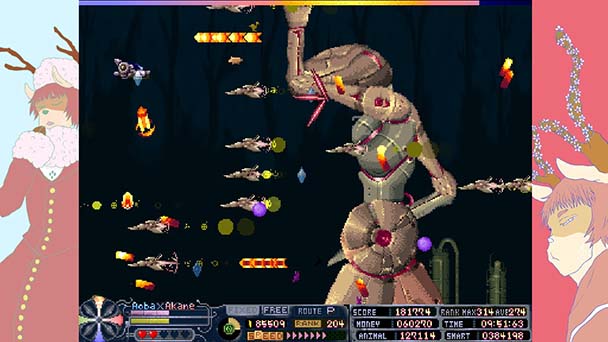 Those Precious Power-ups
Although your arsenal is abundant, Dezatopia has a habit of filling the screen with enemies. Occasionally, your bullets will make a square outline appear. Keep firing and you'll uncover a perk like additional ship speed, an unlockable like a song, or even a bit of character backstory. Yes, Dezatopia has a plot and while it's hardly revolutionary storytelling, there's enough exposition to provide a decent impetus. Another way to augment your ship's capabilities to destroy blocks or charge a meter by absorbing animal souls. Either opens an in-game store in the middle of stage. Instead of pausing the games, you're giving a few seconds of invulnerability to move your craft in a direction to purchase a power-up. However, unless you're centered on the screen, a portion of the store might spill past the edges of your Switch's display.
But that's not the only blemish you'll find. Boss battles aren't just about layers of bullets, but safely distancing yourself from dissolving projectiles and finding space. But all too often, larger adversaries move erratically and will slam into you. While your ship is able to survive a few minor collisions, if you get rammed by a large foe or caught in a storm of enemy flak, you might be forced to use one of your five continues. Another negligible issue is that enemies occasionally spawn on-screen, adding to the intensity. And until you get accustomed to Deztopia's aesthetic style, it can be intermittingly difficult to distinguish between collectable crystals and some small enemies. Likely, you'll forgive these transgressions, as the game is favors situational analysis over pixel-perfect precision.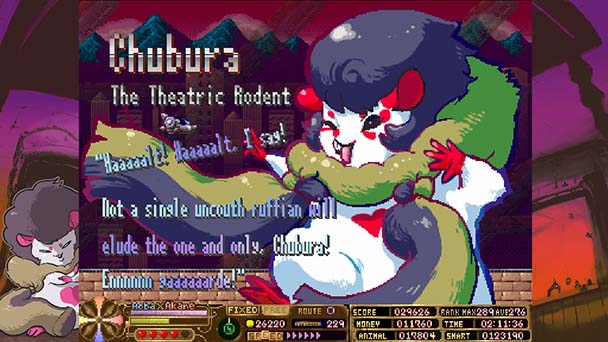 Conclusion
Whether you opt for Free Fire mode where a button press activates weapons, or Fixed Fire where you'll toggle your four weapons on and off, Dezatopia delivers a remarkably robust experience. Sure, the game doesn't exhibit the graphical sheen of shooters made by renowned studios. But the title's got spirit, distinction, multiple routes, and a dynamic difficulty that ensures a constant challenge. Until Cave brings their entire oeuvre to Switch (or my dream of a Bangai-O port manages to comes true), Dezatopia will reign as my favorite Switch shoot 'em up.
Dezatopia was played on Switch with review code provided by the publisher
Dezatopia Platform:

Switch, also on PC


Developer:

HEY


Publisher:

Hanaji Games


Release date:

March 19th, 2020

Price(s):

$19.99 via Nintendo

eShop

, current sale price $16.99

Dezatopia review
Review Overview
Gameplay - 90%
Controls - 80%
Aesthetics - 70%
Content - 80%
Accessibility - 80%
Performance - 80%
80
80%
VERY GOOD
Summary : Look past the chaotic, pixelated screenshots and you'll find a superbly distinctive and thoroughly intense shooter that might have a few unpolished edges, but is undoubtedly a gem in the Switch's library.

User Rating:

4.53 ( 2 votes)