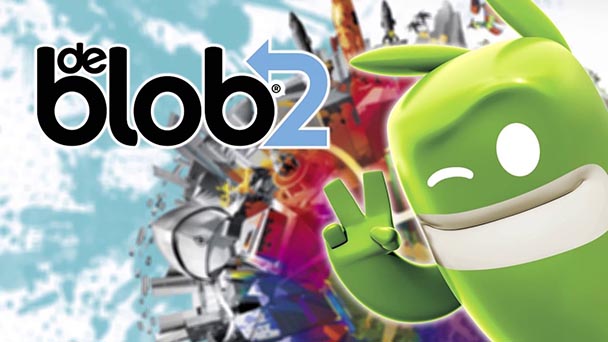 Last June, de Blob was ported to the Nintendo Switch, bringing one of the highlights of the Wii's third-party library to a new audience. Challenging players to revitalize dreary, monochromic backdrops into vibrant cities, the title evoked the blissful, free-form jaunts through Katamari Damacy's urban landscapes. Although a decade old, de Blob's mechanics displayed few little signs of age, extending an engaging yet surprisingly stress-free experience serving. Given the level of difficulty exhibited by many contemporary games, de Blob was a welcome respite.
For the original release of de Blob 2, now defunct developer Blue Tongue Entertainment (Jurassic Park: Operation Genesis, Marvel Super Hero Squad) didn't try to tweak with success. Players still roll their good-natured globule around metropolitan environments where the slightest contact with a wall wraps a building with a vivid veneer. Beyond the addition of two-dimensional platforming sequences and several new power-ups, the title maintained the appeal of its predecessor. Now, Switch owners have an opportunity to experience de Blobs 2's infectious charms.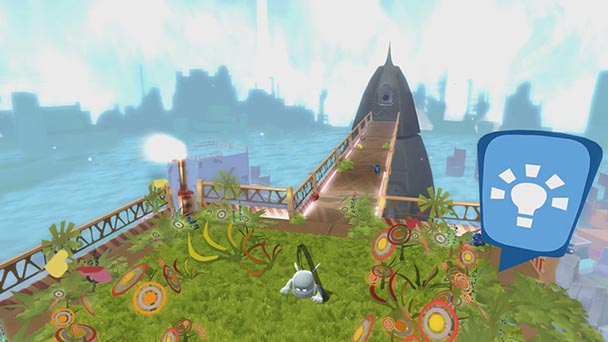 Mimicking the ambition of Pixar's films, de Blob 2's storyline contains elements to entertain both children and adults, without alienating either demographic. Comrade Black's aim to drain Prisma City of its verve by removing the color creates a visual cue easily understood by even pre-readers. With both amusing animated sequences and comic panel synopses, the title's anthropomorphic characters are imbedded with personality, despite speaking in guttural groans. More mature gamers will certainly enjoy the game's subtle musings on cults, conformity, tyranny, and the corruption. While the game's visual palette might recall the bright hues of Nintendo's escapades in the Mushroom Kingdom, Blob 2's subtexts deliver a much more pensive journey.
Wisely, the game doesn't beat players over the head with its counter-hegemonic message. Gamers who just want to restore harmony within the game's dozen landscapes can easily overlook the ideologies and skip right past the cutscenes. Like the original game, the de Blob character uses paint to transform each level, a tool found in both chromatic creeks and the sporadic roaming Paintbot.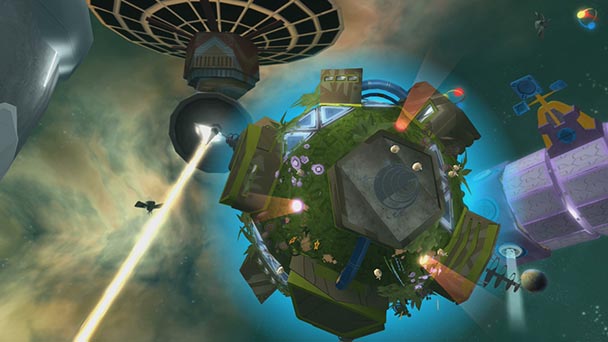 Once doused in a particular pigment, de Blob reels around, leaving a trail of color in his path. Beyond transforming bland buildings into cheerful structures, the protagonist has the ability to make dormant trees blossom, vehicles spring into action, or awaken an unused parasol, creating luminous bursts of vitality. Transforming a lifeless locale into a cheerful, multihued metropolis feels consistently rewarding. Smartly, supplemental side-quests allow players to enjoy the fruits of their labor, as they complete a few, final ancillary tasks before moving on to the next setting.
With the exception of mapping the jump and wall-run capabilities of de Blob to the same button (nearly every other three-dimensional platformer employs one of the triggers to initiate a gravity-defying scamper), the title's controls are habitually instinctive. One satisfying skill is the ability to lock onto enemies, switches, or destructible areas, allowing players to reach extended distances.
From allowing nimble scurries across estranged platforms to permitting players to stomp out a cluster of baddies in a single button-bashing sequence, de Blob is an undeniably capable character. Yet, despite his athletic prowess, Blob's sidekick often stifles the game's capacity for discovery. Although Pinky might provide direction for novice players, more experienced games will tire of her ceaseless assistance. Ideally, the assistant works best in the game's cooperative mode, where the pastel-colored assistant uses a cursor to shoot at enemies and stock up on paint. For players interested in additional collaborative gameplay, de Blob 2 offers a separate splitscreen mode, where teams must race against the clock to compete a joint goal.
Visually, de Blob 2's transition onto the Switch is impressive. While there's the occasional single-digit dip from the target of thirty frames-per-second, the game doesn't exhibit the same impressive draw distant as the console versions. Even more remarkable is the game's soundtrack, which deftly layers additional instrument tracks to complement the player's actions. Hearing a gentle bossa nova develop into a swinging melody- all in time with the player's actions, is steadily exhilarating.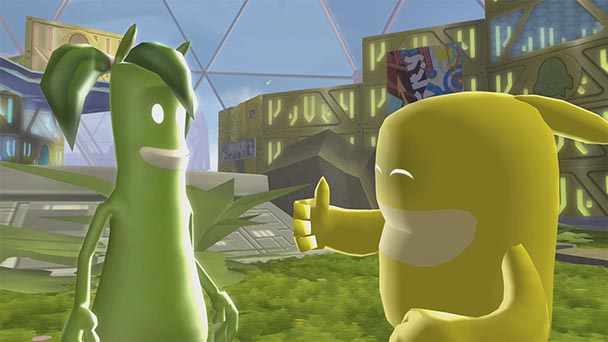 Newcomers might see the games lime-green smiling protagonist and assume de Blob 2 is uninteresting kiddie-ware. But in execution, the title is one of the exceptional games that's innocuous enough for younger players but has enough charm and polish to beguile veterans. Like some of the best interactive diversions, de Blob can make half-hour long sessions appear like mere minutes, as gamers fixate on converting cities. Transforming both these urban centers and our leisure moments into dazzling spaces, players would be wise to add some color into their lives.
de Blob 2 was played on Switch with review code provided by the publisher. 
Review Overview
Summary : Katamari Damacy creator Keita Takahashi once remarked that he hoped to bring the concept of simple, silly fun back into video gaming. de Blob 2 is one of those rare titles to follow a similar ambition offering free-form, flowing fun that shouldn't be missed.