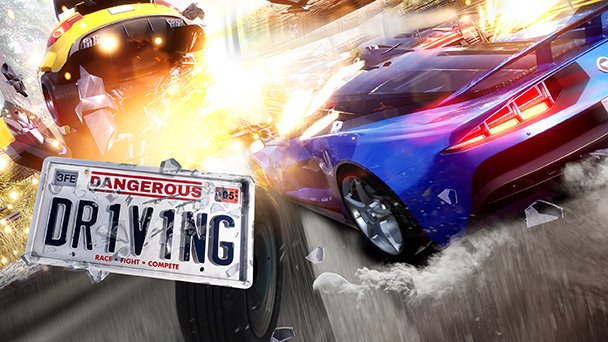 Once a fundamental genre of the industry, the arcade racer's popularity has dramatically decreased in recent years. Not long ago, franchises such as Outrun, Ridge Racer, Need for Speed, and Burnout dominated by delivering high-speed thrills without the burden of complication. Each let players careen around corners, outmaneuver rivals, and shave split-seconds off lap times with fingers rarely lifted off the accelerator. The latter was especially electrifying, goading gamers into triggering crashes that could turn exotic sports cars into misshapen piles of smoldering metal.
In a perfect world, Criterion's Burnout series would still be offering its addictive blend of taut racing and explosive crash junctions where players attempted to create massive pile-ups. But when big publishers impulsively buy up talented mid-sized studios, the consequences are all too frequently tragic, with key roles habitually reassigned. And that's exactly what happened when Electronic Arts gobbled up Criterion Games in 2004, shaking up the organization who had cultivated Burnout for over a decade. Unsurprisingly, a trio of Criterion's prominent creatives, Alex Ward, Fiona Sperry, and Paul Ross, decided to form their own studio, in hopes of returning to their ambitions.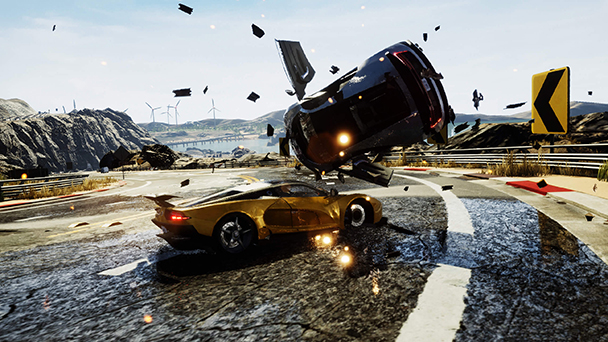 Undoubtedly, the efforts of Three Fields Entertainment have been curious, and nearly converged on compelling. 2016's Dangerous Golf reimagined the mayhem of Burnout's crash junctions as a miniature golf game. While putting wasn't as visceral as careening around corners in a Porsche, demolishing real-world locations had vandalistic charms. A duo of Danger Zone titles allowed players to create vehicular chaos, across a multitude of junctions, but Burnout's signature showdown against rivals was still missing.
With the release of Dangerous Driving for the PlayStation 4, Xbox One, and PC, Three Fields have done their best to recreate the shunt-and-smash action of Burnout, all with a much smaller team of developers. The result is an experience that often comes close to duplicating the thrills of Criterion's beloved series, but all too often exposes moments of inferiority.
Head into Dangerous' Campaign Tour and you'll tackle a succession of sixty-nine events, incorporating nine different type of events, and six different vehicle classes. At present, that means you'll be racing against a lot of CPU opponents, as online multiplayer is pledged as a free future upgrade. Unfortunately, there's no split-screen or even local network-based matchmaking, which might dishearten those seeking to settle a rivalry against human racers.
Expectedly, some of the modes are more fun that others. Arguably the best event is Pursuit, a nod to Criterion's work on Need for Speed: Hot Pursuit. Here, you'll take the role of a law enforcement officer ordered to take down a speeding suspect at all costs but a simple PIT maneuver won't launch the fleeing driver into a spin. These are hectic chases against weighty cars that can absorb quite an impact and you'll be constantly jockey for a position to deliver another damaging jolt, making for intense play.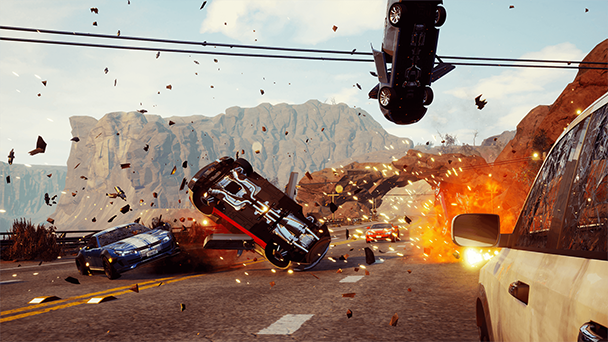 Road Rage is every bit as dynamic, challenging players to nail as many takedowns as they can before the clock expires. Later, additional rules are put into play, adding stipulations like needing to send competitors crashing into traffic, rather than shunting them into corners. Face-offs return, extending a one-on-one race. Beat your opponents and you'll win their car. Pleasingly, there's no rubber-banding in play here. So, it's quite common to have a lead of over fifteen seconds over your opponents. But don't get too cocky. Crashes in Dangerous Driving are more punitive than ever Burnout was. By the time you get back on the road, your adversaries have likely been speeding for nearly ten seconds.
Survival is a solo mode where you attempt to speed through a series of checkpoints without crashing. While there's a steady increase in intensity as the amount of traffic increases, the lack of direct competition means it lacks the frenzied controller-clenching anxiousness of other modes. As such, you'll likely play these until you earn a medal, with little interest in replay.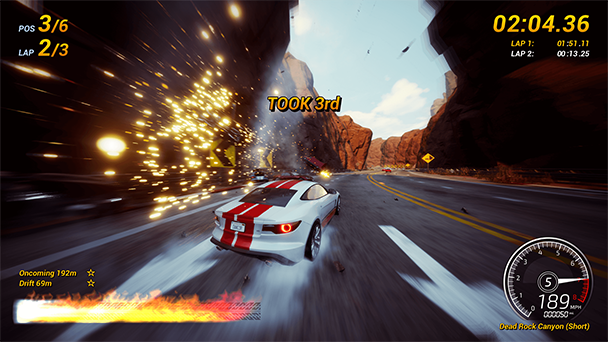 Heatwaves are another event that that can feel like filler. During these, depleting an entire boost bar refills the gauge, accelerating you across the mostly point-to-points heats. A single crash proves devastating to your momentum- and with the game's fondness for wraparound curves can lead to a disheartened upset late in the race.
Undoubtedly, Dangerous Driving would have been better if it made more additions to Burnout's basic framework. The most significant change is the addition of persistent wrecks. Shunt a rival into a barrier and the debris remains there. But of course, it only matters on lap-based races; on point-to-point modes, the addition is obviously insignificant.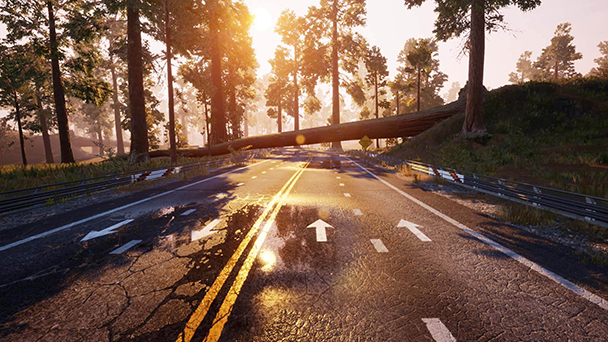 Budget constraints undoubtedly affect Dangerous' aesthetic. The use of Unreal Engine 4 allows for breakneck speeds across attractive course and even Burnout's signature UI elements to be copied. But when it comes to audio, you'll have to check your expectations. Beyond the absence of a Stryker or DJ Atomika-type announcer, there's a lack of any licensed music.  In its absence, you can stream playlists if you're a Spotify Pro member, which is a respectable workaround for some.
Dangerous Driving is worthy of play because it's the closest anyone has come to recreating the thrills of the Burnout series.  But realize but of budgetary restraints that it's a slightly inferior package, with the crash junctions relegated to another game, and without the aural additions that propelled Criterion's property to greatness.
Dangerous Driving was played on PC with review code provided by the publisher. 
Review Overview
Summary : Dangerous Driving can feel like reuniting with a lost love. Expect memories of Burnout to be rekindled, but for many the passion just might not be a scorching as it once was. Dangerous Driving, we'll always be friends.