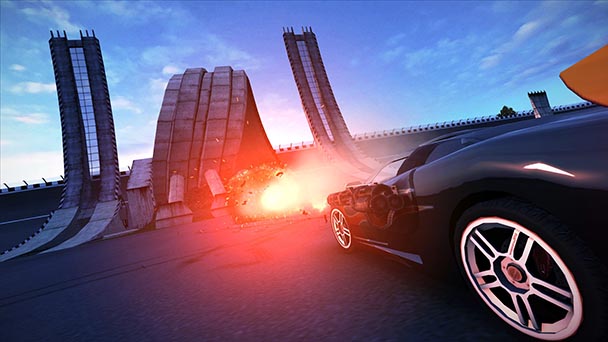 Stirring storylines and sophisticated play mechanics can make for a compelling experience. But sometimes you just want to drive fast and blow shit up. While games are routinely adept at depicting each of those, seldom are they good at handling both. Recent PC release Crashday: Redline Edition strives to unite stunting, racing, and mayhem into a single package. While it's not without flaw, there's certainly a wealth of riotous enjoyment to be had across the game's collection of events.
What you shouldn't expect from this remaster of 2006's Crashday is a much in the way of narrative. Sure, there's a campaign mode with spoken exposition, but beyond masking the already short load time for each successive competition, characterization and motivation are skeletal. And that's ok, because Crashday's payoff isn't in the plot, but rather lively play.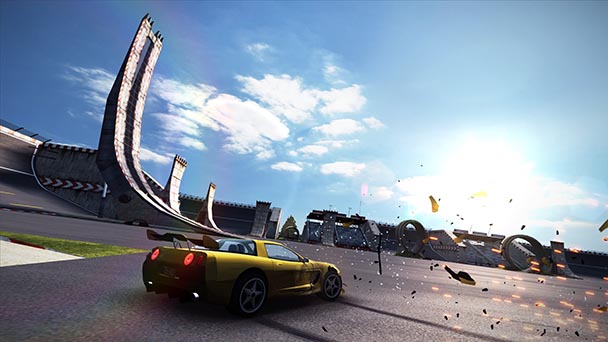 Should you opt to follow the campaign, you'll start with the Stunt Show event. Here, action is routinely rooted in a three-minute rivalry, where players try to each point but jumping off ramps or careening through a corkscrew. Bonuses are earned by quick combos, nailing landings, and even a bit of destruction, making the competition feel like Tony Hawk with an ungodly amount of horsepower.
Another highlight is Crashday's Wrecking Matches. Recalling the vehicular bedlam of the Twisted Metal series, players earn points by turning their opponent's cars into charred chassis. Crashday doesn't extended the distinctive loadouts of the famed franchise, providing machines guns and missiles top players. But the restrained loadouts help making matches feel balanced, as players race around and collect the occasional power-up to restore health or top off your supply of nitrous.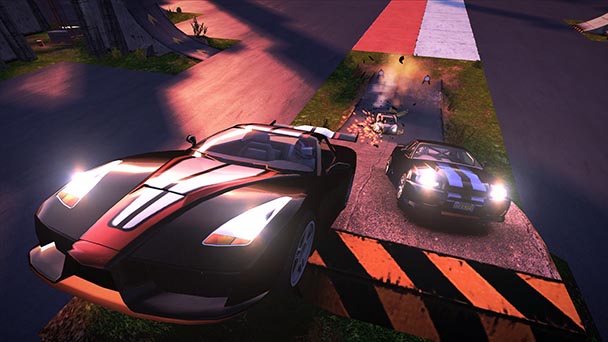 Other events are also quite entertaining. Bomb Run draws inspiration from the movie Speed, with every participant's car rigged with an explosive that detonates if players fall below a pre-set speed limit. Pass the Bomb is rather self-explanatory, with opponents earning points while they carry the device, and blowing up if they are caught with it when the timer depletes. Basically, it's 'Hot Potato' played with V8s and is rather addictive.
It's a shame that Crashday's more orthodox racing isn't as enjoyable. Much of the problem stems from trying to shoehorn the game's boisterous physics system around rudimentary tracks. The result isn't awful but with the simplified handling, it's far too easy to blow a corner and miss a checkpoint, putting you in last place. Fortunately, Crashday does permit players to improve performance (as well as elements like armor and suspension), but spending in-game currency. But essentially, this entails a bit of grinding, which might not sit well with impatient players. Yet another contentious design decision is to zoom in on your car when using nitrous. In execution, this can give the illusion that you're slowing down rather than rocketing forward.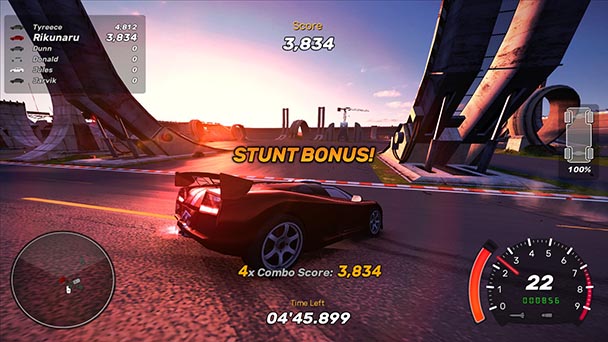 For players less interested in the procession of contests in Crashday, there's the option to play the six individual events or even take your car out for a comforting test drive. Although the game has a decently-sized selection of tracks, the game's editor allows you to make your own. There's not a lot of instruction here, but you'll probably won't need much assistance, as laying down track titles is intuitively handled. Within minutes I was able to build a modest raceway with jumps and tunnels, before testing and tuning it. While the game ships with over three dozen tracks, it would have been advantageous online sharing was built into the game.
Visually, the Redline Edition reveals its age. Both cars and environments are built from a limited number of polygons, making Crashday resemble a PS2-era title. But save for a bit of clipping, the game can run fluidly, even on a rig without a dedicated CPU.  That said, we did experience one bothersome graphical glitches on some higher-end Nvidia GPUs, where the Windows desktop would flicker just long enough to induce the occasional crash. If you aren't plagued by that issue, Crashday doesn't have its charms, with nice explosions, lens flares, and car deformations. Sonically, you can extend a wealth of testosterone-driven indie rock that complements with petrol and payloads quite well.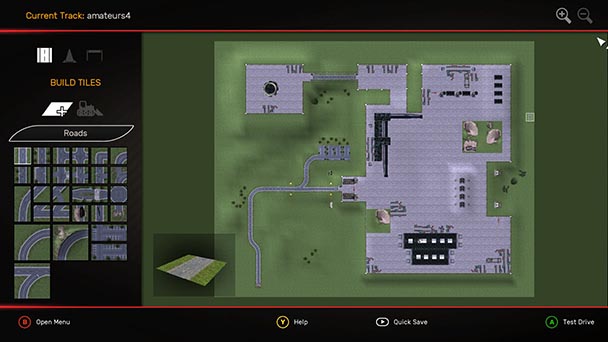 Remasters are often less about the wishes of fans and more about publisher hoping to pad their balance sheets. But largely, Crashday: Redline Edition is one of the best kinds of remakes, renewing a prodigious, yet underplayed title. While the current build isn't perfect, the game offers a wealth of modes- and more importantly- a lot of rambunctious fun for a very reasonable MSRP. Those with an appetite for high-octane destruction will want to seek the title out.
Crashday: Redline Edition was played on the
PC with review code provided by the publisher. 
Crashday: Redline Edition
Platform: PC
Developer: Moonbyte
Publisher: 2tainment
Release date: August 10th, 2017 
Price: $11.99 via Steam, on sale for $9.59 until 8/17
Review Overview
Summary : Crashday's visual might seem dated, but the stunting and vehicular shooting hold up surprisingly well, proving cars with guns never go out of style.