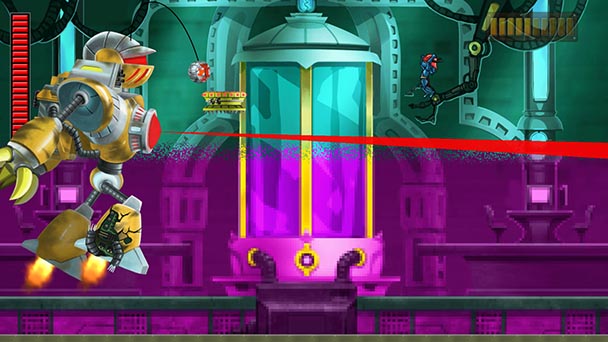 The old cliché "variety is the spice of life" has been the driving concept behind in a number of noteworthy games. Early coin-ops such as Tron or Gorf were conceived around the notion that an amalgam of four or five different diversions could be a bigger draw than merely offering players a single game. Kid Chameleon for the SEGA Genesis/Megadrive tweaked the idea further by offering a protagonist capable of transforming into a variety of forms- each controlling remarkably differently and having their own distinctive set of abilities. The latest title to be built around this design philosophy is Concursion– the inaugural title from Los Angeles-based indie studio Puuba.
A short introductory cinematic sequence divulges the game's retro-minded ambitions, as a princess is abducted by a reptilian interloper. Fearing apprehension by a party of pursuers, the scaly antagonist covers his tracks with a shower of emerald-colored crystals which trigger the appearance of the game's eponymous dimensional-portals. Beyond the obvious reference to Miyamoto-san, Concursion flaunts its appreciation for videogame history across a procession of referential humor, with stage names which parody renowned games. The game's overworld also draws inspiration from Nintendo- with a succession of stage maps much like Super Mario Bros. 3. But where the plumber-protagonist frequently had access to branching level paths, Concursion stubbornly extends a linear trajectory.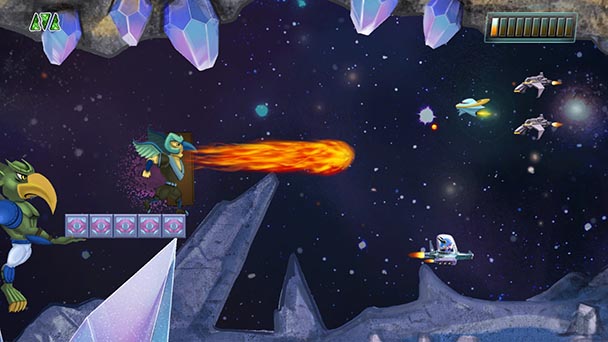 The title's first few levels exhibit little of the Concursion's creativity. Instead, they act as a tutorial, allowing players to grow accustomed to the game's quintet of play mechanics. Initially, players take the form of a protagonist with a horned helmet, whose only offensive aptitude is to jump on the heads of foes. Quite quickly it's clear that you'll want to minimize your time with character, as two hits sends the hero back to the last checkpoint.
Drawing inspiration from Shinobi and Ninja Gaiden, changing into an agile assassin bestows additional hit points, the ability to double jump, wall-climb, as well as a sword which instantly cleaves through enemies. The shift into an astronaut radically changes the control scheme, with the protagonist adjusting his vertical height by firing thrusters, ala Jetpack Joyride. Concursion's homage to the shmup genre comes via a conversion to a spacecraft- complete with blasters and the ability to withstand several collisions with enemy ships and projectiles. Finally, there's a nod toward Pac-Man, as maze-like sections oblige gamers to gobble a collection of color-coded orbs before a corresponding door opens.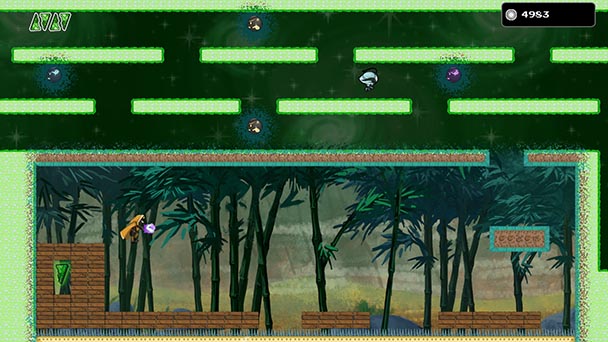 Admittedly, the first half-dozen levels are fairly thankless encounters, which only hint at Concursion's signature mechanic. Pass these stages and ragged-edged disruptions occur with increased frequency, elevating the enjoyment level. Entering into these regions immediately alters the form of the protagonist, swiftly switching the play style while inside the zone. The egress of each sector is especially fascinating, with your spaceship's bullets rupturing into another realm or the threshold permitting the possibility of a ninja leap, as the only way to reach a lofty platform. Later, the game supplies shifting concursions, creating obstacles which requires both puzzle-solving skills and razor-sharp reflexes. Boss battles even introduce additional mechanics, ushering in the occasional role-playing or fighting game element.
Yet, as the game grows increasingly interesting, its faults become progressively perceptible. While variety is Concursion's forte, precision is its weakness. Hit boxes for the sprite-based protagonists are ambiguous, leading to a number of inadvertent deaths. Collision detection varies wildly- as a ship, walls confine travel, but the ninja is able to jump through platforms. Leaping in both human and shinobi form feels a bit loose- which can be frustrating when hops require nearly single-pixel accuracy. Conspicuously, Concursion's maze-based sections are the weakest component, with the protagonist routinely disobeying control commands. And while the game can be played with a keyboard, the high level of environmental exactitude compels the use of a gamepad.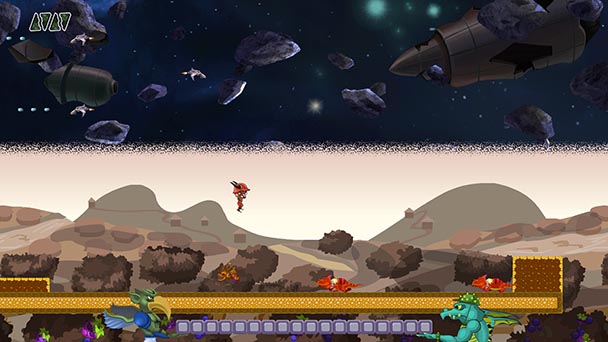 Concursion's other weakness is its visual output. While character art is competently drawn, there's a notable lack of animation, giving the game a decidedly amateurish appearance. This is especially conspicuous during the end of level celebratory sequence, which exhibits a disco dancing animation that's laughably substandard. More advanced aesthetics can be found in Concursion's soundtrack. Crafted by Emmy-nominated House composer Christopher Hoag, the game's melodious and memorable musical track provides a main theme which changes as players enter each portal. Sure, Giana Sisters: Twisted Dreams might have pulled off the feat first, but Concursion's quintet of dynamic scores unseats the aural achievement.
Beyond persevering through each of the title's seventy stages, Concursion also extends a duo of additional challenges. An assortment of green shards are scattered around each the outskirts of each level, goading gamers into gathering every last collectables. Those who prefer the tension of a speed run can try their best to race each stage as quickly as possible- with completion times automatically posted to the game's online leaderboards. Considering the current game's nine dollar price point, Puuba provides players with an amble amount of undertakings.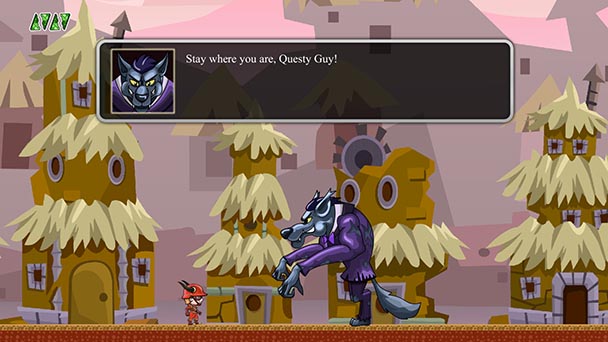 Rich in concept but uneven in execution, Concursion's prodigious potential feels undermined by programming and graphical artistry. While tolerant players will be willing to overlooking these blemishes, a greater number of gamers might want to wait for a follow-up which is able to fully capitalize on the game's ingenious concept.
Concursion


Platform:
 PC
Developer:
 Puuba
Publisher:
 Mastertronic
Release date:
 June 6th, 2014
Price at release:
 $8.99 via Steam until June 30th, 2014
Language(s):
 English
Concursion was played on desktop and laptop PCs with review code provided by the publisher.
Review Overview
Summary : Concursion offers an imaginative amalgamation of five different games, but its variety is weakened by loose play controls, middling visuals, and trite dialog. Venture into the vortex with tempered expectations.