There have been some noteworthy Kickstarter success stories so far, and the Cognition series by Phoenix Online Studios looks like it may be the next one.  While some of the graphical glitches and tedious technical faults that Robert mentioned in Episode 1-The Hangman are still present, the game continues to evolve in the areas of detective work and psionic skill.
Cognition Episode 2 picks up right where 1 left off, and the timing of the transition is very smooth. Some series skip ahead between episodes in a way that leaves an audience confused or they may recap to the point of boredom with already seen cut-scenes. Cognition, however, has found a great balance; players who have played the first episode get a meaningful refresher while anyone starting the series at episode 2 would have an adequate understanding of the plot line thus far.  It would be hard to talk about the continuing plot without giving away too many spoilers for both this and episode one.  I can say that the plot finds a way to follow the same style of murderous mishaps while still finding ways to be innovative about the location and tasks to which Reed is assigned. And even though Erica's own brother was a target in episode 1, episode 2 manages to keep the stakes just as high.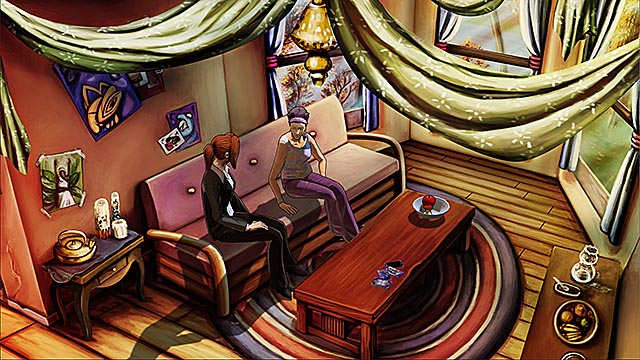 What players won't know if they're starting out with episode two is the control schema. This is one of Cognition's few failings.  The controls are not very sophisticated, and players used to the games of today may find some of the mechanics frustrating.  Players must double click to run, but if you double click to quickly the game won't register it.  And if you're moving when you click on an object target, the clickable target is likely to disappear if you move the mouse to far over from where you started.  While these things are minute, they do tend to pull a player out of immersion in the game.  Luckily the other features which Cognition excels at pull a player back in.
The atmosphere of Cognition is dark and intense.  Grit and gore make occasional appearances to accentuate the suspense of the case.  It makes the plot just dark enough to keep the player intrigued without becoming gratuitous or expected.  Erica works at a non-stop pace, trying to solve the case as quickly as possible.  This creates a good momentum, but doesn't detract from the necessary use of detective skills that Erica must employ to find The Wise Monkey killer.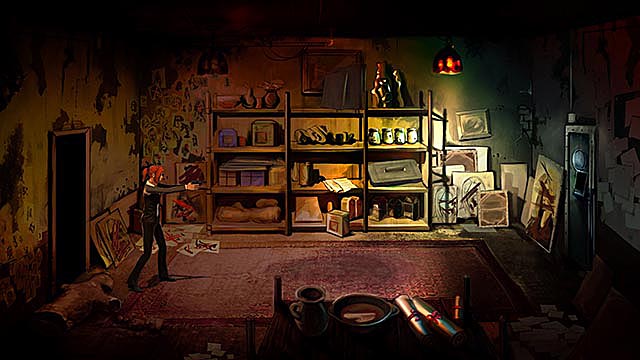 Erica Reed's psionic abilities which inspire the series title increase in power and variety in this episode.  Erica gains new power, which of course ends up being crucial to the final moment of this episode, and her existing powers are given an upgrade as her spiritual guru guides her towards better usage of them.  Erica's usage of her powers amp up hand in hand with the plot, which is a great dynamic.  The only downside is that things that are obvious to the seasoned detective aren't an option until you activate your skills in the order that the game has planned, usually by talking to someone first. Part of the problem is that you can't access your inventory while talking to someone, so even if you already have the item they want, you must speak with them about it first, and then end the dialogue and go into your inventory to present the item to them.  Again, while these mechanical issues are small, they do pull a player away from the experience.
The dialogue and voice work of Cognition continue to be immensely impressive.  Aside from the somewhat inconsistent Boston accents, the voice acting almost never feels cheesy or forced, even when the lines are a little campy.  This does wonders for keeping a player entertained and engaged, especially when you have to speak with people repeatedly in regards to item communication.  If a game is going to be on rails, the scenery and the sounds had better be worth paying attention to, and thankfully Cognition is solid when it comes to both, creating a rich ambiance that leaves an impression.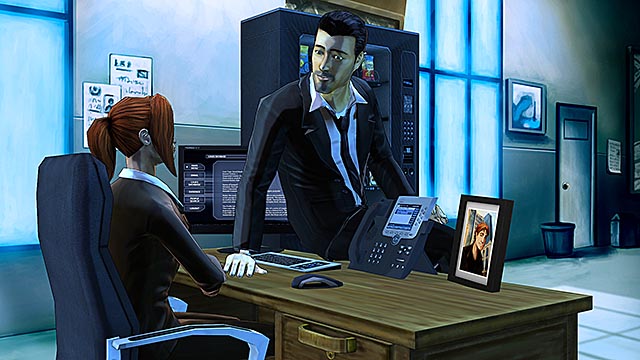 If Phoenix Online could make the graphics smoother and their controls a bit more sophisticated Cognition would be a top-tier game for the simple detective point and click genre. Even the price point is appealing, it runs $4.99 but was also releases as a pay what you wish.   With Episode 3 already on the way, one can only hope that the few, but still felt, glitches will get ironed out as the series progresses.  As it is, the gameplay is engaging and ingenuitive, and your powers are impressive and intuitive, but the graphics and controls keep it from being top notch.