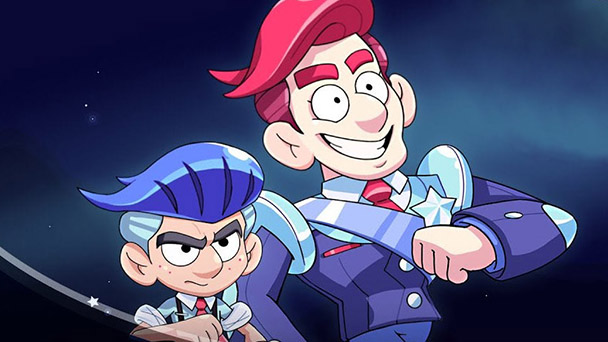 2015's Citizens of Earth was a decidedly mixed experience. Although developer Eden Industries' procession of pop-culture references, Earthbound-inspired quirk, and ever-growing entourage of recruitable everyday types was occasionally clever, it also suffered from serious executional issues. The game's multitude of quests were difficult to keep track of, navigation was often a hot mess, and its dialog habitually felt like a failed sitcom script. The title also had its share of technical problems, too. After a trio of crashes on my PlayStation 4, I moved onto more polished fare.
With the release of Citizens of Space, the Canadian studio gets a second chance at making a role-playing romp. Within the first few minutes, it's obvious that the team has listened to critics and consumers, with guidance for finding quest locations. With Space, players don't always have to scour maps for vague obligations that must be met before characters can be recruited. Now there's a map that shows your immediate surroundings, along with markers for mission locations. There's even a button that brings up a compass-like navigational tool. Unfortunately, it's shares the same button mapping with an information pop-up, temporarily confiscating the assist. Ultimately, it's an assortment of design flaws like this that make Citizens of Space a patchy experience, marring Eden Industries chance for redemption.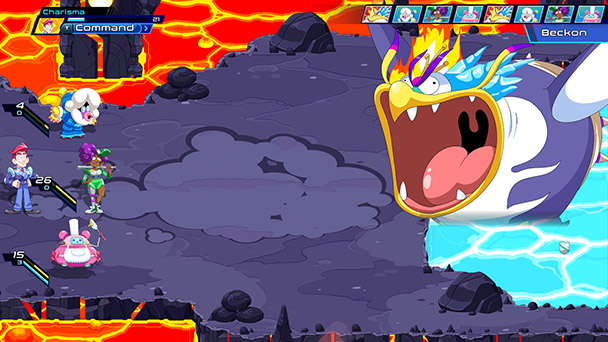 Earth is Missing, but a Myriad of Trivial Quests First
Despite the simplicity of Citizens of Space's main plot, the game takes an unnecessary amount of time before any kind of enjoyment materializes. Although ambiguous, Citizens of Space's protagonist seems related to its predecessor's Vice President of Earth. He's less jowly, lacks the greying temples, but has a similar crimson-coiffed hairdo and shares the same oddly lidless eyes. As Ambassador of Earth, he's sent to the Galactic Federation to deliver a speech celebrating Earth's acceptance into the coalition. But when it comes time to view the globe, Earth is inexplicably missing.
While your overarching quest is to uncover what happened to the planet, a myriad of nested missions means that the real mystery is pushed to the backdrop while you're doing things like collecting five pieces of 'space junk'. Presumably the name of the collectable is supposed to satirize role-playing time padding. But like many elements of Space, it merely replicates the cliched mechanics of older RPGs.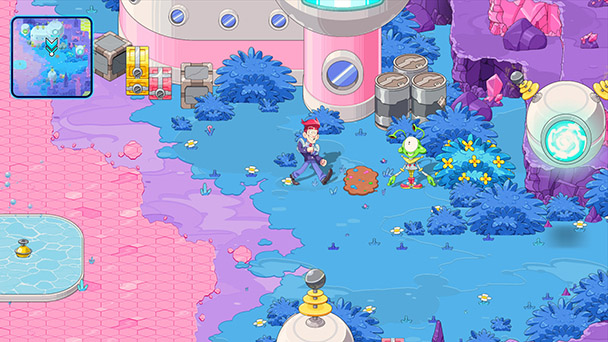 There's Sure a Lot of Walking in Space
Another issue with the game is the amount of walking you'll have to do. Citizens of Space's maps are large and labyrinthine, and it will can minutes to travel across several of them to arrive at a point of interest. But beyond the random item, NPCs that spout supplemental (and all too often tedious) dialog, and random encounters, these treks are laborious chores.
On the upside, there's a payoff for all the strolling. Once you complete the tasks required by some characters they can be recruited to your party. While some personalities, like a pistol-packing sheriff are ideal for your combat party, others like a teacher and chemist are more brainy than brawny. As such, they serve as support characters, providing welcome options when in battle. But more interesting, is the secondary function that some serve. Head into the menu screen and you'll be able to exploit some characters abilities, with your assistant influencing encounter rates, the chemist permitting crafting, and even the composer allowing you to change the game's music. The game's commemoration of everyday people is one of its best elements, implying that society exists because of the contributions of the seemingly ordinary.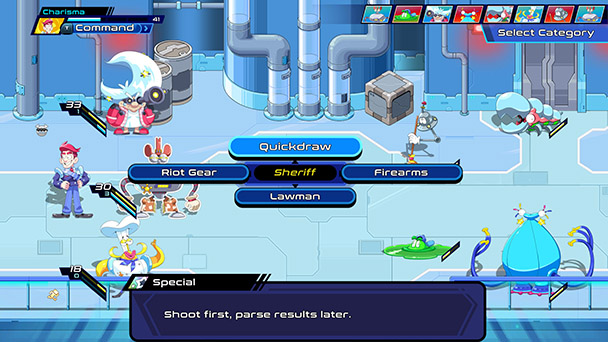 Micro-game Driven Combat
Another of Space's attributes is a combat system that's borrowed from the Paper Mario series. Allies and enemies traded blows, guided by a turn-system that's visible at the top of the screen. When it's your turn to act, you'll be able to select from a wide range of actions, that do things like buff attacks, de-buff opponents, use items, issue light damage, or when your energy gauge is at sufficient capacity, summon a devasting strike. Interestingly, each of these is governed by its own quick-time event. From button mashing to timing a button press to match a swinging needle, these actions make offensive lively. But you won't be able rest when your opponent strikes. Every incoming attack can be offset by a precisely timed tap of a face button.
For some, battles are enjoyable enough that players will be able to overlook many of Space's other faults. At launch, there's an unhealthy number of them. From the game inexplicably pausing for ten seconds at a time, an on-screen font that looks like your console is overheating, and the occasional crash, you're going to need a lot of patience to see the credit rolls. And that's not to mention problems like balancing issues, stiff animation, or the often eye-rolling quality of writing.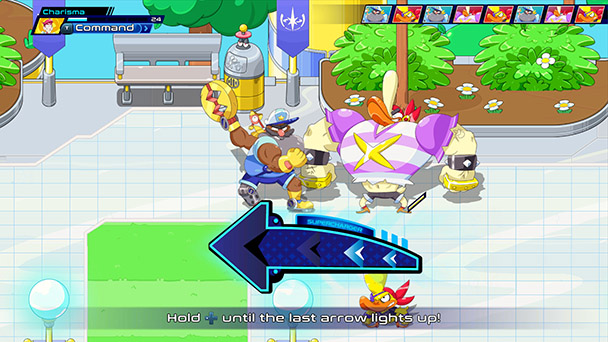 Solid Ideas, Lackluster Execution
Undoubtedly, Citizens of Space has some good ideas. But all too often the game's implementation won't let you enjoy them. You might appreciate the attempts at referential humor or the game's entertaining combat system, but you'll certainly be turned off by slipshod design decisions and the presence of obvious bugs in a retail build. While not exactly Space Junk, there's a multitude of polished role-playing games more worthy of your time.
Citizens of Space was played on the Xbox One with review code provided by the publisher
Review Overview
Summary : Citizens of Space's attempt to continue the whimsical role-playing of its predecessor is just as problematic as the first game. There's some good idea submerged in a mixture of bugs and awkwardly implemented execution.