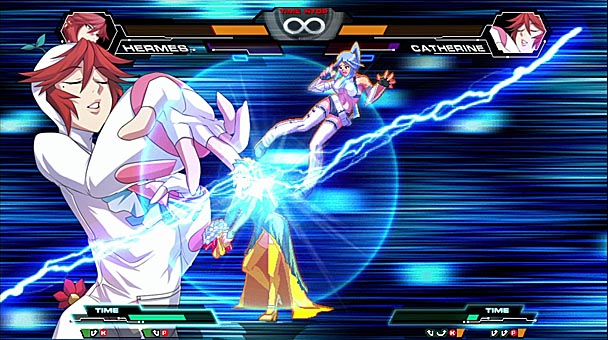 What is the concept? Although Chaos Code is published by fighting-game gurus Arc System Works, players shouldn't approach the game expecting the finesse of a game such as BlazBlue or Guilty Gear. Instead, the downloadable title demonstrates the ambitions of FK Digital, an emergent Taiwanese studio known for PS Mobile action title Mononoke Slashdown as well as the comical PC freeware fighter Super Cosplay War Ultra. Due to the developer's diminutive size (their team has less than ten members), Chaos Code doesn't offer the strongest transition from Japanese arcade to stateside gaming dens. Yet, even the absence of a few fighting game fundamentals can't stop the download from being an inviting and thoroughly enjoyable title.
At its heart, Chaos Code is an approachable fighter, whose four button combat system facilitates combo-driven gameplay. Beyond assembling strings of strikes from quarter and half circle maneuvers, there are also a few nuances that require players to be mindful. A stun gauge increases every time a combatant takes a hit, and once filled, characters are stunned and susceptible to assault, goading gamers into blocking. Following genre tradition, the title's flashiest and most punishing moves are tied to another three-part meter, which when filled allows players to release a devastating Ultimate Chaos or even Extra Ultimate Chaos assault.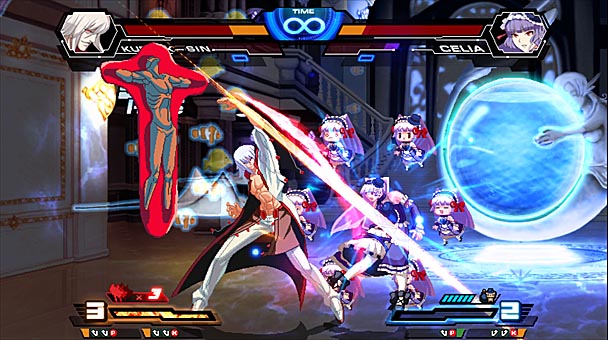 While many of Chaos Code's mechanics will be familiar to fighting game fans, the title does have a few novelties of its own. After players choose a character, they are allowed to select any two of four Extra moves which are integrated into the fighter's repertoire. Gamers also determine if their pugilist should use a run or step movement speed, which can send characters either darting across the screen, or gradually hopping toward opponents. For advancing fighting aficionados, Chaos Code has all the intricacies of a top-tier title, allowing cancels, guard breaks, and tactical parries.
What are the game's strengths? A diverse yet distinctive roster of combatants is an indispensible component of any fighting game. Fortunately, Chaos Code excels in this regard. Each of the title's thirteen fighters channels a bit of Arc System Work's quirk. There's Catherine, a gender-bending cosplayer who transforms into everything from a mischievous schoolgirl to bride who bops their opponent with bells and a cardboard husband. Cait and Sith are a pair of twins capable of delivering tag-team strikes, while Bravo is a brawny chef who attacks with noodle plates and has a strike which drops opponents into a simmering stew pot. Fan service comes in the form of Gothlolis like Celia (who also has a demon-neko alternative design) and Cthylla, as well as the requisite pantsu-exposing character, the nimble Rui. Echoing the eccentric character design, Chaos Code's madcap matches feel unique, thanks to the title's oddball strikes and staccato flow.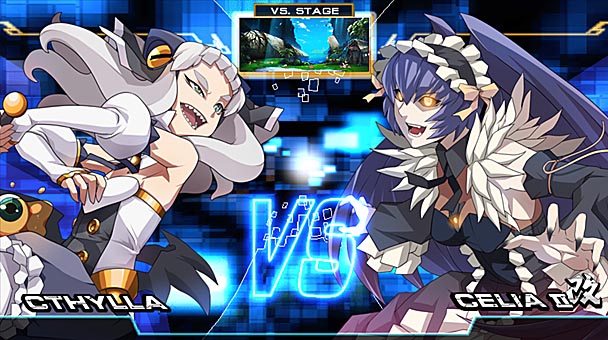 Chaos Code's screen framing options are puzzlingly constrained, permitting only three broad modifications to picture size, instead of slight tunings to counterbalance overscan. But beyond that blemish, Chaos Code's visuals are proficient- offering a widescreen option that appropriately scales assets and backdrops. While animation isn't quite as silky as top-tier efforts like BlazBlue, characters are well-drawn, recalling the look of and fluidity of contemporary King of Fighters titles. Sonically, the game's music selection is eclectic but ear-pleasing- intermingling jazz, trance, and progressive house melodies into a captivating and capricious mix.
What are the game's weaknesses? Given those nearly all contemporary fighters have an online component, the absence of net-play in Chaos Code is debilitating. While FK Digital has pledged to integrate this element into the game, as it stands, competition is limited to battles against CPU opponents and local participants. Another glaring flaw is the game's inability to function with arcade-style sticks. Menu navigation doesn't recognize the direction pad (only functioning with the analog stick), which seems destined to thwart acceptance from the fighting game community.
The age old stain of final bosses that are exponentially tougher and cheaper than their predecessors also plagues Chaos Code. While the ladder of opponents which define Story Mode generally abide by a preset difficulty setting, the last two contests are poised to summon a procession of profanities. The other setback with the core campaign is the game's slapdash translation, which is filled with nonsensical expressions and glaring grammar errors. Ideally, FK Digital would have hired a localization firm; currently, it feels like the studio adapted the text with the assistance of Google translate.
Is it worth the money? Regretfully, Chaos Code is missing some core features. The inability to play with a fighting stick and also play online are significant shortcomings that should have been remedied before release. Yet, if players can overlook these omissions (or are patient enough to wait for a possible patch) then the game merits your fighting game money. At a twelve dollar price tag, Chaos Code isn't prohibitively expensive and has the capacity to engage players in its energetic, whimsical skirmishes.
Review Overview
Summary : For off-line pugilists, Chaos Code is worthwhile investment, redeemed by engrossing gameplay and eccentric character designs.