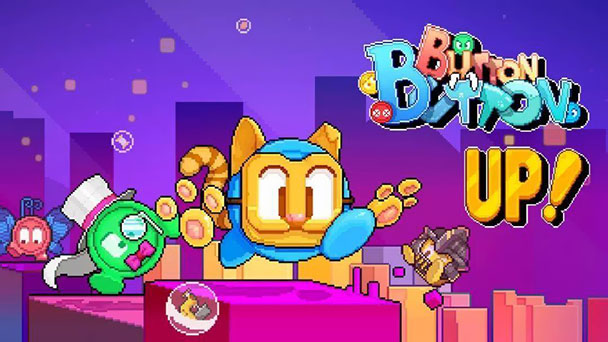 From Rayman Legends, Sonic Mania, Super Mario Odyssey, to New Super Mario Bros. U Deluxe, the Switch has quite a few top-tier platformers. As such, the emergence of Button Button Up! on the platform is rather enigmatic. While the downloadable game is a fraction of the price of the aforementioned retail titles, it's also only partially as enjoyable, especially as a single-player experience.
Originally released last August on Steam, Centrosphere Games' title arrives on Switch with exceedingly few sacrifices. Venture into the game and you'll discover that the game doesn't offer much in the way of instruction, beyond expressing elements of the main character moveset through a brief tutorial.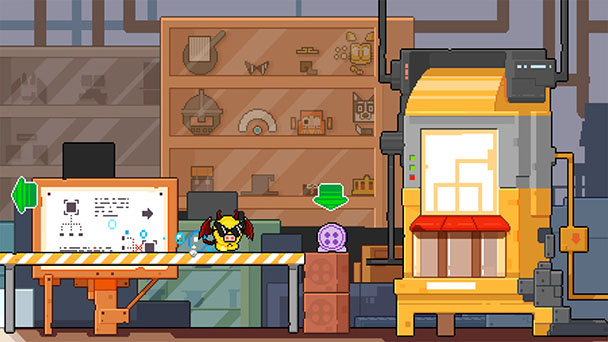 But Button Button doesn't really need longwinded explanations. Your control a bipedal button you can leap through the air, the height of the jump controlled by how long you press on the key. The little fastener's other aptitude is able to attach itself to the background or objects. Occasionally, you'll need this to ride a ferris wheel-like machine, hoisting yourself to the top so you can leap off and continue along. Periodically, you'll be avoiding brightly hued beams of light and laser, which can instantly char your susceptible little button.
The only other ability is to move and kick objects. The former is useful when a box needs to be relocated to provide a step up to onto a higher platform or a switch requires pulling. The latter comes is useful when playing Button Button Up! by yourself. You can punt the other button into position, which is useful when puzzles are either distant or require the assistance of a companion.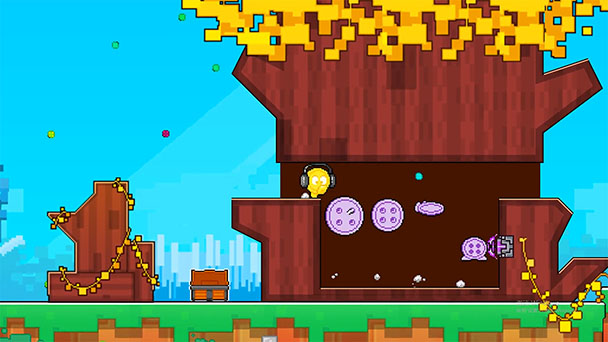 Seemingly, the game was designed as a co-operative trek. When a second human joins for some local play, Button Button Up! becomes marginally better. Here, the challenges require a bit of coordination between partners, who must constantly resist the urge to boot the other player across the screen. Like latter iterations of Rayman Legends that didn't use the Wii U's touchscreen, its fundamentally simplified, which confiscates most of the creativity that went into the challenges.
While Button Button Up!'s levels are long, checkpoints are numerous. That helps to reduce any sense of frustration because the game doesn't always adhere to the tacit rules of the genre. One example: a section has you moving underneath deadly lasers that are temporarily blocked by a spinning, sliding book. The first instance of this ensnarement requires vigilance as the book lets slim ray of light through. The next puzzle changes the movement pattern, putting all but the most eagle-eye gamers in a precarious situation.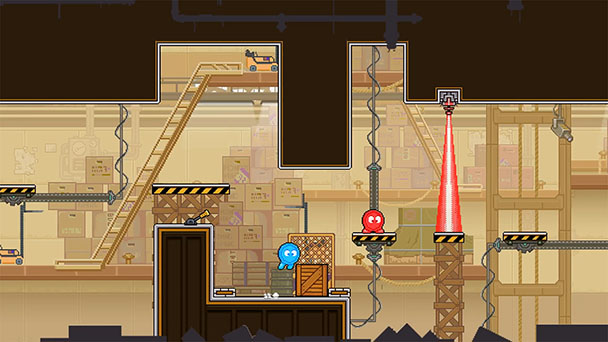 Later, you'll encounter books that fall like Super Mario Bros.' Thwomps. Except there's a perspective shift when they land, likely causing a few unexpected deaths. While Button Button Up! often signals danger with signage showing gaps and color-coded perils, occasionally it requires a bit of trial-and-error to learn how dangers function, which can be irksome until you learn the game's idiosyncrasies.
But that's not to say that Button Up! is complete void of enjoyment for soloists. One section shrinks your button down, as it navigates though real-world paintings in a museum. Bouncing off the crest of Hokusai's The Great Wave off Kanagawa was an unexpected delight. Seconds later, another puzzle requires you to put the proper items in famous painting, which felt original.  Likely, you'll wish there were more conundrums like this and less simplistic platforming.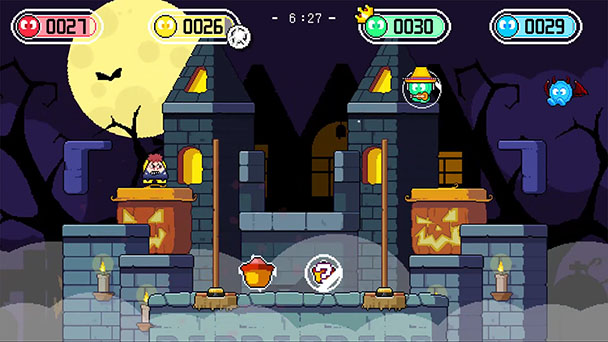 Completionists might enjoy gathering all of the collectable currencies scattered about each level. Unlockable skins require different combinations, but wisely Button Up! in-game bartering avoid exorbitant pricing, so you'll be able to afford that oni mask to make the protagonist a bit less plain. Unfortunately, you can't get too wild with the accessorizing, with a limit of two object of each of the four lead buttons. But on the upside, you can take your customized button into the game's four-person versus battles, which challenge you to base battles or being the last button standing.
Save for a bit of v-sync judder that sporadically blemishes scrolling, the Switch version of Button Button Up! offers a near identical iteration. While simultaneously controlling two characters with Joy-Cons isn't quite natural as concurrent use of the arrow and WASD keys, this style of play might have limited appeal. Instead, Button Button Up! should ideally be played with a co-op partner, with expectations patently fastened down.
Button Button Up! was played on the Switch
with review code provided by the publisher. 
Review Overview
Summary : Even as a single-player game, there are moments of merit in Button Button Up! But these are too few and far between to recommend a full-priced purchase.