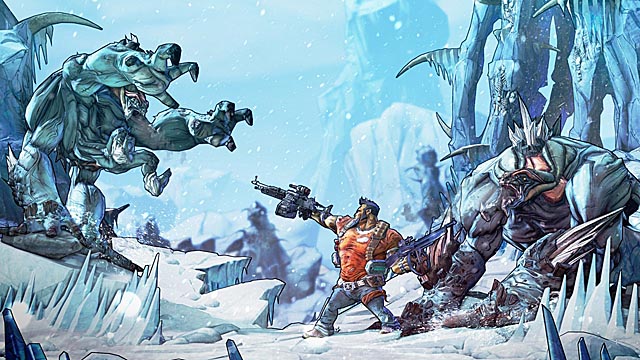 Like a large constituency of gamers, I immediately became beguiled by 2009's Borderlands. Between a plethora of procedurally-generated firearms and a virtual playground tailored for co-op camaraderie, the title teased out my obsessive side and failed to relinquish its influence- at least until the game's inner workings became troublingly ontologistic. During one of the game's countless fetch quests, I felt like Pavlov's dog responding to Gearbox software's incessant bell-ringing, playing Pandora's delivery boy for the umpteenth time. While the lure of better loot was undeniably compelling, the sensation was often undermined by monotonous missions, predicable AI opponents, and a skeletal storyline.
Proficiently, Borderlands 2 camouflages its predecessor's coding through a variety of new systems, allowing the sequel's engaging FPS/RPG amalgam to shine while eschewing the tints of tedium. So while comparing the virtues of a full-auto pistol outfitted with corrosive acid rounds against a flame-spewing shotgun still remains involving, the title feels a whole lot less like mowing the virtual lawn. While the game still has some minor scaling issues when accommodating staunch soloists and homogenous teams, enough advancements and additions to make the title an essential purchase for aficionados of the action genre.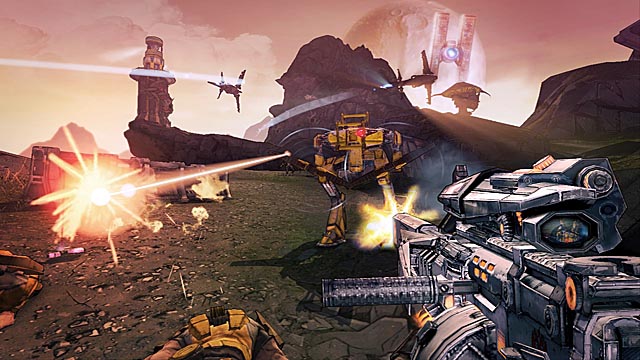 Arguably, it's Pandora that received one of the most perceptible changes. The once drab desert locales that played home to scores of Skags have given way to arctic tundra, emergent grasslands, and glistening urban outposts. Whereas the original title's environments often seemed stiffly synthetic, Borderlands 2's varied landscapes provide a much more organic feel. Settlements extend a pleasing sense of verticality, while the telltale crevice of a Bullymong den or intimidating bandit signage foreshadow enemy ambushes. Admittedly, cautious recon still won't help much, as the majority of foes tend to pour out of inaccessible gates, but the structures and landscapes are generally much more interesting. Pleasingly, enemy AI is much more varied, with opponents attempt to flush players out of sheltered areas and habitually working collectively to eliminate threats.
Meanwhile, Borderland's roster of incensed rivals have been augmented quite nicely. Whereas basic sentries and turrets were the main mechanical opposition in the first game, the sequel deftly integrates an entire robotic class into the world. Individually, these units can present a formidable threat, but when they are assisted by healing drones or builder bot capable of mass- producing progeny, situations quickly escalate into the chaotic. Fortunately, the lingering specter of death has been slightly tempered; defeated players are given if a revival if they can defeat a single opponent during a hazy, pre-mortem sequence.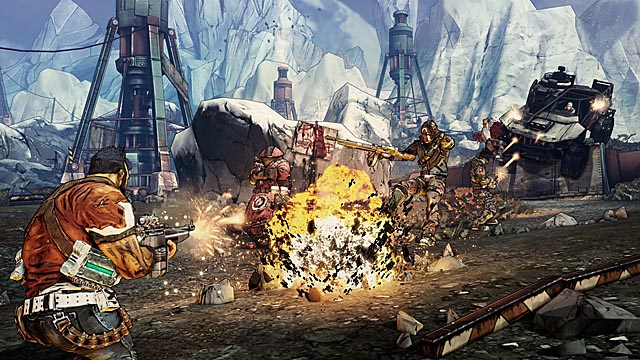 Borderland's inaugural collection of classes complemented each other competently, so it's no surprise that the sequel retains those basic archetypes. Salvador, the Gunzerker replaces the tank tendencies fetishism of Brick, with skill trees based around dual-wielding and heavy weapon-based perks to intensify his output of damage. Maya the siren's abilities are split between offensive and defensive proficiencies, with the ability ensnare enemies in a phaselock (allowing the rest of the team to take potshots) or instantly revive fallen comrades. With the ability to attach his regenerating sentry turret in a variety of locations and general proficiency with weaponry, Axton made an ideal candidate for solitary adventures. Stealthy Zer0 is the antithesis, presenting a challenge for single players, but with cloaking skills and melee skills that can quickly bring down foes engaged by other allies.
Pleasingly, the four classes aren't as rigid as Borderland's initial entry, with damage decided more by the capability of the firearm rather than the weapon holder. Mastery of particular weapon types is determined by the game's trio of tech trees, which provide a plethora of perks to complement almost any play style. As such, everyone's take on Zer0 is going to be slightly different, with some players training to be crackshot snipers while others aspire to become melee-proficient murdering machines. The addition of the badass ranking system even adds another bit of customization, allowing players to assign attribute points that are awarded after the completion of various in-game achievements. Nicely, these carry over to profile players, allowing subsequently created characters to reap these micro-benefits as well. It's regretful that the game's quality of stat-based modifications isn't matched by the range of visual option for protagonists; beyond some basic attire choices, the look of each player is pretty standardized.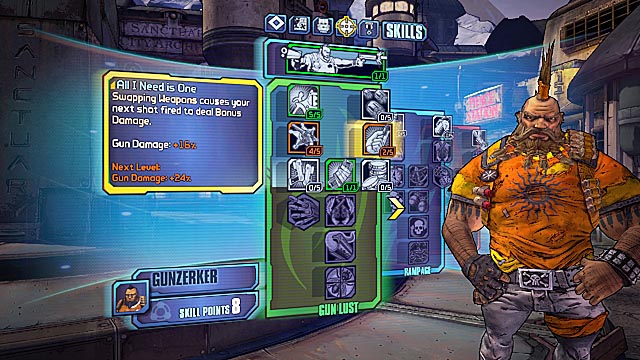 Not being particularly fond of Hey, Ash Whatcha Playin's brand of humor, I didn't expect to appreciate the writing contribution of Anthony Burch, who along with Mikey Neumann, crafted Borderlands 2's storyline. Fortunately, my worries were unfounded. The duo have crafted one of the most consistently humorous games in recent memory, producing dialog teaming with pop-culture references and zingers, punctuated by the occasional waft of dark humor. One of the problems with the first title was the lack of a provoking antagonist. Here, the pair have produced Handsome Jack- a comic aloof, disgustingly rich foil that goads the players along with a succession of comically callous barbs. Pleasingly, the story is available for players who crave narrative impetus, while loot-minded teams can effectively overlook it.
Despite being a thoroughly enjoying game, the original Borderlands did little to mask its motivations; better loot was the sole purpose of persevering. With the sequel, Gearbox is keep player enraptured with a variety of techniques, from making firefights more engaging to furnishing dialog which proves to be just as rewarding as finding a new firearm with a significant stat boost. Consider Borderlands 2 the first fundamental purchase of the 2012 holiday gaming season.