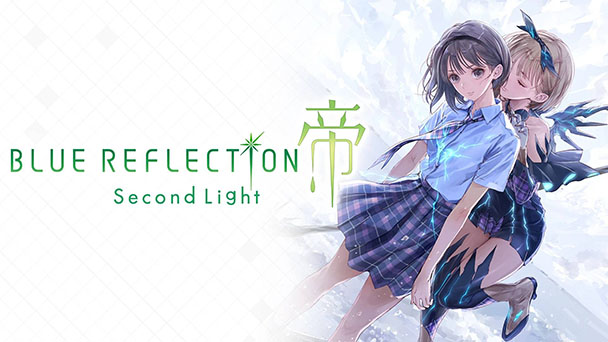 2017's Blue Reflection might not have sold in staggering numbers. But the game's creative interpretation of the magical girl genre earned a wealth of fervent fans. Four years later, Second Light arrives alongside an accompanying mobile title (Sun) and an anime (Ray). While knowledge of the past and parallel properties isn't mandatory, it would be difficult to imagine anyone not wanting to delve deeper into this wonderfully intimate and fulfilling franchise.
Blue Reflection: Second Light
Platform: PC, PlayStation 4, Switch
Developer: Gust
Publisher: Koei Tecmo Games
Release date: November 8th, 2021
Availability: Physical & digital delivery
Language: Japanese voice, English subtitles
Price: $49.99
Many modern stories view humanity through the lens of dystopia. Here, a handful of archetypes are plucked from their ordinary existence and put through a succession of traumatic hardships. Lessons about the resiliency of individuals are habitually gleaned.
Unsurprisingly, Nagano-based developer Gust adopts a slightly dissimilar situation with the opening hours of Blue Reflection: Second Light. After performing poorly on her academic exams, lead Ao Hoshizaki is forced to enroll in a summer academy. But her mundane reality is disrupted when she awakens one day and finds herself in a largely vacant setting.
Here, there's little of the immediate antagonism found in many isekai. Instead, Second Light offers an abandoned Japanese school surrounded by serene water and boundless azure skies that all exude tranquility. Essential resources like electricity, cellular service, water, and raw materials are all abundant. Save for the emergence of a strange area called Faraway across a long footbridge, the setting nearly feels utopian.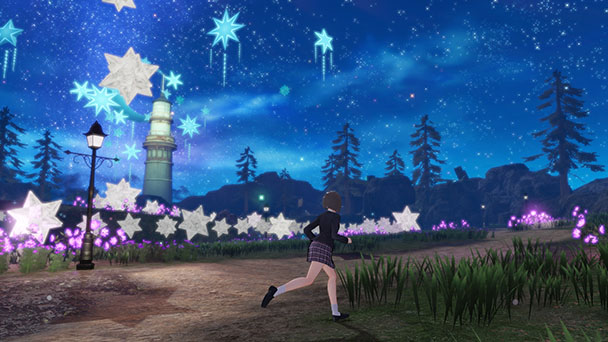 The KyoAni Influence is Strong
Soon, Second Light's microcosm grows. She meets a trio of girls named Kokoro, Kuki, Rena, who have each lost their memories. While less talented writers might have attempted to mine tension through contrived rivalry, Second Light builds a support system with its cast. Sure, plenty of games attempt to emulate the complexities of relationships. Although there's the obligatory conversational bonding, Blue Reflection is more sophisticated than many of its peers.
Recalling Kyoto Animation's captivation with the nuances of non-verbal communication, Second Light often focuses on small, evocative gestures. Often the camera will zoom in on hands or feet, revealing a restrained signifier of excitement or trepidation. These muted gestures compel you to pay attention since they speak volumes about the internal state of each character.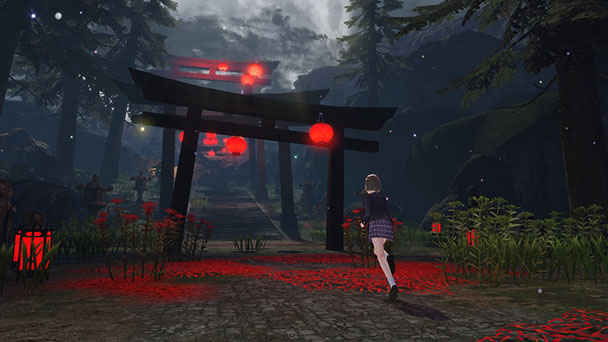 The Girls Can Be Gentle…
When coupled with Hayato Asano's plaintive piano-driven melodies, Second Light is a rarity in the gaming world, offering a superbly contemplative experience. Early on, many of the girls wonder if their previous life is worth returning to. Ao's sense of recollection is stronger, and there's a particularly touching moment when she wonders if her absence from world is causing distress in those around her. This sense of selflessness is pervasive through Second Light and is just one of the reasons why the title is so skilled at pulling at the heartstrings.
Manifested in everything from Rena's bossy but caring demeanor to Kokoro's culinary efforts which help to keep the girls nourished, there's a sense of camaraderie that rarely feels forced or insincere. Without spoiling things, some of the venues that you'll visit are catalysts for emotional support. Dexterously, the game evades the predictability of each character having their own issue. Instead, there's a sense of authenticity with Second Light's characters, who eschew the traditional 'problem to resolution' character arcs.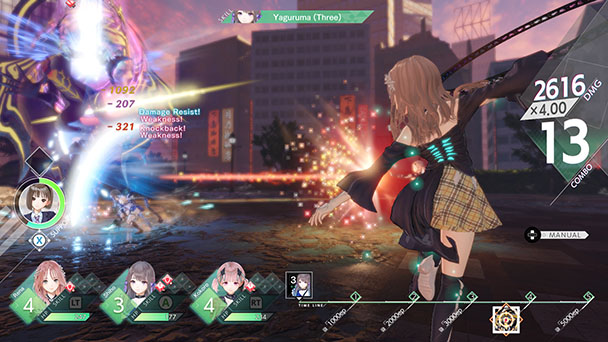 …But They're Also Quite Formidable in Battle
But Second Light isn't just emotionally driven, with liveliness found when the cast delves into dungeons to retrieve their memories. Pleasingly, these improve on the expeditions found in the original game, yielding materials for the game's crafting system as well as enemies for the engaging combat system. The one downside is rooted in the new stealth mechanic. While this permits players to perceive enemies' fields of vision, there are occasions where enemy populations are quite dense. Repeatedly attempting some of the side-quests can be frustrating.
But battles are a joy with a combat system that builds on Gust's expertise in first Blue Reflection as well as recent entries in the Atelier series.  Primarily, turn-taking is built around the accumulation of Ether. While characters are able to execute basic attacks once Ether levels reaches a specific point, delaying an onslaught permits you to perform more powerful strikes. But waiting allows for adversaries to attack, so there's a risk/reward component you'll have to consider.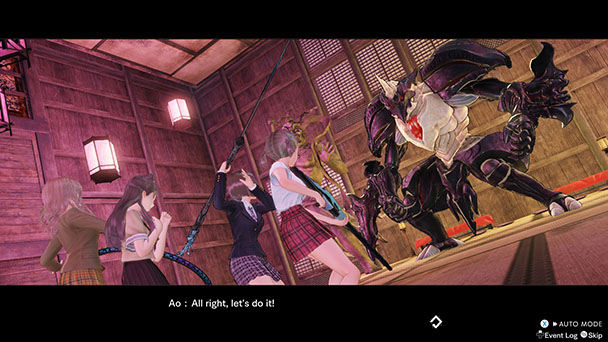 Factor in the ability to unleash devastating combos with other party members as well as an extra slot for a support character, and the mixture of real-time and turn-based combat feels robust. Nicely, you can relinquish control of characters, but you'll probably want autonomy when facing off against elevated enemies. Here, states like knockdowns and breaks become essential for victory, and you'll need to garner as much of a strategic advantage as you can muster.
Allow characters to reach their third Ether level and they transform into Reflector form. Not only does this change a character's appearance, but also dishes out some of the most devastating attacks. While delaying gratification can be challenging, Gust ensures that the rewards of magical girl henshin are suitably justified.  Sporadically, Second Light even ratchet ups the intensity with a heated one-on-one battle during showdowns with the game's bosses.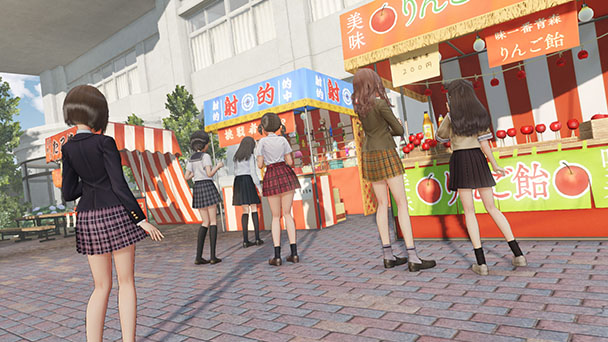 Takoyaki, Together
Expectedly, these adventures push the plot forward, with reclaimed memories providing fragments of each girl's backstory and found items ebbing away at the vacancy of their miniature world. Although crafting is comparatively straightforward, character involvement in the crafting process can increase effectiveness. This is yet another example of Second Light showcasing the benefit of communal efforts. After experiencing an extended period of social isolation in the real world, this feels like an indispensable lesson.
Cooperation is also realized when the raw materials you retrieve can be used for the creation of structures. These installations ebb away at the austerity of the girl's world, with food stands that recall the festivity of a matsuri. While the spirited throngs of patrons might be missing, these serve as venues for dates, infusing tenderness and normalcy into Second Light's microcosms. Much like a real-world rendezvous, I didn't want these gentle moments to end.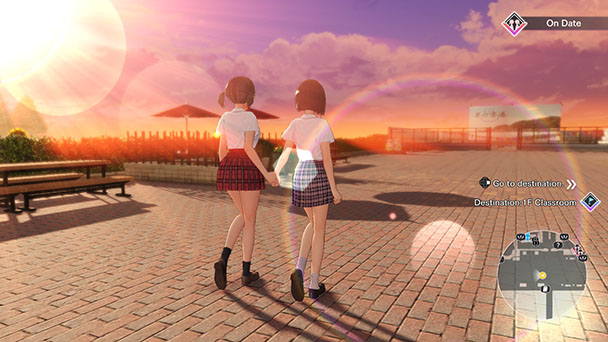 Conclusion
Largely, Blue Reflection: Second Light can evoke the same kind of sentiments. The game's best moments are a virtuous reminder of just how important friendships are. Whether working together to battle adversity or just lightheartedly chatting on social media, the game offers an exquisite reminder that the power of any magical girls is rooted in companionship. While that message is always pertinent, it feels especially relevant right now.
Blue Reflection: Second Light was played on
PC with review code provided by the publisher
Review Overview
Summary : Masterfully, Blue Reflection: Second Light functions as both a standalone story and inroad into a growing multimedia franchise. Fans of Gust's previous efforts or the magical girl genre are poised to fall head over heels with this game.