For years, games have attempted to replicate the complexity of free will. From adjusting the way a NPC treats the protagonist, offering optional side missions, or providing a conclusion based on the player's actions, quality coding can create a transitory illusion of choice. Regretfully, even the savviest simulation of autonomy often reveals its limitations before the closing credits have rolled, as players begin to perceive the logic of a game's programming.
While recent release Deus Ex: Human Revolution occasionally exposes the logic behind its coding, the title does a miraculous job at conjuring an intricate (and delightfully nihilistic) world. At least part of the magic stems from Eidos Montreal's vision of a futuristic Detroit. Despite the presence of a persistent amber haze, the city seems on the verge of revitalization, stemming from the innovations emerging from Serif Industries. Able to graft nano-components into human flesh, the company is drawing notice from proponents and challengers alike. When an 'anti-augmentation' faction begins targeting Serif, protagonist Adam Jensen suffers life-threatening injuries, necessitating nano-modification of his body. Remarkably, Human Revolution's characters are quite different from the flat caricatures role player aficionados may be accustomed to. One example- Serif's (and Jensen's) boss isn't the archetypical corporate tyrant, at times revealing an approachable side, if players pursue the proper social enhancements. Also refreshing is the way Deus Ex plotline's unhurriedly transitions from a small, smoldering techno-thriller to a much broader scenario with far-reaching repercussions.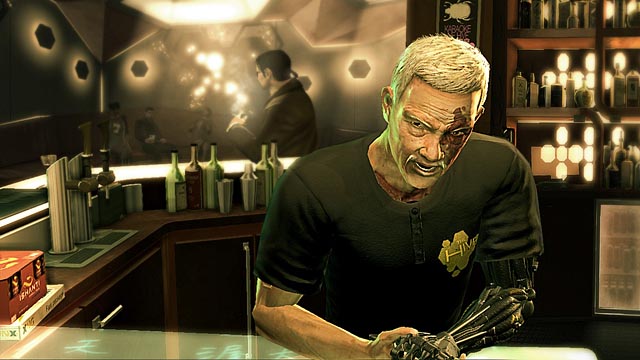 Supporting the moody, intricately detailed backdrops is a system which allows players to follow their own trajectory through the title. While many games deliver a structure which imposes an 'either/or' classification on the player, Deus Ex refutes a binary structure, offering a tech-tree of enhancements which can complement nearly any play-style. Can't extort imperative information out of characters? Then you might want to upgrade your social skills. Those who find themselves on the receiving end of ballistic barrages might want to boost the durability of their own skin. Since players determine whether they want to kill, subdue, or even elude enemies, Human Revolution's menu of enhancements skillfully supplement any strategy.
Smartly, most augments don't guarantee success. Even players who have given Jensen the ability to move with inaudible efficiency will have to switch to a contingency plan if a foe or security system takes notice. The sole exception is the hacking ability, which in imperative to upgrade early on, as it gives player's access to countless side rooms, computers, as well as the ability to reprogram an enemy sentry gun. (Alternatively, players can reinforce their arms into wall-pummeling jackhammers, although gain access to protected areas will probably take longer.)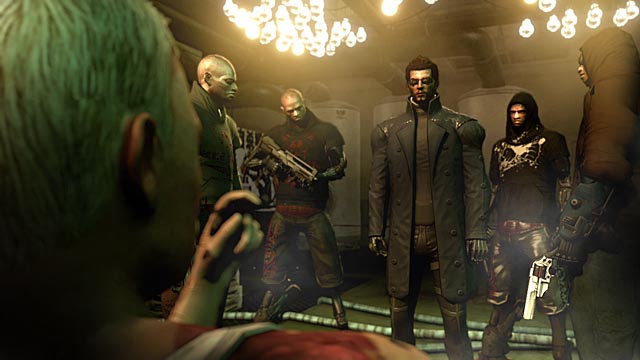 Technological proficiency is an indispensable aptitude which helps players see all of Human Revolution's myriad of plot-enriching emails, e-reader articles, as well bypass many of the security measures placed around environments. It's also one of the best ways to earn experience which can be converted into additional, increasingly efficient, augmentations. Strengthening one's capacity for circuitry is undeniably helpful in the game's hacking mini-games, which task players with taking over nodes before a system's defenses are altered. While the diversion can be perplexing at first, players should approach the assignment with diligence, carefully calculating their way to a system's fortified registry.
Strategy is also compulsory for the game's firefights and conversational components. Gamers who recklessly charge at foes with guns blazing will typically succumb to the title's competent AI. Instead aggressive-minded players should prudently do their recon, and search for way to detract and disorient foes. Dialog with others characters often recalls L.A. Noire's nonverbal nuances, forcing gamers to read the faces and study the infliction of others. Yet, in place of Team Bondi's right or wrong answers, players guide NPCs toward specific emotions. For a game as intricate as Human Revolution, you'd expect the occasional stumble.  While enemies fail to investigate opened doors and a tranq-ed out foe was transformed to a bullet-riddled in a cutscene, these little flaws do little to tarnish the title's vibe.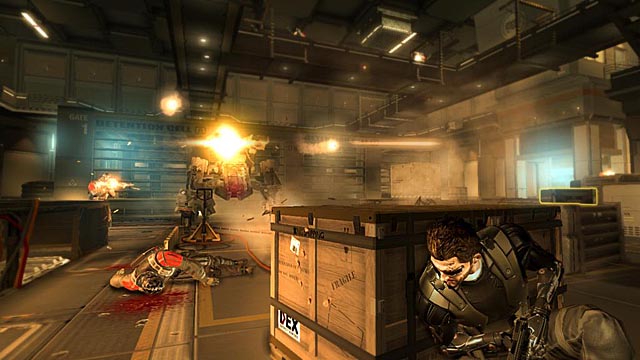 Publishers often throw around terms like 'freedom' and 'open-ended' to describe their games. Deus Ex: Human Revolution is one of those rare games to deliver on those promises, allowing players to truly shape their own experience with the game. As a testament to the title's scope, I only became aware of specific elements when comparing experiences with an acquaintance. Our paths through Human Revolution were wildly divergent, each divulging elements of our personality like some kind of wild, interactive Rorschach test.
With a dizzying amount of recesses to explore, and a multiplicity of methods to reach those alcoves, Deus Ex: Human Revolution is one of the most immersive titles released this year. With the industry's proclivity toward multiplayer matches and piece-meal DLC tactic, Eidos Montreals focus on delivering an engrossing, complete, single-player experience is to be commended.