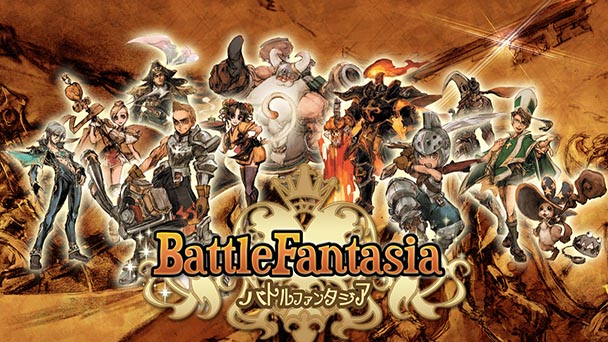 Across the last decade and a half, the Guilty Gear and BlazBlue fighting franchises have cultivated legions of fans, thanks to well-polished play mechanics, distinctive rosters, and competitive matches that rank among the best in the genre. Yet as successful as the Daisuke Ishiwatari and Toshimichi Mori-led series have been for Arc System Works, the developer/publisher hasn't experienced uninterrupted achievement. In 2007, the company was riding high on the popularity of Guilty Gear and fabricated a fighter intended to appeal to both seasoned stalwarts as well as more casual supporters of the genre. The result was Battle Fantasia, a game that would demonstrate the viability of the Taito Type X2 arcade system board, paving the path for the BlazBlue games.
But Fantasia only experienced moderate success when it was released in Japanese arcades, and that lukewarm response was largely reiterated when the game was released stateside for the Xbox 360 in 2008. On Sony's platform, the game was delayed in the U.S. another year.  Purportedly, the publisher balked at an allusion to incest made during the game's story mode. But the game's problems stemmed from bigger issues that any kind of immoral insinuation. Beyond a diminutive roster of twelve fighters, balancing issues meant the title was fated for cult status. In execution, this meant going online to face other combatants meant lengthy wait times, punctuated by a predictable set of opponents.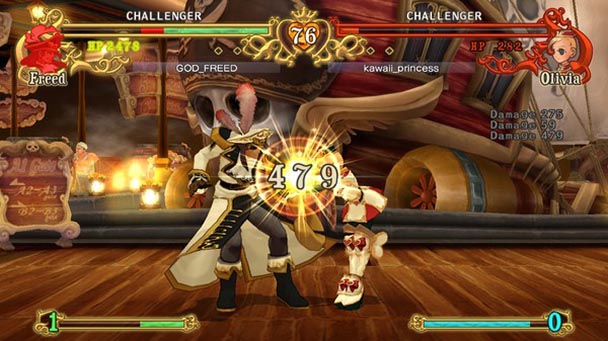 But under developer DotEmu's attention, Battle Fantasia has made it way to PC's, offering a Revised Edition which aims to eliminate some of the game's ills. While the title offers a respectable recreation for tolerant genre fans seeking a divergent flavor of fighting game, a couple of porting issues currently hold the game back. That said, if Fantasia gets a patch and sale price, some may want to add the game to their Steam library.
Certainly, the game has its share of virtues. Jumping into any of the game's selection of seven play modes validates the game's aesthetic appeals. As the heart of Battle Fantasia's visual charms are Emiko Iwasaki's character designs- which combine the eccentricity of the Guilty Gear and BlazBlue franchises with a heaping helping of moe appeal. From Marco Van de Land, a nine-yard old boy-knight renders with Mega Man-like proportions to Odile & Dokurod, the game's obligatory loligoth- an automaton who carries out the command of her skull-topped longstaff, the game's roster exudes creativity and diversity.
The Taito Type X2 board permitted programmers to craft a fighter from polygons rather than sprites. With Battle Fantasia, there's are some telltale indicators of the technique, with aliasing apparent on character edges and textures that are stretched a bit too wide, such as during Ashley's cape attack. But that said, combatants are reasonably detailed and move with a bit of fluidity. For the Revised Edition, the game scales the resolution up from its original 720p output, but this method doesn't make the frugal backdrops any more fanciful. A much better survivor of time in the game's pencil-shaded portraits, which stand in sharp contrast to the clean poly models. Woefully, the schedule of fighters remains untouched since the original arcade release. It would have been gratifying to see a new face or two added during the Fantasia's seven year lifespan.
In keeping with the designer's aspirations, Battle Fantasia is a widely accessible game. Four main attack buttons drive the action, offering a pair of punches and a duo of kicks, which are augmented by a reasonable number of Street Fighter II-like special moves. The game's most notable feature is the incorporation of the 'Gachi' button (Japanese for "grace") which allows a timely parry not only to negate damage, but also issue a devastating counterattack as well as downed players to quicken their recovery.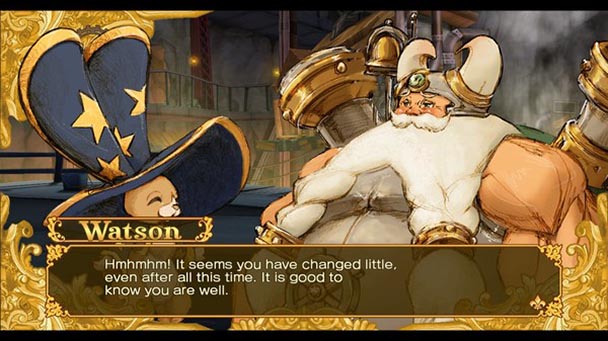 The games' MP gauge also helps to enliven Battle Fantasia's matches.  Both dishing out and receiving damage loads the meter, which can be stocked three-fold. As addition to issuing powerful special moves, MP can also can be used to engage "Heat Up" mode, which not only strengthens attacks but also grants access to specific types of strikes.  Fundamentally, the game's combat system is accessible, with newcomers able to issue five-hit combos with just a quarter-circle command while offering enough just depth to divert die-hard fighting game fanatics.
Battle Fantasia's balancing issue has been largely remedied. In both the Xbox 360 and PlayStation 3 versions, characters like Cedric and Ashley offered identifiable advantages, compelling competitions to be driven by character classes. For the Revised Edition, fighting feels more equitable, and after eight hour of local play, no clear-cut combatant stood out. Unfortunately, it's difficult to evaluate collective preferences, as the online community is currently non-existent. After multiple attempts to find a rival during different parts of the day and night, we finally gave up hope of an online competition. If we do find an opponent, we'll update on the quality of the game's netcode.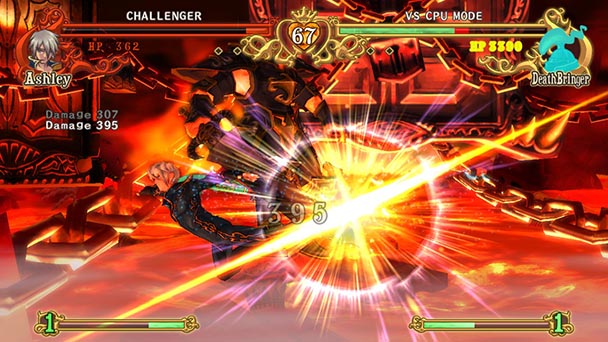 What we can report on is the game's local performance. With an in-game frame-counter, Battle Fantasia was putting out an unwavering sixty frames per second on our i7/GTX 770. However, when we ran the game on an equally capable i7/860m gaming laptop, fluidity was noticeably compromised. Periodically, the game would stutter for a micro-second, sullying the timing of our combos (although the counter doesn't indicate a change). As more graphically intensive fighters can maintain a sixty frame-per-second output on our portable rig, it's clear that the game needs a bit more optimization.
While the game's roster might feel a bit condensed when compared to most contemporary fighters, Battle Fantasia does prove a nice array of game modes. Beyond battles channeled through Arcade, Time Attack, and Survival modes, there's also a Story campaign where players are privy to a bit of backstory for each character. Although the writing is too longwinded and there aren't enough payoffs for each plot, the mode helps to flesh out each fighter and reveal some of the relationships between the combatants.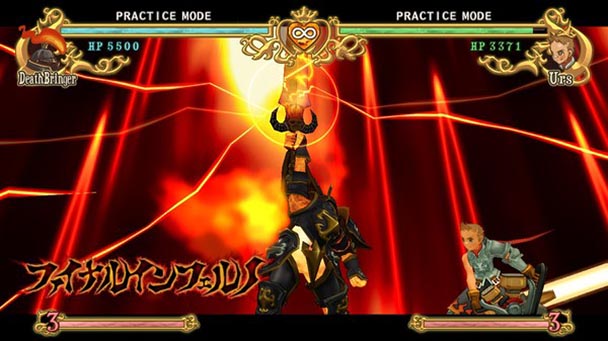 Although Battle Fantasia -Revised Edition- isn't the Arc System Works title gamers are clamoring for (that would be Guilty Gear Xrd), it's a moderately enjoyable, only slightly dated fighter that's reasonably priced. As such, ASW aficionados will likely want it to add to their collection. With a small roster and manageable movelists, it's the perfect gateway drug for friends who have yet to become a full-on fighting game addict.
Battle Fantasia -Revised Edition- was played on the PC with review code provided by the publisher.
Battle Fantasia -Revised Edition-
Platform:
 PC, previously released on Xbox 360, PlayStation 3
Developer:
 Arc System Works, DotEmu
Publisher:
 Arc System Works
Release date:
 July 7th, 2015
Price at release:
 $14.99 via
Steam
Language(s):
 Japanese voice/English text
Review Overview
Summary : Battle Fantasia -Revised Edition- might still need a revision or two, but this PC fighter offers accessibility and generally entertaining antagonism.