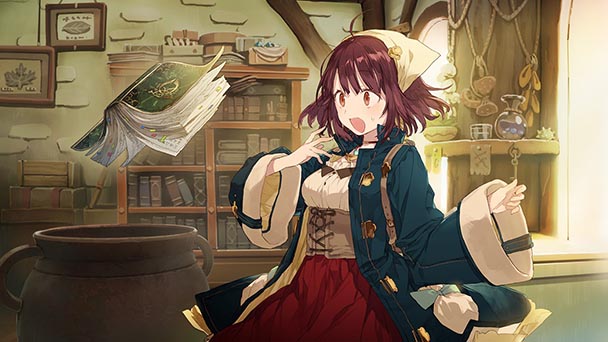 Gust's Atelier franchise has always been remarkably restrained. While the series' jurisdictions have certainly faced their fair share of impending catastrophe, preventing tragedy required more than just conventional role-playing character buffing. Instead, the temperate trek typically revolves around the self-actualization of female lead who improves her alchemical skills and confidence, subsequently empowering those around her. And while there are bits of turn-based antagonism, their presence is less about large-scale warfare and more of a mechanical hurdle implemented to thwart effortless item collection.
The recent PlayStation 4 and PS Vita release Atelier Sophie: The Alchemist of the Mysterious Book doesn't deviate too far from Atelier formula. Echoing the harmonious pursuit depicted in Yuki Midorikawa's Natsume's Book of Friends, we first meet the game's eponymous protagonist in the workshop inherited from her late grandmother. While motivated to keep her ancestor's legacy alive, Sophie like any Atelier lead, lacks a bit of experience and confidence, as evidenced by the game's customary opening of a recipe backfiring.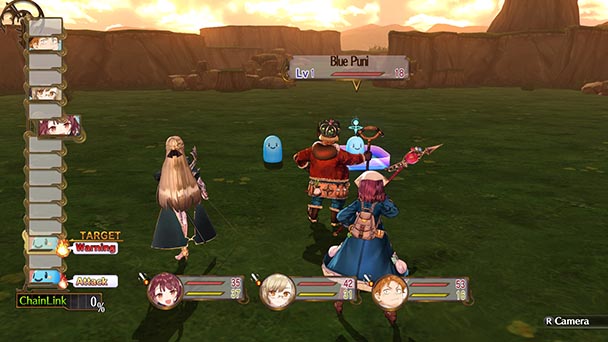 In this instance hope emerges from the game's titular tome, a talking, flying book named Plachta that's could in one of the dusty corners of the workshop. And it's here that Sophie's impetus truly evokes Natsume's duty, filling in the pages of the sentient book as an act of restoration. Although Plachta retains some basic alchemic knowledge, her blank pages symbolize a case of amnesia, that the newly united duo need to refill and restore her memories.
Sure, the plot might seem quint in summary, but it's the feeling of gradual restoration that keeps the story from becoming hackneyed. After battling endless processions of malevolence and thwarting the apocalypse time and time again, there's something intrinsically gratifying about making a damaged entity feel whole again. Another element that helps the narrative is the squabbling between Sophie and a Plachta, a relationship that recalls the comedic rapport between Takashi Natsume and Madura in Book of Friends. Just one word of warning, you might want to skip the second opening musical sequence, as there's a slight spoiler amidst the opening credits.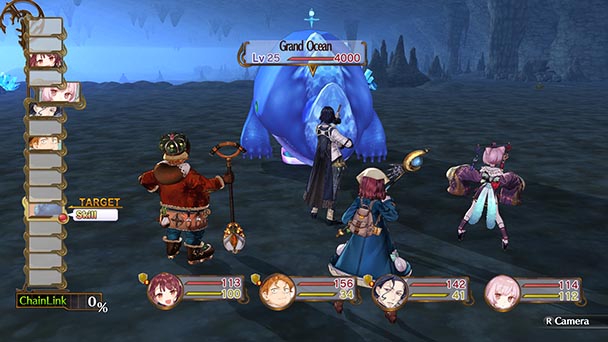 What follows is one of the most unexpectedly satisfying gameplay loops around. Sophie's cycle begins with item gathering and a bit of monster tussling, before taking the resources back to the Atelier to alchemize a product. In turn, this item is given to one of the local town's populace or used by the adventuring party to dig deeper into the game's rural recesses. But amidst this sequence, you'll discover how the title distinguishes itself from preceding titles.
No longer do players have to purchase recipe books with your hard-earned Cole. Instead, acquisition is experience-based, with Sophie discovering new formulas through her interactions. While some of it is serendipitous, there's also the riddles, with hints revealed on a menu screen. Mostly, they're allude to defeating a certain type of monster, going to a specific location, or traveling during a specific time. Although the integration of day-night cycle might just seem like an excuse to offer a tranquil show or have Sophie remark about seeing lightning in the distance, the addition fits glowingly into Mysterious Book.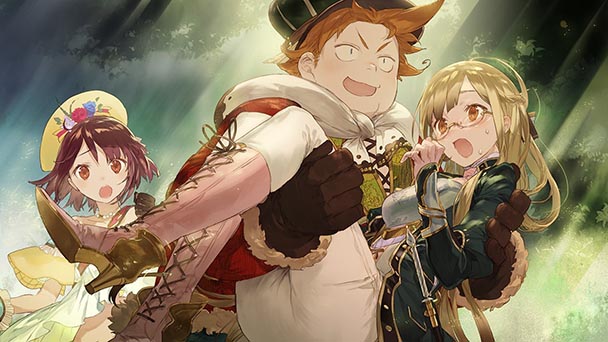 As such, nocturnal gathering feels a bit tenser, as tougher enemies come out with the moon. But it's during these periods that you'll be forced to squeeze out any advantages from Sophie's combat system. Fundamentally, battles blend accessibility with the gradual accumulation of nuance, with clashes guided by a meter which shows turn order. Beyond your quartet of adventurers opting to attack, use an item, or shield themselves from damage, players gradually fill another gauge. Once at capacity, characters can opt for either an offensive or defensive stance. While the latter is essential when formidable foes telegraph a devastating strike, players can also opt for the aggressive, using their pent-up potential to overpower an opponent. Unless you're revisiting previously traversed areas, skirmishes can be difficult, thereby keeping things interesting and ensuring you can't become an alchemical mogul. Fortunately, defeat isn't particularly painful, resulting in the loss of collected material and a bit of time.
Although the passing of hours endows The Mysterious Book with a bit of urgency, gamers should worry about getting too stressed out. Now synthesis stretches have been shortened, leaving plenty of time for other duties. Sure, alchemical tasks have deadlines, but generally you'll have more hours to devote to exploration. And while the game respects your real-life temporal investment, there are a few niggling blemishes that can slow things down. Chief among these is the inability to craft multiple items at once. Now, when a character needs multiple quantities of the same item, Sophie will have to synthesize each one separately.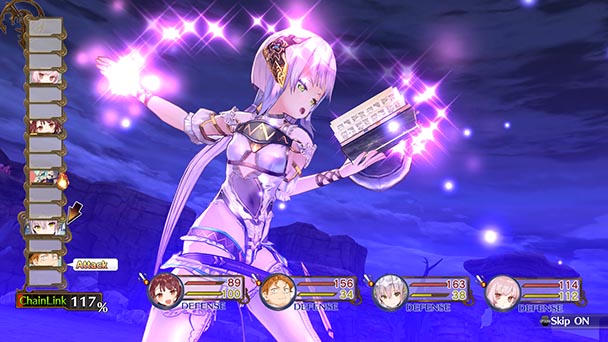 Fortunately, the mechanics of alchemy have advanced from stirring a cauldron filled your highest quality ingredients. Now, crafting involves selecting based on a number of characteristics, before arranging each polyomino in a gridded region. Placement proves instrumental in crafting consummate items, with bonuses granted to matching the color regions. However, overlapping ingredients will negate any dividends making synthesis a satisfying endeavor.
Undoubtedly, The Alchemist of the Mysterious Book's visual approach is certain to draw a bit of contentiousness. While character design and costuming is impeccable, the game's environments can look a bit vacant. Sure, the power of the PlayStation 4 provides sharp detail, but actual texturing can seem a bit stark. Likewise, the game's European-inspired cityscapes feel eerily empty, with only a NPC or two in each area. On the upside, this decision helps keep the game running at a smooth sixty frames per second. Sonically, the franchise serves up its familiar, hauntingly beautiful flute-filled refrains, punctuated by the occasional guitar riff to signal a victorious battle.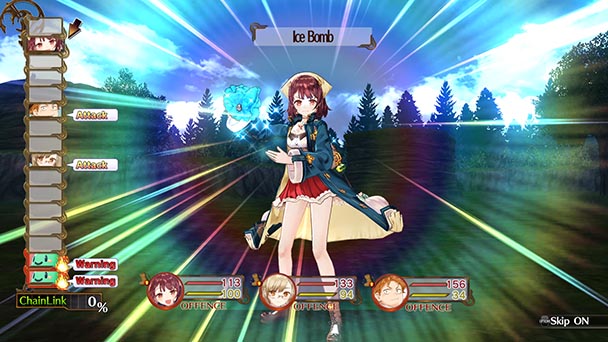 As with Gust's previous entries, is the role-playing game that tweaks convention. Instead of overt antagonism across busy contexts, it's journey is peaceful and pastoral. Echoing the sentiments of its characters, Atelier Sophie: The Alchemist of the Mysterious Book feels like a refreshing journey to the rural after an extended inhabitation of the urban. Here, the air is cleansed by the rain, while the population feels familiar and friendly. It's a journey to a kinder, friendlier, warmer world that's transformative, much like Sophie's own enchanting expedition.
Atelier Sophie: The Alchemist of the Mysterious Book was played
on the PlayStation 4 with review code provided by the publisher.
Atelier Sophie: The Alchemist of the Mysterious Book
Platform: PlayStation 4, PS Vita
Developer: GUST
Publisher: Koei-Tecmo
Release date: June 7th, 2016
Price: $59.99 on PS4, $39.99 on Vita
Languages: Japanese or English voice, English text
Review Overview
Summary : As the franchise's foray onto Sony's now-gen hardware, Atelier Sophie: The Alchemist of the Mysterious Book is a consummate pleaser, blending its amalgam of play mechanics into an enticing experience.