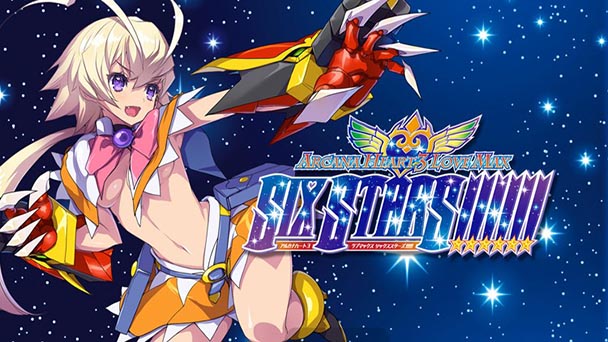 In 1991, Capcom released Street Fighter II: The World Warrior, forming an indelible blueprint for fighting games. Teeming with innovation, many of the game's mechanics became convention, establishing elaborate combos, an intricate multi-button input system, and a cast of characters distinct in both appearance and play style. Nearly a quarter-century later, we're still executing the same quarter-circles, albeit with greater fidelity and a bit more nuance, across a steady succession of sequels. Largely, Street Fighter established precedent for the genre, favoring gradual evolution rather than comprehensive revolution through each new iteration.
And fundamentally, that's also the case with the Arcana Heart franchise. Originally released in late 2006 in Japanese arcades and subsequently on PlayStation 2 consoles, the title exhibited individualism through two elements. The first was rooted in all-female cast, with each combatant exhibiting not only adorability, but the type of spirited attitude that can be delightfully infectious. Developer Examu's (formally Yuki Enterprise) other contribution to genre was the incorporation of elemental alignments, known as 'Arcana'. These extended selectable movesets to each charcter.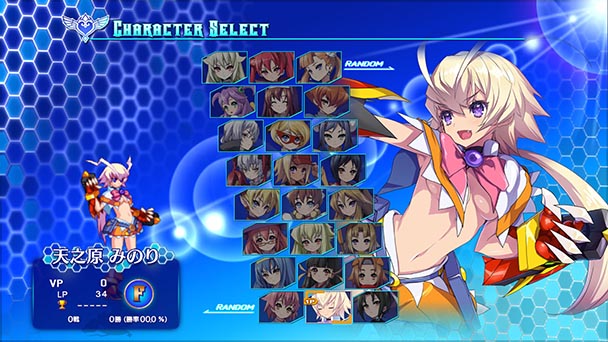 Steadily, Examu offered innovation and strove for balance across two incremental sequels. But after the release of Arcana Heart 3 the changes slowed down, leading to the 2014 release of Love Max!!!!! and now the crowd-funded release Love Max Six Stars!!!!!! Franchise faithfuls might be disappointing by the diminishing returns, with the follow-up offering a meager amount of content and some low-key tuning. Yet, for those who somehow missed the release of past Examu's past efforts, Six Stars is a worthwhile package, and a requisite experience for PC-owning aficionados of pugilism.
Like the original Love Max, Six Stars training component reveals a misnomer. Don't expect any guided tutelage, as the locations are only useful for practicing combos against adjustable AI. Instead, players will want to earn their chops in either the Story, Versus, Survival Score Attack, and later- After Story elements. Here, they'll select from one of twenty-four fighters as well as an equal number of celestial beings called Arcana. Based on the major suits of a tarot card deck, each of these entities endows players with an additional arsenal, suppling everything from additional offensive strikes to healing abilities. In execution, they provide an interesting way to tweak the offensive/defensive base of each character, offering hundreds of different permutations.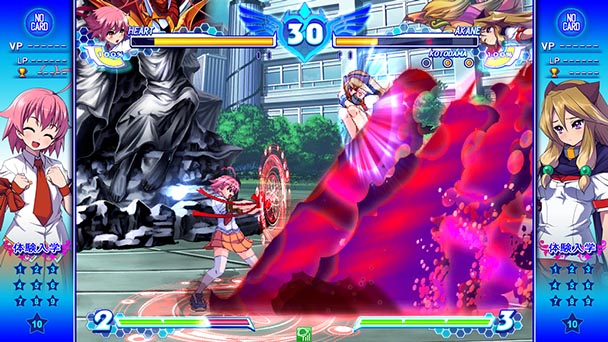 Arcana Heart 3's other signature constituent is the inclusion of a homing button, which can quickly reduce the distance between opponents. Coupled with double-jumps, dashes, and air-dashes, the ability to launch yourself toward either a ground or air-based foe helps to keep matches energetic and pleasingly unpredictable. Most exciting is the game's integration of counters that can send an encroaching opponent reeling, potentially offering an opportunity to turn the tide of battle.
But despite these fulfilling additions to fighting canon, Six Stars remains tenaciously accessible. While veterans will likely enjoy master the moderately intricate movesets for each character, novices can opt for Simple controls, which automatically summons specials, combos, and Arcana moves. Playing with a control pad or ideally a fighting stick is the way to become immersed in Six Stars. In theory it's possible to play with a keyboard, but trying to nail Z-motions with office equipment will likely exceed the capabilities of even the nimble-fingered PC prodigy. Each character has at least a dozen special strikes, and pleasingly each is referenced via an in-game command list.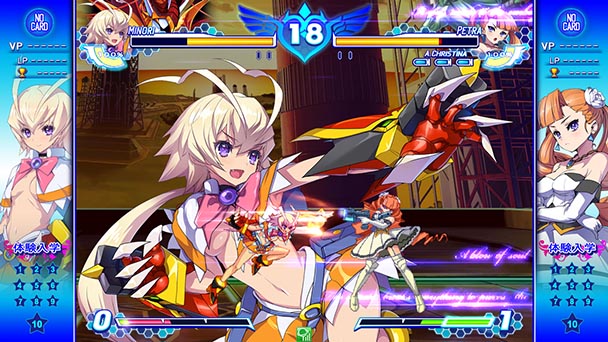 Fighting games with rosters that encroach on the two-dozen mark can often reveal a bit of filler, whether it's palette-swapped Kombatants, or insipid personalities. Largely, Six Stars!!!!!!! sidesteps this menace, delivering a whimsical and varied collection of witches, shrine maidens, sword-wielding maids, loligoths, and schoolgirls. Save for a shortage of kitsunemimi and nekomimi, the title covers almost every conceivable fixation, ensuring approval from the Akihabara set. That consistency won't mind the lack of a dub, and will undoubtedly relish Arc System Works' straightforward localization of the game's dialog and the bit of fan-service in the game's onsen-contextualized After Story.
While two DLC characters will be released later, the main point of departure for Six Stars is the incorporation of new fighter Minori Amanohara, a Valkyrie that can dual wield the powers of the Arcana and the Geist. Visually, she delivers a dollop of supplementary fan-service, with her platinum hair adorned by twin antennae and a single fanged tooth. The character's clothing resembles Ryuko Matoi's underboob and midriff flaunting sailor suit, Senketsu, while her fighting style balances speed with a powerful moveset that seems amplified by her massive gauntlets. She brings with her Ichor, the Arcana of Blood which brings come chargeable carnage to the proceedings.
Like most fighting games, the main storyline is largely dispensable, with facets blending a misguided experiment, celestial stones, and the potential devastation of Japan. Plot wisely takes a secondary role, allowing both the colorful cast of characters and hyperreal interpretations of real-world locations to steal the spotlight and charm players. Each girls' story is told through six stages, as they attempt to collect the magic mineral capable of saving humanity. On the upside, the CGs are capably drawn, and progress in incentivized through unlockable game art.
Likewise, Six Stars aesthetics prove just as capable as its characterization. When played in 720P, Arcana Heart 3 on PC successfully emulates its arcade counterpart, providing fluid animation, dazzling visual effects and a flawless framerate. Unfortunately, higher resolutions higher can look muddled, as the game struggles to upscale its picture. Although the game's output is in fullscreen, Six Stars makes the most of its peripheral screen real-estate, using animated pictures of each fighter to help articulate the emotions of each fighter. Sonically, fights are highlighted by a suitably stirring soundtrack and enough adorable move-calling and wails to arouse the suspicions of eavesdroppers in the next room.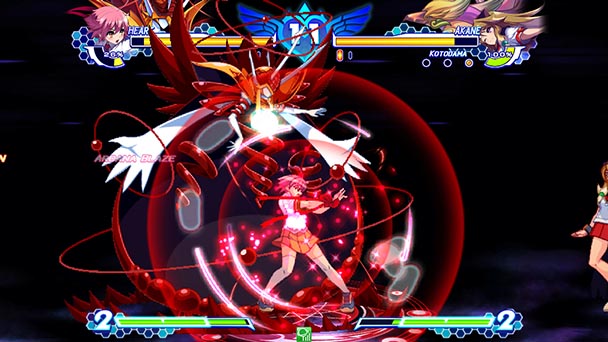 When venturing online to test the mettle of your favorite maiden, Six Stars is largely up to the task. Save for the diminutive on-line community and the lack of region-selection for matchmaking, the title offers the requisite components, allowing players to participate in ranked matches, looking for quick or custom competitions, or create non-password protected rooms. Once a bout has begun, lag varied from non-existent to tolerable, with the majority of online matches behaving obediently. One minor mend we'd like to see is the ability for a quick rematch between local participants.
The sixth exclamation points in Arcana Heart 3 Love Max Six Stars!!!!!! would seem to signal substantial progress over the five punctuations found in its predecessor. But beyond a new character and arcana, there's a scant amount of new content, making the title a difficult recommendation for those who already own the past iteration. However, for players who haven't recently experienced one of Examu's moe-filled fighters, Six Stars!!!!!! is a worthwhile purchase, extending an approachable learning curve, visual charm, and elegant execution.
Arcana Heart 3 Love Max Six Stars!!!!!! was played on the PC with review code provided by the publisher.
Arcana Heart 3 Love Max Six Stars!!!!!!!


Platform: 
PC

Developer:
Examu Inc. 

Publisher: 
Arc System Works

Release date: 
December 12th, 2017

Price: 
$29.99 via
Steam
, $26.99 through December 19th
Review Overview
Summary : While Arcana Heart 3 Love Max Six Stars!!!!!!! doesn't offer much in the new of new content, the release stands as the definitive version. For newcomers, this title is an excellent entry point, especially for those seeking a bit of moe mixed with proficient fighting mechanics.