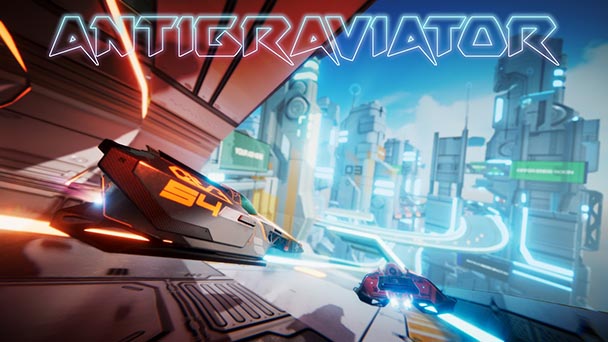 During the nineties, there was a near surplus of high-speed, futuristic racing games. Popular series like F-Zero, Wipeout, Rollcage, Jet Moto, and Midway's Thunder franchise all vied for a place on the podium. While some of the top names gained enough momentum to remain in the new millennium, misfires like Hi Octane, MotorHead, Extreme-G, and Mag Force Racing seemed to provoke publishers into hitting the brakes on the sub-genre.
But given enough time, indie determination will rejuvenate lapsed pleasures. And that's exactly what's been happening over the last few years, as efforts such as Redline: Enhanced Edition, GRIP, and Distance recreating the adrenaline-soaked thrills of yesteryear. With the release of Antigraviator, the whole cycle appears to be in renewal. Cybernetic Walrus' title recalls the ambitions of those lapsed second-string racers; titles that hope to succeed through comparison with the best efforts. While the title's overwhelming sense of speed draws distinction, almost everything else about the title isn't as noteworthy.
Jump into Antigraviator's campaign, and you'll face a pack of competitors across eight different, four-track contests. With swift load times, the game gets you on the track quickly, offering a succulent tutorial of the core mechanics your first time out. Here, you'll find that your craft controls intuitively, as your vehicle has a sense of heft while still clinging to each curve. Beyond the basic thrusters, air-brake, and turbo, your ship has the ability to barrel roll. Intended for escaping on-track ensnarements or shoving rivals into the walls, spinning feels underdeveloped and elicits little excitement. Ideally, the technique would have cultivated the gratification of Burnout's wall shunts, but all too often it has little effect on your challengers.
Chances are you'll disregard barrel rolls in favor of focusing on navigation, as Antigraviator demands your complete attention. Much of this requirement stems from the title's sense of speed. Typically, you are travelling so fast, that you only have a fraction of a second to prepare for a curve or bend, even with the game's protracted draw distances. Like most racers, collision with the outer walls of each course are dangerous, and steadily deplete your shield energy.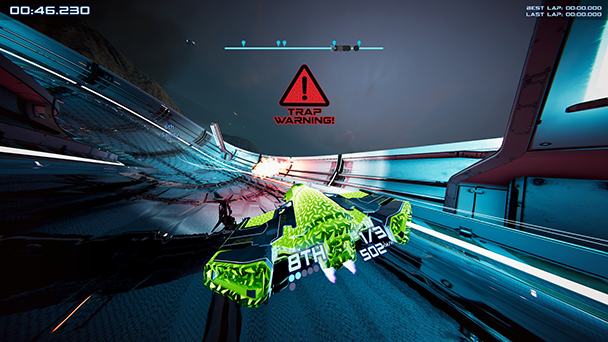 On the upside, the game's collection of tracks often shun the sharp corners of contemporaries, preferring a meandering routes that can be circumnavigated with a bit of practice. While the collection courses might not rank among the genre's best, there's definitely some creative level design on display. One stage temporality abandons the safety of track, offering a careening slalom through a rocky valley that feels right out the pod racing scenes from The Phantom Menace. Another offers a roller coaster-like vertical drop that's might just induce a sensation of your stomach dropping if viewed on a large enough monitor. While the game pads the course count by incorporating mirroring, there's another aesthetic variety to take the decision defensible.
What isn't pardonable is Antigraviator's undercooked trap system. Each track contains zones of environmental hazards like falling rocks, incoming missiles, or flaming torches. Traps can only be initiated if you're the first one in the fixed area who presses a button to trigger the event. Subsequently, anyone who races through the area is susceptible to being slowed down or tampered with- at least until the trap resets. Unlike most games where there's a bit of strategy involved with the deployment of rival-weakening devices, it's all predetermined in Antigraviator. Even worse, there's scant satisfaction in nailing an enemy. Sure, you're rewarded with a shield, but there's no real visual demonstration of the carnage you inflicted.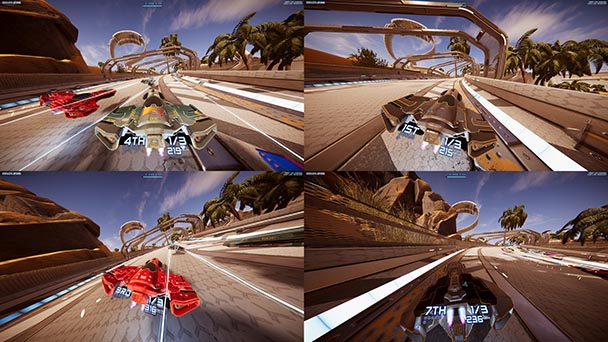 Similarly, the game's upgrades system seems a bit underdeveloped. Yes, you can pour any money that you're earned by racing into a quartet of different parts, which influences handling, acceleration or shielding. But there's so little variety that its perplexing why the developers didn't just extend a wider array of craft for you to race with. On the upside, there's no DLC to be found, and your vehicle can be individualized with unlockable stickers.
While Antigraviator succeeds with its sense of speed, the title stumbles in other areas. Sure, course design is competent, and the basic controls are handled well but other elements like offensive measures and upgrades don't feel fully realized. As such, Antigraviator should be approached only after consideration of the game's more capable competitors.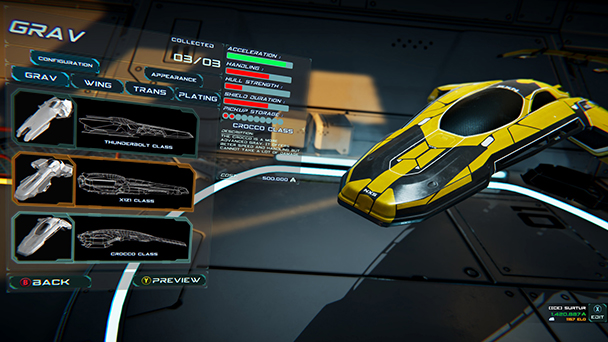 Antigraviator was played on the PC with review code provided by the publisher. 
Antigraviator
Platform:
PC

Developer:
Cybernetic Walrus
Publisher:
 Iceberg Interactive

Release date:
June 6th, 2018

Price: 
$24.99 via
Steam
, Currently on sale for $22.49
Review Overview
Summary : If a blistering sense of speed is what you're after, then Antigraviator delivers, with retina-searing velocities. Woefully, the game's other components aren't as adept.