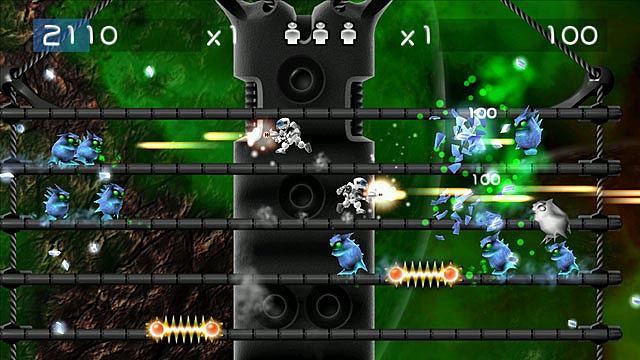 What is the concept? Don't let the peculiar name discourage you. Alien Zombie Megadeath is Pom-Pom Games (the Mutant Storm series, Astro Tripper) high-definition remake of last year's PSP Mini triumph, Alien Zombie Death. Each of the game's seventy stages task the game's space-suited protagonist with clearing out all hostiles from a collection of stacked hallways. Beyond leaping from row to row with a flick of the directional pad or analog stick, players fire horizontally, transforming baddies into multiplier-boosting crystal shards. Additionally, larger crystals randomly materialize around the playfield, in an effort to lure gamers into each level's riskier regions.
Would I enjoy the game? Fans of retro-styled, 2D, action games will appreciate Alien Zombie Megadeath's absorbing vibe. Blending Tempest's corridor clearing objectives with Tutankhamen's constricted firing, the title's frantic action is certain to please anyone who sank a roll of quarters into a arcade cabinet. Since each level has four medals to earn (which are used to unlock additional stages) expect a pleasing amount of replay.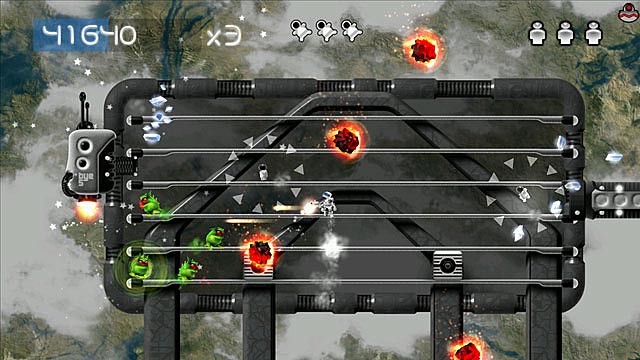 What are the game's strengths? Variety is the title's greatest virtue. The Intermittent level requires player to escort helpless babies or volatile bombs into safety zones. Players forgo their ability to shoot while carrying an item, ratcheting the  game's tension to intense elevations. Periodically, power-ups appear around the playfield, endowing players with enemy-eviscerating lasers, a triple-beam shot, or the ability slow time. Gratifyingly, Alien Zombie Megadeath provides a nice array of cannon fodder- from lurching foes who derive strength in numbers, lethargic blobs who fire corridor-crossing goo, and airborne antagonists who travel in sweeping Galaga-like formations.
What could have been improved? Like many U.K.-developed games, Alien Zombie Megadeath's scoring objectives are often prohibitively placed. Despite the assemblage of nearly every collectable and swift butchery of a level's opponent, securing enough points for a medal isn't guaranteed. While some may enjoy the game's masochistic tendency, playing a near-perfect round with earning a reward, might bring out the ire in completionists. Still, this is a relatively minor transgression, against an otherwise pleasing game.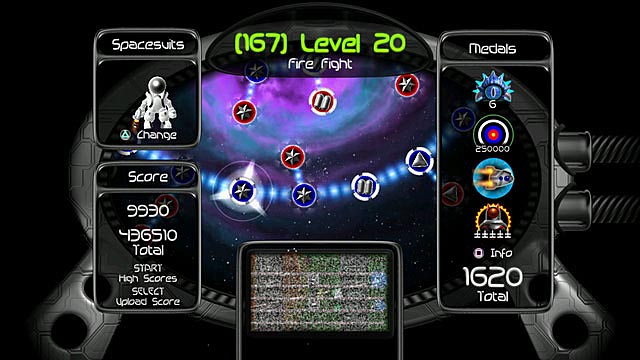 Is it worth the money? For $7.99 USD, Alien Zombie Megadeath has the potential to enthrall retro revivalists, with it's addictive mechanics and gratifying collection of levels. Add in an online co-operative component, and the title has enough vigor and depth to keep players coming back for weeks. For gamers who frequently don't have the time for an extended gaming session, Alien Zombie Megadeath delivers delight in concise doses, making it an ideal downloadable diversion.