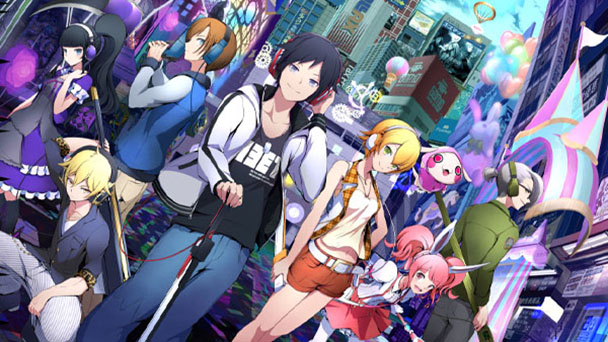 The first thing you should know about the recent PlayStation 4 and PS Vita release of Akiba's Beat, is that the game shuns one of the most notable features of its predecessor. While 2014's Akiba's Trip: Undead and Undressed's brawling mechanics might have stuck close to convention, the ability to tear the clothes off your adversaries endowed the title with mischievous charm. The premise hinged on the concept of Synthisters, vampire-like beings who traded superhuman strength for an aversion to sunlight, making any exposed skin a liability. In execution, if felt like developer Acquire had conceptualized the idea of disrobing opponents first- then justified the idea with a fantastically farcical narrative.
And yes, in Akiba's Beat, attire stays on more stubbornly than a church-sponsored dance, while the delightfully preposterous plotline has been strained to comment on the otaku culture. Once players delve into the game they'll assume the rule of Asahi Tachibana, a young man who lives in Tokyo's Akihabara district- a mecca for manga, anime, games, and maid cafes. Repeatedly referred to as a NEET (an acronym that refers to a young person who is 'Not in Education Training, Employment') by both long-term friends and new acquaintances, Akiba's Beat early game reveals a surprisingly conservative perspective.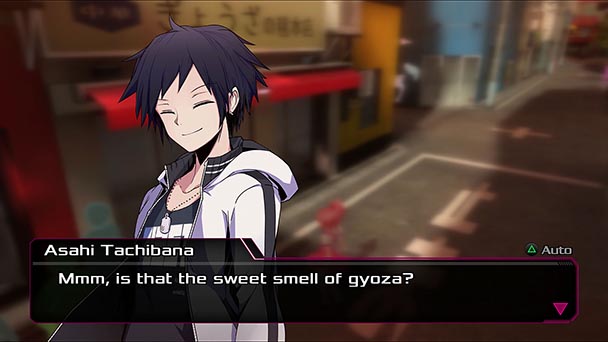 Many claim that the term NEET was popularized by a middle-aged demographic, bothered by the apparent lack of ambition displayed by some of Japan's youth. But for many recent high school grads, unemployment, and a subsequent absorption in entertainment media, was an act of resistance by those who refused to fall in line and become overworked salarymen. While this discussion is never at the forefront of Akiba's Beat, an admonishment of fantasy certainly is. Essentially, you'll be exploring 'Delusionscapes', dungeons that are mental manifestations of obsessives. While the title defuses its disparagement of fantasy by focusing on characters who are resistant to change, there's plenty of sharp criticism for otaku to be found across the first few chapters. Continually, Asahi is knocked for his lifestyle in which he plays gamers late into the morning, powered by a steady diet of street food. While a debate over the value of fantasy and redemption eventually ensues, a solid portion of the game seems quick to judge.
Generally, it would be easy to be offended if Akiba's Beat wasn't so damned funny. Thanks to one of the best localizations in recent memory, the game straddles the line between abstruse allusion and well known gaming reference. Sure, the title might not opt for the type of literal translation that the most hardcore fans yearn for, but the dialog is reliably funny and apt to be understood by those without an encyclopedic understanding of J-culture. More subtly, players are poised reflect on their own fascinations and the fickleness of collective opinion in the games second half, extending gratification across the trek.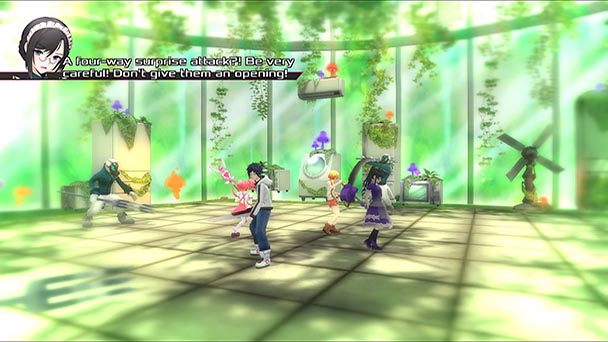 Time in Akiba's Beat is split between two the aforementioned 'Delusionscapes', and wandering through a representation of the world-famous district. The game's dungeons offer thematic interpretations of otaku culture, sending players through labyrinths which represent fixations on audiophile stores, maid cafes, and pop idols. Exploration is a fairly straightforward affair, contributing the customary scattering of items and wandering enemies. Contact with an adversary prompts the adventuring team into a showdown that's destined to draw comparison with Bandai-Namco's Tales series.
Essentially, success stems from using combos and skills to whittle away health as well as providing tactical instruction on your teammates. Pleasingly, combat scales in simplicity, offering opposition on a 2D plane or from when opponents aren't a push-over, a trigger press can move your player across the entire field. Limited by an AP meter, players can summons short chains, before blocking or dodging while the gauge refills. Against tougher foes, there's another meter- which when filled allows players to unleash unrestrained fury. Signaled by the games moniker, players earn bonuses for vibing with the game's music, dishing out extra damage when clobbering to the beat of the chorus.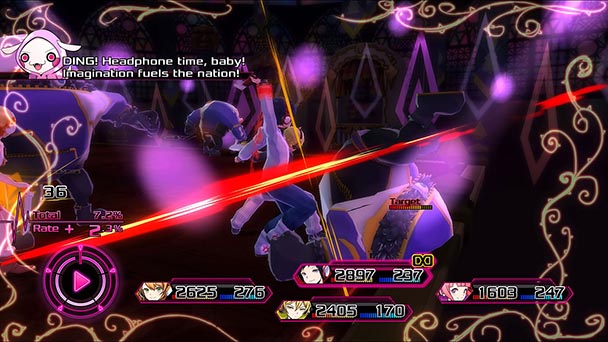 Like the Tales franchise, active characters can be switched out while the AI handles your trio of subordinates. While hardly necessary, budding strategists can dig into the game's menus, adjusting their behaviors is a variety of ways. Additional advantage can also be gleaned from the game's awkwardly named "Personal Pumputer" system, where characters can equip different PC parts to upgrade their stats. Sure, it's the essentially the same role-playing formula that been around for ages, but there's something cool about augmenting your adventurers with new hard drives and motherboards. For conpletionists, Akiba's Beat even has its own in-game collecting component, which can be used to provide additional bonuses.
Where some players will find fault is in Akiba's Beat's recreation of the district. Although the game nails the broad architectural aspect of the area, there's a wealth of missing details. Unlike Akiba's Trip, players won't see any actual names, only parodies. Worse still, some of the building facades are lackluster or even missing, undermining notable sights like the Gundam Café or the hulking Yodobashi Camera building. The throngs of people what fill the streets at night are gone too, replacement by oddly colored silhouette standees that produce dialog bubbles. Without the vending and gochapon machines, Akiba's interpretation looks far too simplistic, and pales in comparison to past efforts.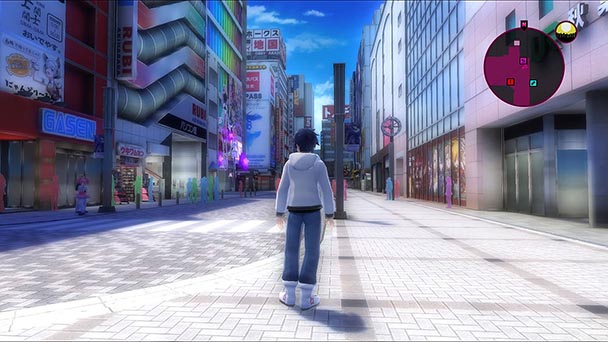 For some, the twin-tailed troubles of a lack of clothing removal and a mediocre replica of Akiba will mean shunning the title. But those who elect to skip Akiba's Beat will miss on the funniest scripts around, with dialog that does the rare deed of outshining gameplay. Given the quality of the conversation and the care that went into the localization, the title might not be as fixating as Nendoroid collecting or retro-game hunting, but as Asahi might argue, a decent way to spend your time.
Akiba's Beat was played on the PS4 with review code provided by the publisher. 
Akiba's Beat
Platform: PlayStation 4, PS Vita
Developer: Acquire
Publisher: XSEED Games
Release date: May 16th, 2017
Launch Price: $49.99 via PSN (PS4), $39.99 via PSN, (Vita)
Review Overview
Summary : Akiba's Beat's social commentary and lack of fan-service are surprising. But underneath the divisive push toward legitimacy is conversation and combat that are compensatory.