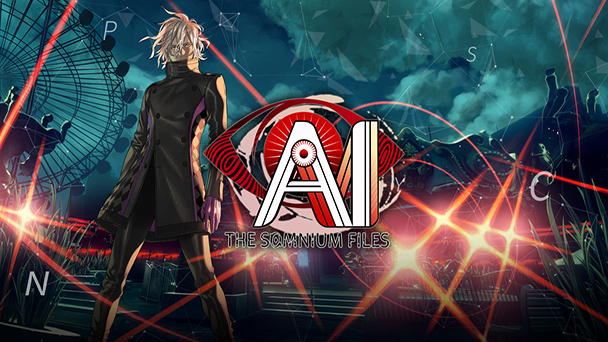 Kotaro Uchikoshi's games are often an indispensable reminder of the possibility of interactive fiction. In the hands of another developer, the Zero Escape series might have little more than an nondescript fusion of conversational sequences and escape room-styled puzzles. But Uchikoshi-san's writing and direction made all the difference. Brimming with moral and philosophical deliberations, each game concurrently delivered a multitude of hairpin plot twists. In execution, they were remarkably cerebral while upholding accessibility. With details that only materialized after several playthroughs, the games were also meticulously engineered feats of imagination.
With the release of AI: The Somnium Files, for the PlayStation 4, Switch, and PC, the auteur expands on his abilities, delivering a complex tale that lets us probe the psyches of its players. Sure, games like Psychonauts have turned the subconscious into an environment for action-platforming. But Somnium Files is the first game that allows players to truly study the perplexing inner working of a character's mind. It's an enormously ambitious task, and fortunately AI largely succeeds on its pursuits.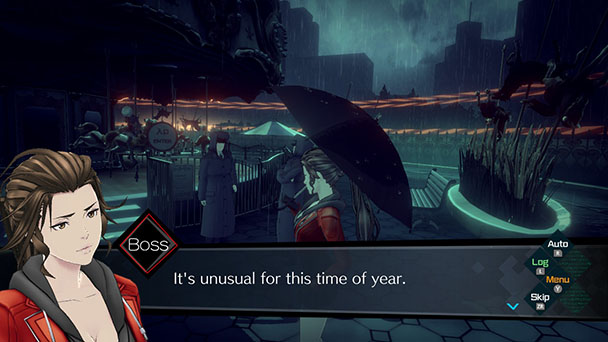 Staring into the ABIS
Certainly, AI: The Somnium Files has all the fundamental ingredients for a gritty procedural. Set in a near-future Tokyo, the game depicts the day-to-day workings of the Advanced Brain Investigation Section, a clandestine part of the metropolitan police agency. You play the role of Detective Kaname Date, an investigator endowed with an artificial intelligence being named Aiba, who resides in Date's left eye.
Like any respectable work of neo-noir, The Somnium Files begins modestly, with Date investigating a murder in an abandoned amusement park. An opening cinematic mirrors the game's flow of exposition, extending an overhead shot, before rotating around a merry-go-round, before directing its gaze on the gruesome. Here, a young woman is tied to one of the ride's horses, the lefty side of her face covered in blood from the removal of her left eye. The killings continue, and unsurprisingly the victims all seem at least tangentially connected seemingly signaling a tidy finale to come.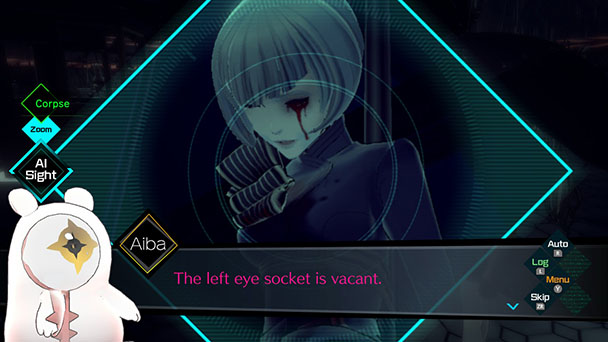 Of course, Uchikoshi isn't going to produce any CSI-style hokum. Just when you think the game's focus is ridiculously narrow, AI: The Somnium Files starts peeling away layers, revealing a larger, more intricate conspiracy, which is the game's first of many different ruses. This speaks to the director's uncanny understanding of his audience. Head into Somnium Files eager for the director's heady, twisting, and occasionally misleading style, and you'll be privy to a journey every bit as studious as Christopher Nolan's early films.
Got My AI on You
But intellectual reach doesn't always result in gratifying gameplay systems. Fundamentally, The Somnium Files tries to provide engagement, only wavering in its attempt to produce urgency. Investigations take place in confined areas, allowing only a bit of control to pan and tilt the camera as your scan the area for evidence. Occasionally, an object will offer the opportunity for additional detail, evoking the type of visual scrutiny common to adventure games, with Aiba offering abilities like x-ray and heat signature augmentation.
Cleverly, the title tries to avoid the kind of puzzles that can bring gameplay to an abrupt and irritating halt. Instead, you'll progress once you have surveyed each object, rather than solve some kind of obtuse puzzle. Fortunately, this isn't as routine as it sounds thanks to some sharp writing and an adept localization.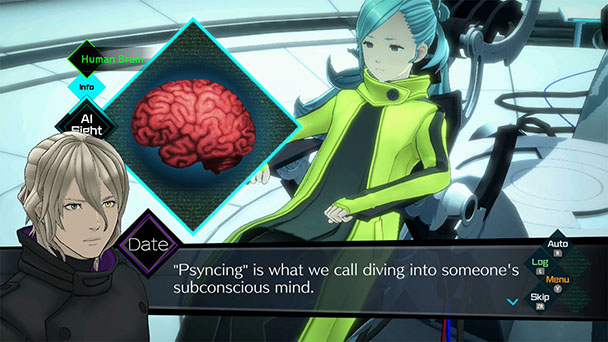 But the game is most gripping when a subject is hooked up to the Psync machine, permitting Aiba to plumb the psychological consciousness of each person. This is where Uchikoshi crafts internal worlds for its characters, bringing the surreal to the forefront. Articulating dreamworlds is seldomly realized but walking through the three-dimensional headspaces of its cast offers a new benchmark in gaming's depiction of the hallucinatory.
Navigating the Dreamscape
Getting to the heart of these curious and often logic-bending dreamscapes called 'somniums', turning AibA into a sexy avatar (Date's choice, of course) who has freedom to explore each volumetric area. Your goal is to crack 'memory locks'- parts of the subconscious that protects sensitive thoughts. Narratively, you're giving a six-minute license for exploration, with the timer only advancing as Aiba moves or interacts.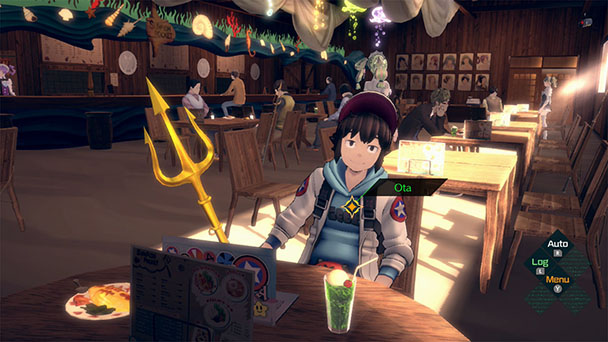 But some of the choices that appear as you inspect things are obtuse or even illogical. As such, you'll probably trial-and-error your way through some sections. But with the time limit that means you might not get to the payoff. In execution, this mean using one of your three attempts and when those are used, starting the somnium over. Unsurprisingly, this can tarnish AI's pacing and introduce a bit of frustration into the experience. It's an improvement on the Zero Escape series conundrums, but it still feels contrived.
Humor, Sadness, and even Triumph
But largely, any inconvenience is counterbalanced by Somnium Files' deft characterization. Date initially seems like a bit of an oaf, routinely fixated with breast sizes. But the reason for his preoccupation and personality flaws becomes clear once he's interacting with other characters. From conversations with Aiba, Iris, the pop Idol, their idiosyncratic perspective allows for some rousing banter. In interviews, the director has acknowledged the use of contrasting enneatypes. With AI, tensions often feel organic and the cast undercut the tropes you might assume each character conveniently fits into.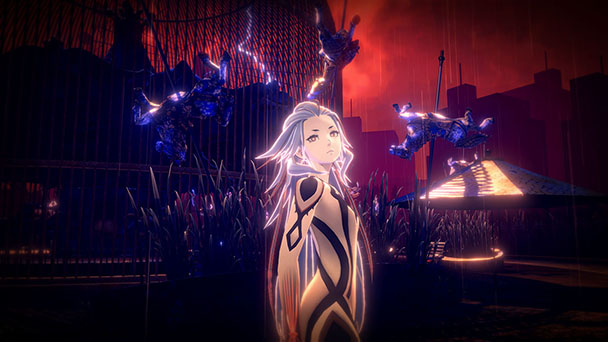 Maintaining tradition, you'll have to make your way through The Somnium Files several times before it reveals its innermost secrets. Between quality writing, a flowchart that visualizes branches in the game's storyline and the ability to fast-forward through previously seen sections, replay is rarely a chore. But one thing I would recommend is to play the game on a television or monitor. The Switch's diminutive touchscreen can make identifying some of the small objects needlessly difficult.
Conclusion
AI: The Somnium Files demonstrates what the fundamental issues that can plague adventure game convention. It does this by presenting fascinating characters who eschew caricature, excluding the puzzles that can halt progress, and most importantly, by telling a story that explores the reaches of the human condition. The Somnium Files reminds us that game's best moments don't just come from gorgeous visuals or precise control schemes. Occasionally, the mind and heart thirst for involvement as well.
Review Overview
Summary : If only players could peer into Uchikoshi-san's mind like Aiba probes the subconscious of subjects in AI: The Somnium Files. Maybe then we'll glean how he engineers these elaborate puzzles and conundrums, that are all wrapped in an enigma. They're brainy stuff and stimulate the brain is way most games don't.