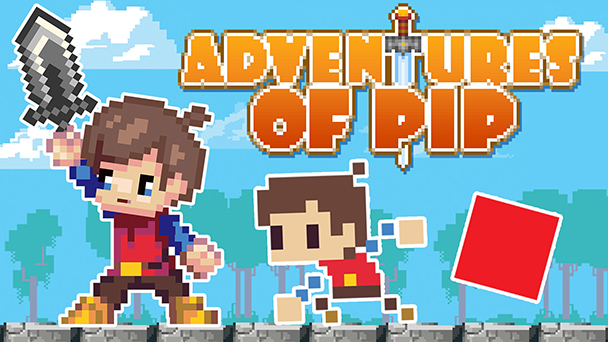 Evolve from a single-pixel block to a stalwart, sword-swinging sprite in Adventures of Pip. It's an enjoyable five-hour jaunt, but don't be surprised if you find yourself yearning for more variation.
Adventures of Pip
Platform:
Switch, previously on Wii U, PC, PlayStation 4, Xbox One, and mobile
Developer:
Tic Toc Games
Publisher:
Tic Toc Games
Release date:
September 10th, 2020
Price:
$9.99 via digital download
Availability:
Nintendo eShop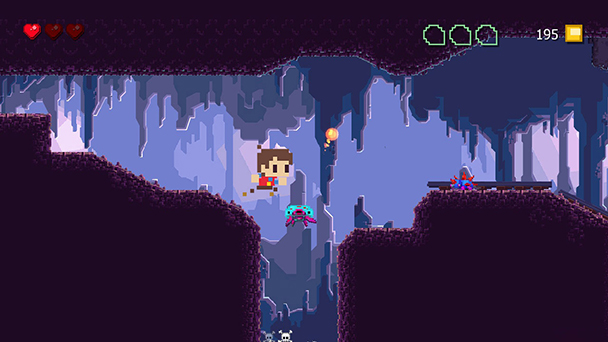 As the game industry nears the half-century mark, retrospectives are in order. Sure, there are a growing collection of books and documentaries to trace advancement. But a steady stream of anthologies, remakes, and remasters seem at least partially committed to the historical preservation of our cherished pastime. Then they are meta-games like Evoland and its sequel, which document development as players traverse worlds culled from different console generations.
Delve into the Switch port of Adventures of Pip (originally released on Wii U and PC in 2015), and you'll revisit three key periods in game history. From the single-pixel protagonist of Atari 2600 title Adventure, an eight-bit wall-jumping character reminiscent of 1989's Ninja Gaiden, to the sword-swinging lead from a myriad of sixteen-bit titles, Pip pays homage to each era. But too often, the concept seems restricted in its puzzle-platforming. Chances are, you'll wish poor Pip could occasionally break free from genre, showcasing some of the shooters, fighters, or racers that played a crucial role in game history.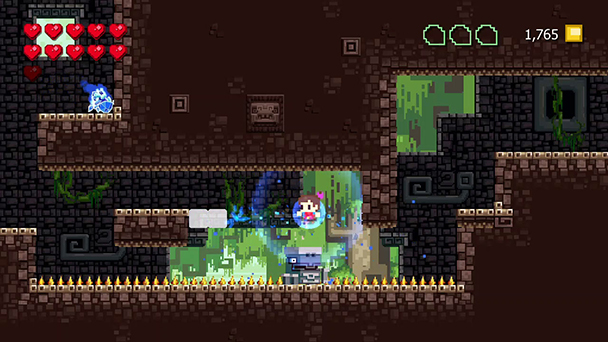 A Bit of Storytelling
Adventures of Pip's set-up is conveyed via text and static images, supplying a fairy tale-like impetus. There's a kidnapped princess capable of producing pixels, a malevolent Queen named DeRezzia vying for control, and you play the lowly, single-pixel protagonist fated to restore righteousness. But beyond some playful dialog at intermittent junctions, Pip is appropriately light on exposition.
While there's classism, with those with more bits expressing superiority, the game wisely avoids becoming preachy. Mostly, representations of social hierarchy are used so players can cheer for the scrappy underdog and take down an authoritative royal, as well provide the occasional laugh during conversations.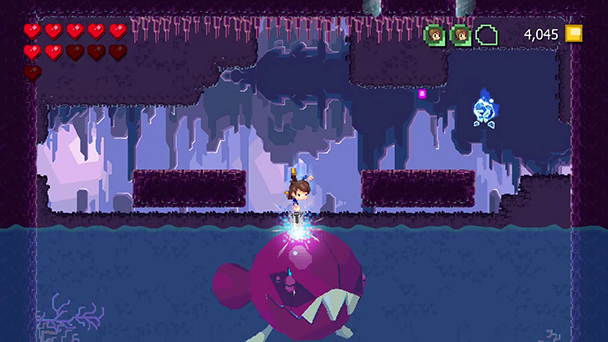 Powering Up Pip
Interestingly, Pip provides different abilities to each form. When you're the single, blocky pixel, it's possible to float after jumping, covering distances unavailable to your evolutions. In NES-era form, you'll be able to wall jump and punch, while SNES/Genesis-era Pip wields a sword that can shatter certain types of blocks. Although you can freely elect to devolve into a lower-bit form, advancement can only be made by eliminating glowing Bitstream foes. Adventures of Pip's levels are meticulously designed to ensure progress can't be halted, by being stuck in a certain form. I know this quite well. Repeatedly, I found myself trying to break the game, but Pip doggedly persisted.
The game's moment-to-moment play certainly isn't bad. Occasionally, you'll have to devolve on the fly. This freezes the game for a split-second, allowing you to use another ability-set to escape danger. You'll have to think creatively and master the control scheme to secure the contents of treasure chests and trapped villagers that are hidden across each stage. But the game's constrained solution set means that puzzles aren't brain benders. Of course, that could be an upside for those who frequently find themselves getting stuck in puzzle games.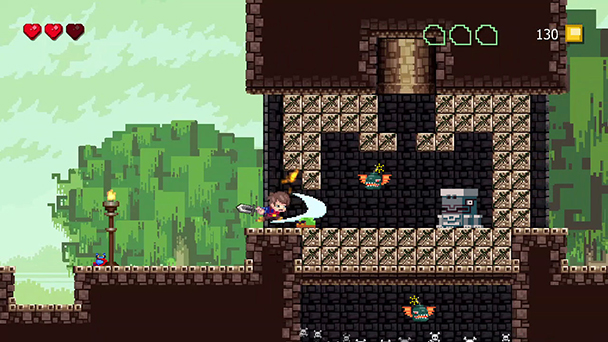 Expect the Asset Recycling of Yesteryear, too
Mirroring Mario, Pip's adventures offer eight stages per world, with the protagonist selecting levels from an overworld map. But there's a considerable difference in level designs between the two franchises. All too often, Pip's stages become homogeneous, recycling the same backdrops while puzzles can seem like variations on a theme. It's not completely determinantal, but the reward of visual diversity arrives too sluggishly.
On the upside, the game is forgiving, providing players with a limitless number of lives. Sure, death has the punishment of sending you back to the previous checkpoint and resetting puzzles and monsters. But it never feels punitive. But ideally, Pip would reward players a bit more. Money found in treasure chests can be used to augment the protagonists' abilities. But rescuing the villagers in each level provides little more than a check mark on the stage select screen.  Perhaps the real reward is Jake "virt" Kaufman's score. Once again, he provides himself to be one of the best composers in the business, endowing each milieu with its own catchy rhythm.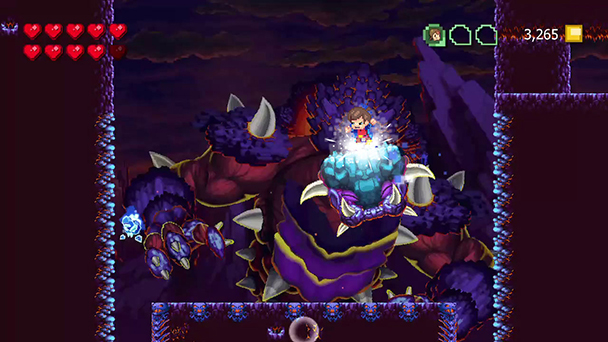 Adventures of Pip was played on Switch with
review code provided by the publisher. 
Review Overview
Summary : Adventures of Pip's form charging mechanic honors three generation of gaming history. While that's praiseworthy, the rest of the puzzle-platforming feels a bit too ordinary.