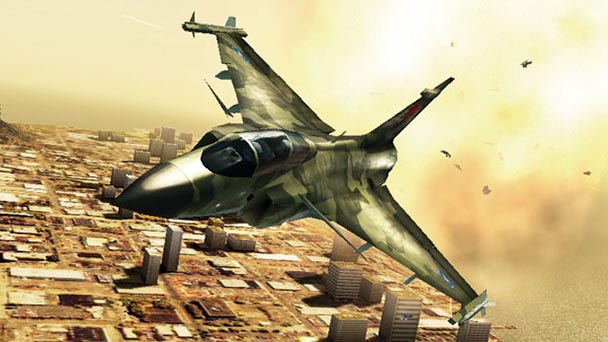 Since the Nintendo 3DS' launch in 2011, the portable has amassed a prolific library of games. And while the role-playing, platforming, fighting, and racing genres have each earned a substantial number of entries, aeronautical antagonism have been largely overlooked on the system. The sole exception to that rule was Ace Combat: Assault Horizon Legacy, an enhanced remake of the 1997's Ace Combat 2.
In execution, the title was the interactive equivalent of comfort food. Typical of the franchise, Assault Horizon Legacy shirked the staunch sense of simulation that can occur when players take to a disputed air space. Dogfights were pared to their most basic elements, permitting perspective pilots to take to the skies- scuttling bandits with only a modicum of instruction.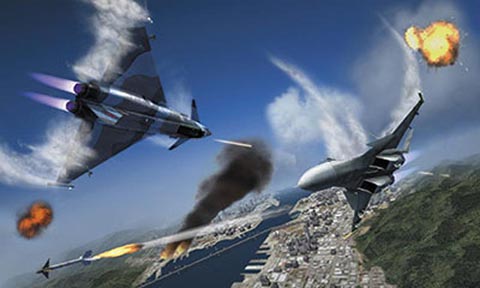 Although preparation might have been scarce, munitions were in abundant supply. Sorties habitually conferred dozens of missiles, while the player's craft could withstand vast amounts of damage (especially on lower difficulty settings) without affecting their jet's aeronautical abilities. About the only element Horizon Legacy had in common with hardcore sims was the ability to stall an aircraft, if their piloting pushed a plane past its capabilities.
Given the abbreviated play sessions that are customary for portable devices, Horizon Legacy's ten to fifteen minute stages were ideal for short bursts of bogey-chasing action. Offering a non-compulsory plotline that centered on a botched attempt to form a peace treaty and the subsequent riddance of a wrathful rebellion, there was just enough of an impetus to propel the procession of escort missions, bombing runs, and zone protection duties. But credit should be given the game's branching storyline, which goads players into revisiting missions, as well as the inclusion of bonus Survival and Extra missions.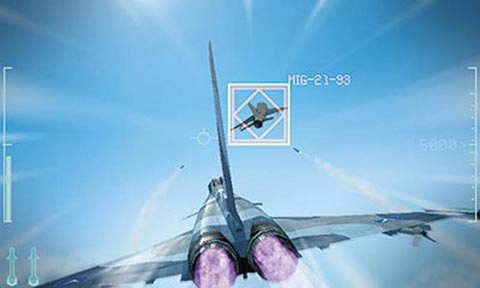 Deftly, developer Access Games (Ace Combat X: Skies of Deception, The Sky Crawlers: Innocent Aces) added a few elements that improved on the original PlayStation iteration. Filling a gauge allowed player to execute an Action Maneuver, with a press of the "Y" button exhibiting some flash cinematics, while auto-piloting either put in enemy in your crosshairs or lithely evaded an incoming missile. While the mechanic further simplified combat, it made Horizon Legacy's confrontations feel more like cinematic dogfights, a less like non-climatic quarrels with pixel-sized adversaries. Notably, enemy AI was tuned, with opponents better able to evade your offensives as well as jockey for position on your six.
The recent release of Ace Combat Assault Horizon Legacy+ reissues the core game, with the mathematical symbol signifying several new features. Considering the original iteration can often be found for clearance prices and the nominal number of new features, Legacy+ isn't worth a double-dip, but is a worthwhile pickup for New 3DS owners yearning for skirmishes across the wild blue yonder.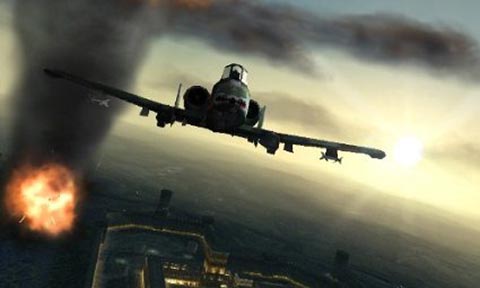 Undeniably, the biggest improvement to Horizon Legacy+ doesn't stem from the game, but from the internal changes made to Nintendo's handheld. While head tracking might have sounded like an insignificant marketing ploy, it proves to be a very effective improvement to the stereoscopic image. Playing Horizon Legacy (with or without the plus) on a past-generation 3DS, it's far too easy for background details, HUD elements, and enemy fighters to meld into an unfocused, eye-crossing blur. On the latest hardware, the illusion of depth in maintained across multiple focal lengths and the jostles of a bumpy bus ride.
On the downside, Horizon Legacy's engine remains untouched, so you'll still see granular textures on low altitude bombing runs. Although the game looks rather stunning when you're soaring through the stratosphere, there's still patches of slowdown when foes burst into colossal clouds of flaming jet fuel and plummeting shrapnel. Sonically, the game is surprisingly adept, offering a soothing opening song, unobtrusive music for each level, as well as voice over from your commander and wingman. Although unrealistic, it's gratifying to hear the radio chatter emitted by your demoralized enemies after they're send staggering back from your air and ground assaults.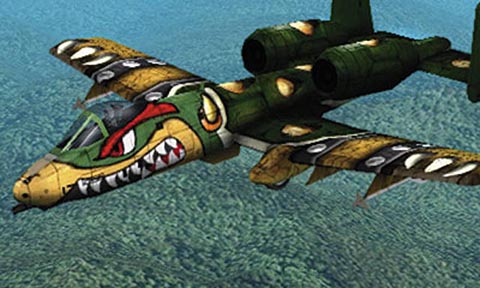 For New 3DS owners, the portable's NFC reader can be used to grab data from first generation Amiibos, unlocking eleven character-based jets. While their rather garish and don't mesh with Ace Combat's austere world, they do offer a significant advantage over the game's stock fleet, especially with Star Fox's dominant vessel. For those with legacy 3DS', a portion of this content can be unlocked by blasting at the giant yellow Mario Bros.-style blocks that are scattered across many stages.
Beyond shorter load times on the new system, the C-stick is used to rotate the camera during missions. Although it can help reveal the beauty of Horizon Legacy panoramas, its usefulness during dogfights is limited, as players have to take their fingers off the weapon buttons. Strangely, the nub's neutered during replays, where it would have been quite functional, allowing players to scrutinize their maneuvering. Woefully, this revision doesn't add any truly substantial elements; a multiplayer mode might have been a pleasing supplement.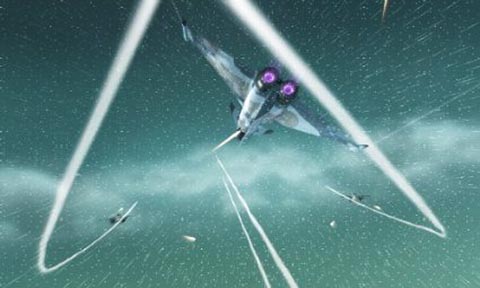 Accompanying the arrival of new hardware is the desire for software that can help justify the expenditure. For New 3DS owners who never played the 2011 release, a purchase of Ace Combat Assault Horizon Legacy+ is wholly defensible. Not only is the title a rare example of airborne-based battling on Nintendo's portable platform, it's also quite enjoyable in diminutive doses.
Ace Combat Assault Horizon Legacy+ was played on the New 3DS with review code provided by the publisher.
Ace Combat Assault Horizon Legacy+
Platform:
 3DS
Developer:
 Access Games
Publisher:
 Bandai Namco Games
Release date: 
February 17th, 2015
Price:
$39.99 retail and via eShop
ESRB:
 Teen
Review Overview
Summary : While Ace Combat Assault Horizon Legacy+ is competent, the title could have achieved hot-shot status by showing substantial advancement from its four year-old predecessor. Amiibo support, C-stick integration, and extra aircraft are enjoyable but hardly essential.