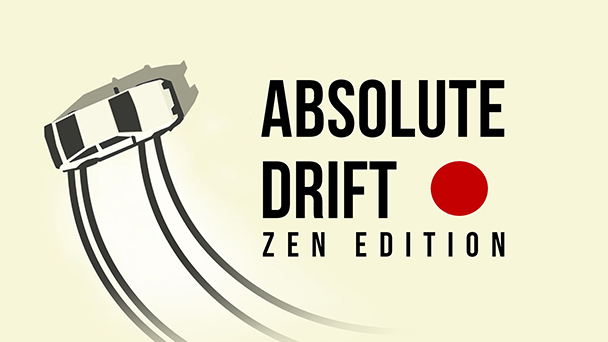 If you appreciate absolutely mastery of technique, give Absolute Drift: Zen Edition a spin. While it's not for everyone, obsessives might find themselves spending hours chasing (but never quite achieving) faultlessness.
Absolute Drift: Zen Edition
Platform:
Switch, previously on PlayStation 4 and Xbox One
Developer:
Funselektor Labs, Flippfly
Publisher:
Funselektor
Release date:
December 3rd , 2020
Availability:
$11.99 via
eShop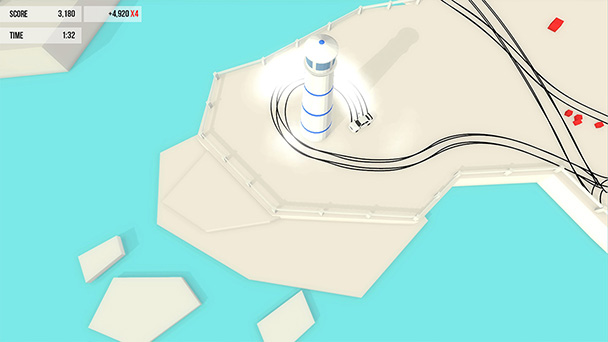 Anyone who questions drifting as legitimate form of art should take a long look at Absolute Drift: Zen Edition. Here, Funselektor Labs strips automotive handling to its bare essentials. You won't find the kind of conventional races where you'll jostle with competitors. Instead, it's just you, the environment, and your car.
Each delicately controlled slide leaves tire marks that resemble a calligrapher's practiced brushstroke. Much like using an ink brush on mulberry paper, drifting demands complete concentration. A momentary loss of control or even the slightest waver of confidence can mar your composition, leaving a skid that juts into a wall.  But when you eventually find yourself entrenched in the game's sense of flow, Absolute Drift shines. Unfortunately, not every player will have the patience to reach that mind-state.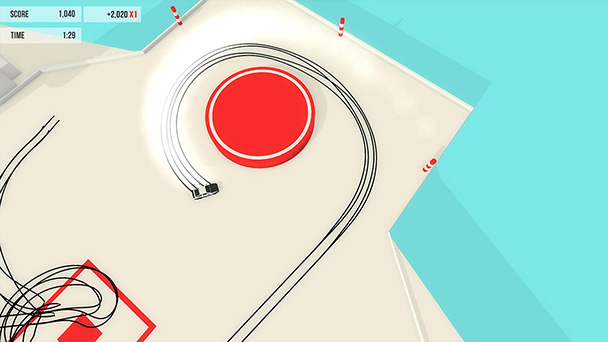 More Playground Than Linear Competition
Fittingly, Absolute Drift's controls skew toward simplicity. Beyond using the analog stick to steer, you'll use shoulder buttons for acceleration and braking. Years of playing racing games will likely goad you into gunning the gas, leading to a loss of control. But as the in-game advise repeated reminds players, Absolute Drift isn't really about speed. It's much more about finesse.
Sure, you'll need to reach a certain velocity before you can introduce enough lateral movement to induce a sideslip and a subsequent counter-steer. And it doesn't help that you'll earn points with higher speeds. But you'll want to resist the temptation for immediate points or else you likely to run into a course barrier. Instead, higher point values are earned through combos and high-level play involves uninterrupted chains.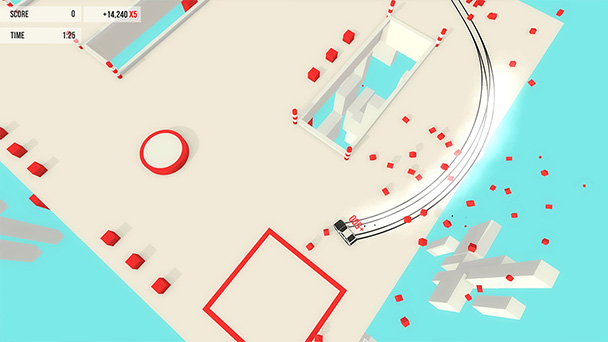 Technique and Style are Yours Goals
There are style points to be earned as well. Flags placed around corners invite you to drift as close as possible as well as bend that task with tracing their curvature. Both of these require players to approach them from just the right angle, so you'll be thinking ahead in Absolute Drift, making the best of a three-lap performance. Intermittently, you'll be tasked with colliding with red boxes positioned across the track. Smashing these in a single sweep is difficult but conveys that kind of fulfilment that games are so good at providing.
Absolute Drift can be a tranquil experience, especially when you bask in C41 and NYTE's relaxing score. With over 40 tracks of simmering grooves and drum-and-bass rhythms, it mandates playing the game with headphones. But that's not to say the game is ever a pushover. The succession of challenges across drifting events, mountain climbs, and gymkhana trials is ever easy and I suspect some players won't beat some of the early tests. Sadly, that difficulty means they won't enjoy the gratification of unlocking new cars that exhibit different types of handling.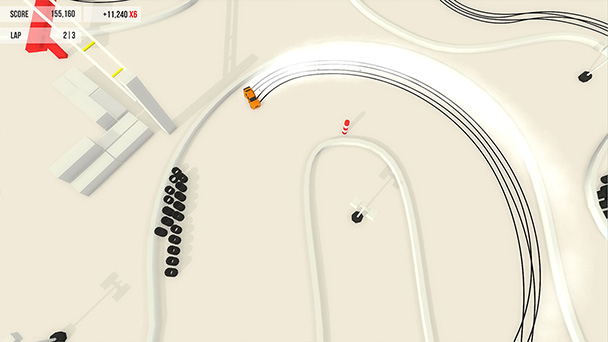 Conclusion
Much like art of rally, Absolute Drift: Zen Edition pares the sport to its bare essential. This kind of approach won't appeal to every player, with bloat regrettably favored over minimalism in this industry. But for those who enjoy a deep dive into vehicular mastery, Absolute Drift pay gratifying dividends. After nearly a week of play, I finally pulled off a run I was proud of. And undeniably, it felt Zen-like- at least for one fleeting moment. But that's the point, right?
Absolute Drift: Zen Edition was played on Switch
with review code provided by the publisher. 
Review Overview
Summary : Absolute Drift: Zen Edition demonstrates there's little difference between a professional driver and master calligrapher. Both vocations require the kind of confidence that only comes with patience and practice.