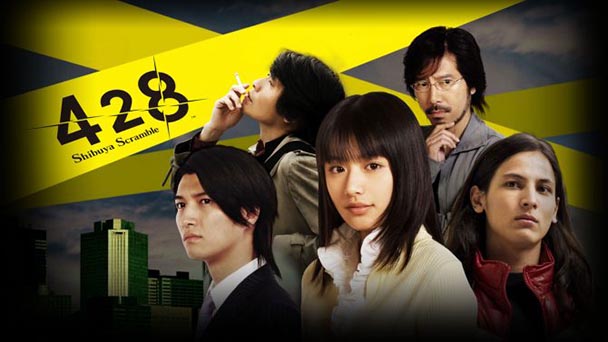 Even the most passionate fan of visual novels must admit the medium often clings to several conventions. Many of us are drawn to the works because of their manga-inspired aesthetic, which routinely depicts characters like spirited catgirls and miniskirt-clad assassins. When reality is reflected, it's often in heavily processed backdrops that are made to resemble hand-drawn representations.
An obedient adherence to genre is another reoccurring attribute. Sure, there are outliers such as Steins;Gate's astute blending of science-fiction and thriller elements, or the Muv-Luv series' unprecedented shift from high school rom-com to war-time drama. But largely, many works easily fit into traditional classifications.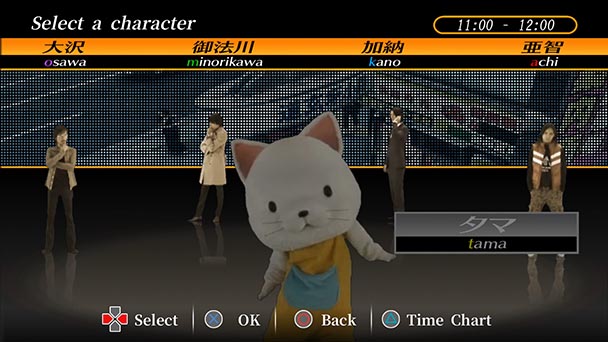 Brilliantly, 428: Shibuya Scramble subverts many of these customs. Released in Japan a decade ago, director Jiro Ishii employs photos and all-too-brief snippets of full-motion video to extend an imaginative amalgam of crime drama, character study, along with bits of playful comedy. The game's mechanics not only provide options that not only branch the storyline in different directions, but also permit players to shift the perspective of different characters. Like Steins;Gate fascinating exploration of cause-and-effect principal, decision one character makes affects Shibuya Scramble's world, making for an experience that feels like one of Alejandro González Iñárritu's early films transformed into interactive form.
With a pulsing score and beautiful aerial overview of Japan's famous commercial ward, 428's opening channels the same comprehension of setting as Michael Mann's Heat or Collateral. While implicit, there's a sense of spatiality that endows the story with believability. Although the game doesn't pull back to reveal the distance between say, the statue of Hachikō statue and the Green Frog, historical Tokyu 5000 rail car at the station, its evident that Ishii's meticulously stages the action, envisioning the placement of undercover police officers and a young girl burdened with two attaché cases crammed with a hostage payoff.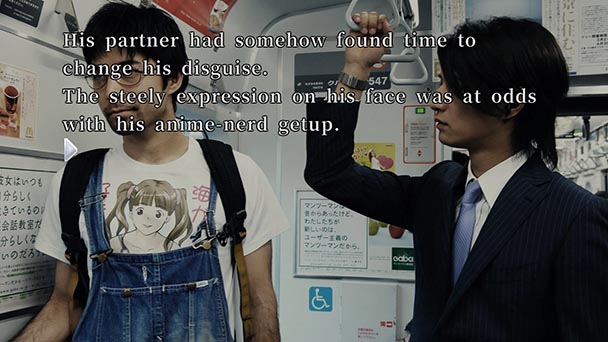 Like the films that undoubtedly inspired the game, Shibuya Scramble begins in medias res, cultivating a sense of intrigue as players strive to discover the connections between the handful of lead characters. Masterfully, a sense of intrigue is interspliced with bits of comedy. Banter between Shinya Kano, a young detective with the Shibuya Police Department and his superior, Yuji Sasayama. The latter is nicknamed the 'Cosplaying Detective' due to his passion for disguises used when going undercover. Early on, he adopts the guise of a homeless person, adding authenticity to his role by cultivating a stench of inexpensive alcohol and a disregard for hygiene. Latter the banter involves, Kano's struggle maintain a balance between his personal and professional life, which becomes increasingly difficult with a needy fiancé and a suspicious future father-in-law.
And while 428 offers the occasional indulgences of whimsy, with characters like Tama, who wakes up with a bump on her head and clad in a catsuit, and the occasional moment of recklessness exhibited by Achi Endo. As a former gang member who spearheaded a homegrown vigilance movement, it's difficult not to empathize with the long-haired, down-vest clad protagonist. Like many of Shibuya Scramble's characters, Endo might seem tropey in written description. But spend time seeing things from his perspective, and you'll soon see that he's rather multi-faceted, reflecting the writer's affection for human idiosyncrasy (Those who find themselves wanted to know more about Maria Ōsawa will want to seek out either the manga or anime of Canaan, where both Ishii and Mari Okada extend a follow-up).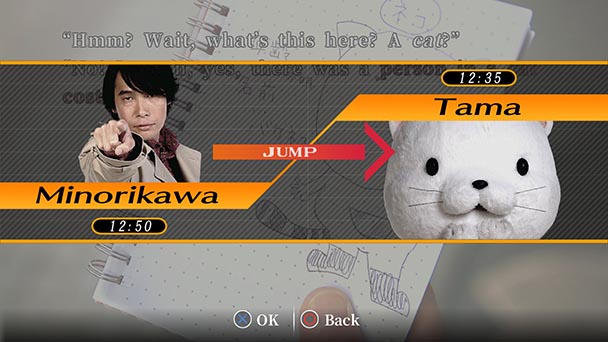 And while many of the game's endings extend a cheerful ending and a sense of closure, they aren't all optimistic or fulfilling. The game's mechanics center around hours of in-game time represented by five-minute segments. Before coming to grasp with the complexity of Shibuya Scramble's time charting system, you'll initially focus on Kano and Endo, before things open up, granted access to three additional timelines. Occasionally, passages with be highlighted in blue or red, each an entry point that delves deeper into 428.
Selecting the blue hypertext-like links reveals more information. But while other game's have used to type of system solely for encyclopedic purposes, Shibuya Scramble rewards inquiry with the sporadic humorous passage or insight. Here, credit should be attributer to David Kracker's localization; as a resident of Tokyo for over a decade, he understands the cultural nuances. But more importantly, he's able to impart information or humor naturally, without those jarring instances of awkward translation. Clicking on the red links permits players to jump to another character's perspective, which you'll be doing frequently, after reaching one of the game's premature conclusions. Some might argue that the system can be a bit convoluted and you'll occasionally have to hunt down a decision that had ramifications much later. But there an ample number of hints- and envisioning Shibuya Scramble being simplified in any way is something I'd rather not imagine.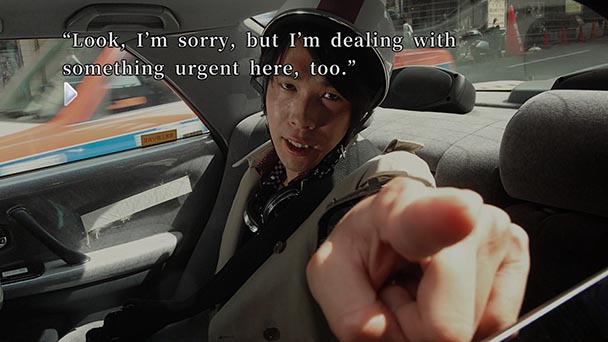 Potentially, contention might also be rooted in 428: Shibuya Scramble cost-to-playtime ratio. Offering at least twenty-five hours of content, the game will likely be compared to visual novels with reading times that double that figure. But unlike many of these epics, 428 deftly avoids being overly verbose or beating an idea into the ground. Read throughs feel brisk, without digressions to sully the pace of the storyline or dilute the well-crafted sense of intrigue.
Periodically, works come along that challenge the conventions of the genre, offering an experience that feels delightfully fresh. Despite its ten-year old age, 428: Shibuya Scramble feels like one of the most innovative visual novels around. Built around a magnificently entangled storyline that should make Hollywood envious, the game's take on the venerable kidnapping scenario is a requisite experience for those who appreciate inventive storytelling.
428: Shibuya Scrabble was played on PlayStation 4
with review code provided by the publisher.  
Review Overview
Summary : 428: Shibuya Scramble will make you lament that there's no time chart in real life. Once you've seen the majority of the game's outcome, you'll wish you go back and rediscover characters, context, and comedy bits anew.