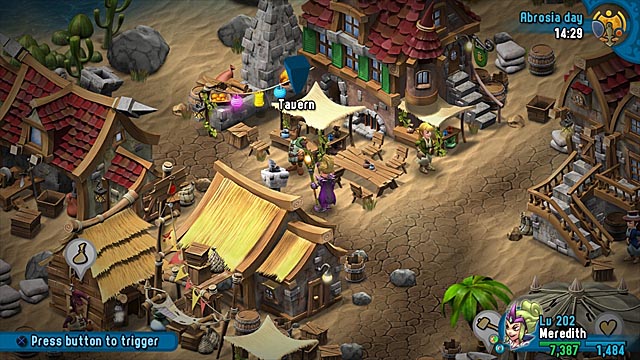 What is the concept? With consummate coding, a pulsing techno soundtrack, and an elevated difficulty level, players could be forgiven for assuming SideQuest Studios' Söldner-X: Himmelsstürmer and Söldner-X 2: Final Prototype originated from the Land of the Rising Sun. Heck, even the game's umlaut-itized moniker seems inspired by Square's beloved shmup, Einhänder. Yet, as the developers' recently released follow-up demonstrates, the team from Germany truly understands other Japanese gaming genres.
Offering a simplified take on the turn-based tactics popularized by series such as Disgaea and Fire Emblem, recent PSN release Rainbow Moon is a radical departure from the studios' previous shoot-'em-up titles. More remarkably, the title is also one of the first Western games to competently reproduce the strategy role-playing game. Regretfully, the game also mirrors its inspiration a little too well by exhibiting similar design flaws.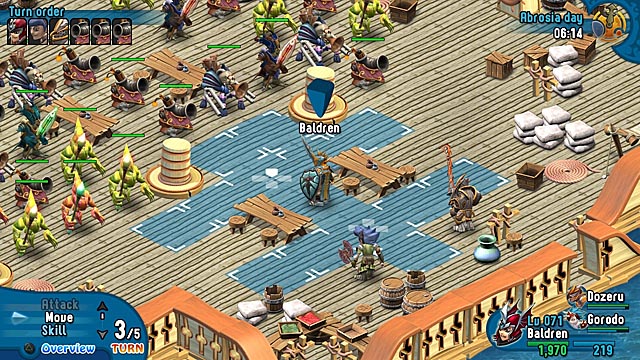 What are the game's strengths? Visually, Rainbow Moon seeps charm, trickling out a procession of attractive and well-animated enemies set again fifteen different terrains. Although the game does employ palette-swapping to expand its bestiary, in execution this is performed with enough scarcity to make the decision seem more like SRPG homage rather than a parsimonious short-cut. Complementing the title's amiable artwork is a soundtrack filled with stimulating musical pieces.
Whether players tackle Rainbow Moon on the medium or hard difficulty setting, the game's power-up system is to be commended. Beyond Rainbow Coins, the currency gained by defeating foes and used to purchase weapons, armor, and items at the game's shops, there are also Rainbow Pearls. These commodities are used to augment your protagonists' base stats, improving abilities ranging from strength, speed, and even luck. As players persevere, they'll even gain addition additional sub-turns, which allow for extra actions during each turn. Combat has a number of intriguing elements to hook players, from managing distance to get in the first attack (recalling Rogue) to granting dividends to the character which issues the coup de grâce.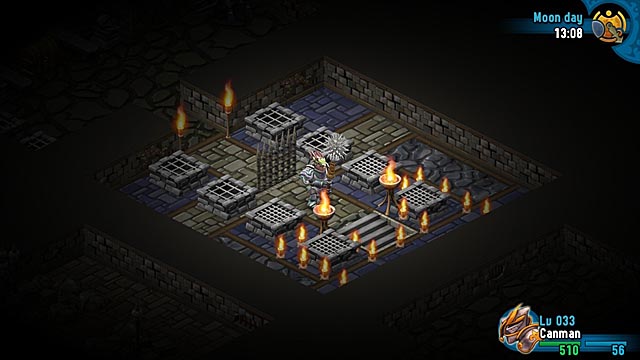 What are the game's weaknesses? As gratifying as leveling up the game's six main characters can be, character progress is focused more on the acquisition of new skills, rather than fleshing out the narrative trajectory for each party member. One example can be found in the game's introduction, which offers an impetus more fitting for a simple action title than a role-playing game. Following an opening cinematic which shows main character Baldren battling a malevolent foe, the warrior is flung through a warp portal, along with a throng of enemies. Initial dialog shows demonstrates Baldren as the prototypical valiant hero, promising villagers he'll purge their land of the monstrous scourge. While the adventurer's expedition propels him across a variety of locations and even 20 puzzle-filled dungeons, these experiences don't have much of an effect on the Baldren's personality.
Rainbow Moon's preliminary period can be a little dissuading, with a half hour passing before players are given any sub-turns and about two hours before strategizing really takes hold. Although this introductory period allows players to master every mechanic in the game, the lethargic pacing will likely turn off genre enthusiasts who are fluent in turn-based encounters. Even when the game takes off the training wheels and allows players to unleash hit-point pilfering melee, ranged, and special attacks, Rainbow Moon's AI is often easily exploitable, with foes which tend to rush or retreat from players. One mechanic that more niggling than rewards in the title's hunger gauge, which requires players to keep their hero's stomachs full.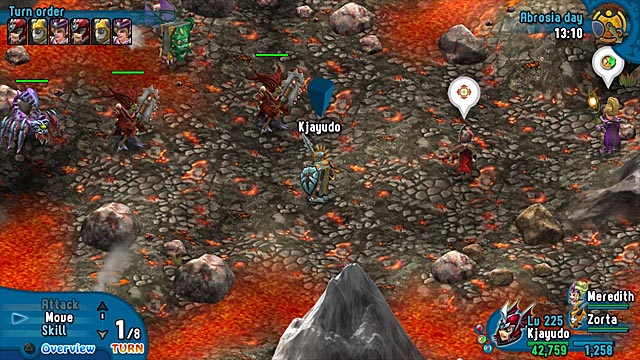 Is it worth the money? Considering Rainbow Moon's journey can surpass the hundred hour mark, the title's fifteen dollar price point can be a bargain- assuming purchasers won't tire of grinding to unlock new specials and augmenting their party with the finest stat-boosting amenities. Such a price to playtime ratio deserves to be commended and is remarkable enough to allow Rainbow Moon to transcend its few faults. Hopefully, SideQuest will reward PS Vita owners with a translation, the game would be ideal as a portable title.